If you have a felony conviction on your record, getting ahead in life can seem like an impossible task to achieve. Many companies automatically disqualify people with felony convictions. Depending on your state and the nature of the crimes of which the court convicted you, you might not be eligible to get government assistance, leaving you with few options.
Many people who find themselves in this situation believe returning to crime is the only way they can get money, and the cycle repeats. Each time the police catch them committing a crime, it becomes a little harder for them to escape from the trap.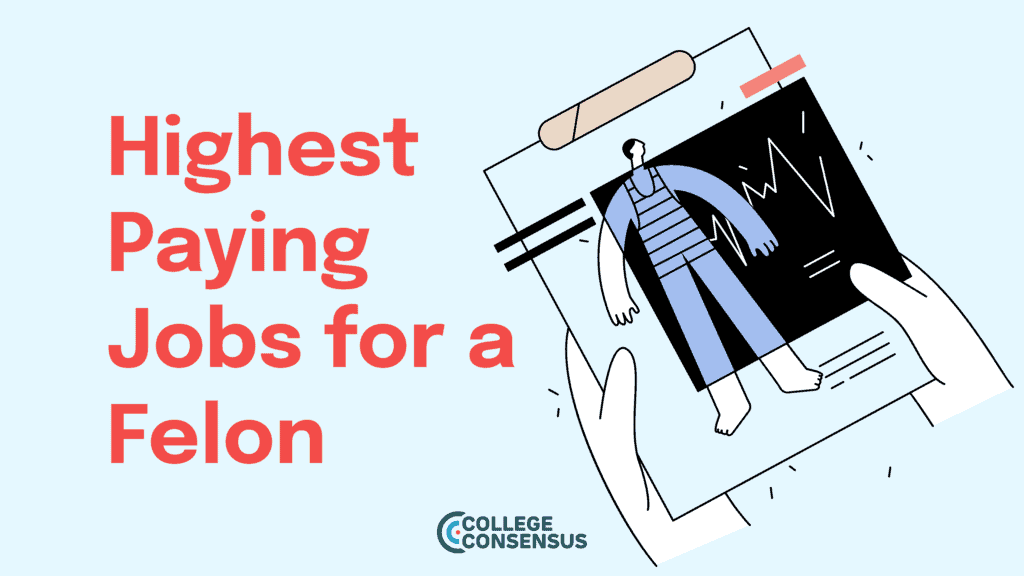 Having one felony on your record makes it hard enough to get a decent job, but having more than one makes it next to impossible. If you would like to overcome that problem and get your life back on track, you can do so without much trouble when you know where to look.
Recommended Online Certificate Programs
Explore our featured online programs to find the right match for you today.
With a little determination and an ongoing effort to make a better life, you can find jobs that pay well despite your conviction. This list of the top 10 best jobs that pay felons well is a great place to start. Review the list with an open mind, and consider which jobs match your skills and interests better than the rest.
If you don't believe you are qualified for any of the listed jobs, you will be happy to learn that many companies offer on-the-job training. Getting a decent job is the first and most crucial step toward getting back on your feet.
1. Welding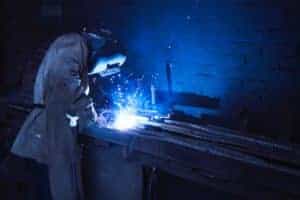 Many convicted felons find that welding is a rewarding career. As a welder, you can perform a range of welding tasks depending on where you live and the area in which you would like to specialize. Most welders earn around $41,380 per year, but you could make as little as $25,000 per year if you don't have much experience. If you choose to increase your skills and specialize in an in-demand field, you could earn up to $60,000 per year or more.
You use shapers, cutters and welding equipment to join pieces of metal based on your company's instructions. Some welders create new materials, build bridges and help construct large buildings. You could even work in an automotive repair shop if you get the right training for the job. Other welders repair broken pieces of metal to keep structures, equipment and buildings safe to use. If you have no welding skills, some companies will train you on the job.
You can't expect to make a lot of money while you are in training, and you might have to sign a contract agreeing to work with the company for a set number of years after you complete your training. In many cases, companies require you to pay for your training if you quit before the predetermined date. Those living near coastal areas have additional opportunities worth mentioning.
You can learn to weld underwater and repair boats and ships, and you could earn around $30 per hour for your effort. Welding careers offer many chances to advance yourself as long as you make an effort to improve and grow.
2. Electrician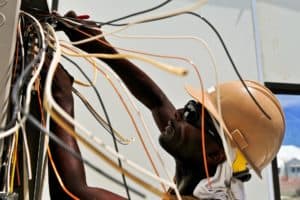 If you need a job as a felon, consider working as an electrician. Qualified electricians earn an average of $55,000 per year, and experts believe the demand for electricians will rise by 14 percent over the next 10 years. You work indoors and outside when you choose this career option. You install, maintain and repair electrical systems for homes, businesses and government buildings depending on the company for which you work.
You could help repair short circuits and prevent fire hazards, and that is only the beginning. Electricians work in a range of environments and temperatures, so make sure you are ready for anything. The good news is that you will often work in comfortable environments that don't push your body to the limit. If you are still interested in this position, you are likely wondering what steps you must take to begin on the career path.
Many companies let you start with only a high school diploma. In addition to company requirements, many states and cities have criteria they expect you to meet. While some states only ask you to have liability insurance, others require you to get a license. Check the local laws in your area before moving forward if you don't want to run into any unexpected problems along the way.
Recommended Online Certification Programs
Explore our featured online programs to find the right match for you today.
3. HVAC Technician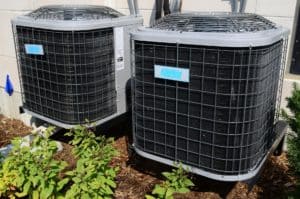 As a felon, working as an HVAC technician is a viable option worth considering. If you select this option, you can expect an average pay of $47,610 each year. Occupational professionals expect this career to grow by 15 percent between 2016 and 2026. HVAC experts install, replace and repair heating, ventilating and air conditioning systems in a variety of settings. You could work in homes, offices, schools, factories, hospitals and more.
You can expect to work in or around almost any building that has an HVAC system. When you consider this career path, make sure you know the environments in which you could work. Most people who call you will have trouble with their HVAC system, so you will work in extreme heat and cold on a regular basis. Also, HVAC experts often work on weekends and during unusual hours.
Many HVAC companies offer 24/7 emergency repair services, so you could spend a lot of time on-call with this career. Becoming an HVAC technician is not as hard as some people think, but it takes a little more work than it did in the past. You could have gotten into this field without much training in the early days. You must remember, though, that HVAC systems have grown increasingly complex over the past several years.
You can go to a trade school to get an early start on this path, or you can opt for on-the-job training. You will dedicate a lot of time and effort to this career if you choose it. Although succeeding as an HVAC expert requires time and energy, it's also rewarding if you put in the effort and remain committed to your path.
Recommended Online Certification Programs
Explore our featured online programs to find the right match for you today.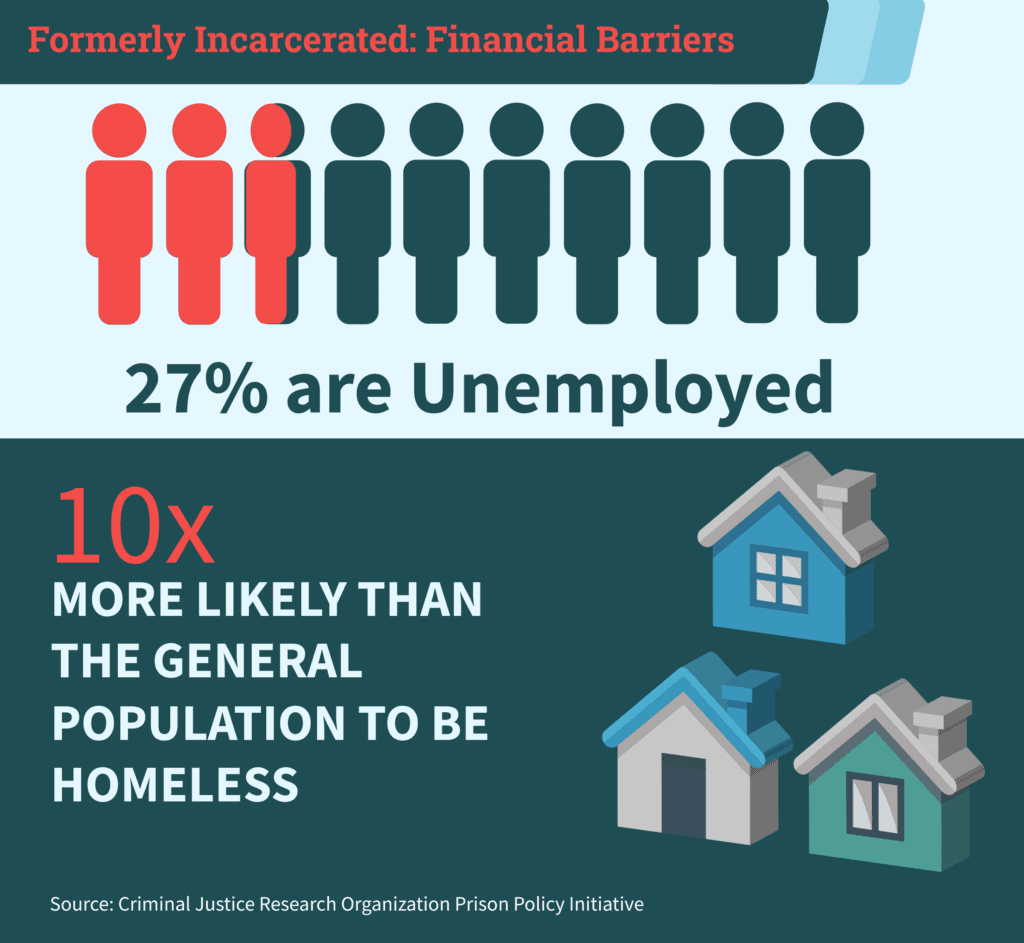 4. Carpenter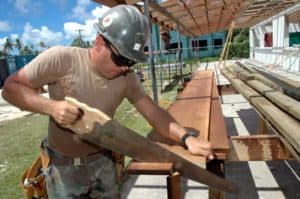 Those seeking jobs for felons that pay well often choose carpentry to reach their goals. This career offers a median pay of $46,509 per year and has an average growth outlook. Choose this path if you want a career that offers stable employment and the opportunity to advance. Some people jump into this career path before they fully understand what it requires of them.
You could end up in a career that does not make sense for you if you repeat their mistake. As a carpenter, you work inside and outside in a variety of weather conditions, ranging from hot to cold. Some carpenters work with small tools to shape and mold plastic and other materials. If you become a carpenter, you help install cabinets, hallways and other structures.
You could even operate cranes and other heavy equipment depending on your skill level and the company for which you work. Check your state's requirements to determine whether you need a license to work as a carpenter in your area. No matter what your state requires, most company's expect you to complete an apprenticeship before you begin working on your own.
You can also try going to a trade school in your area if you would like to boost your skills to the next level. Like many of the other jobs listed in this guide, you can use the skills you learn to launch a carpentry business of your own one day. If you enjoy creating objects or crafting structures, carpentry could be the career path for which you have been searching.
Recommended Online Certification Programs
Explore our featured online programs to find the right match for you today.
5. Military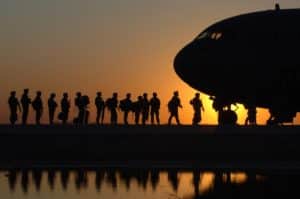 Although some people think they can't join the military with a felony conviction, that is not always the case. The military looks at a variety of factors when deciding whether or not it will let you join their ranks. If you are searching for salary and job growth information, you will be disappointed to learn that no one answer gives the full picture.
The military consists of several branches, and each one has jobs and ranks that determine how much money you can earn per month. Depending on your rank and marital status, you could qualify for military housing, which saves you money on your monthly expenses.
If you want to pursue a military career with a felony conviction on your background report, speaking with your recruiter is the first step in your journey. For obvious reasons, the military prefers recruiting people of high moral standards.
Recruiting people with a strong sense of morality reduces the number of disciplinary issues the military faces over the long run. A felony conviction might not disqualify you, but it sets off a red flag that your recruiter might use to deny your application.
If your recruiter still wants to hire you, he will interview you and take a range of factors into account during his decision. Your recruiter can grant a waiver that allows you to join despite your criminal background. Some crimes, though, disqualify you from getting a waiver, and they include sex crimes, assault with a dangerous weapon, kidnapping and credit card fraud. No matter your past crimes, most recruiters will automatically disqualify you for lying on your application.
Ready to start your journey?
6. Oil Field Jobs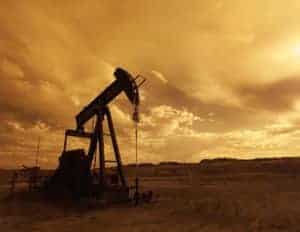 Even though many companies are turning to wind and solar power, fossil fuels will remain relevant for years to come. Since the demand for oil and gas shows no sign of slowing down, oil field jobs are a great choice for felons who are willing to work hard each day.
The pay and job outlook depend on the exact position you try obtaining. Oil rig operators can expect to make around $50,000 per year, and many support positions earn similar wages. If you set your sights high and become a petroleum engineer, wages of $65 per hour could be in your future.
The demand for petroleum engineers is projected to rise by 15% by 2026. This career requires you to travel and work a range of hours, including nights and weekends. Most oil fields require you to hold a bachelor's degree to get into this career. Like most jobs in the oil industry, working as a rig operator is a demanding job that requires physical strength and endurance.
Some felons find that working in this field serves as a healthy outlet that allows them to calm down and relax at the end of the day. Those willing to advance their education and show responsibility have plenty of room for advancement in the oil industry.
7. Truck Driver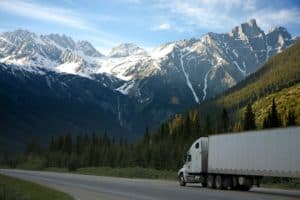 The influx of people buying items online over the past few years has increased the demand for truck drivers across the nation. Commercial truck driving is often stressful, and this stress contributes to the high turnover rate. The turnover rate, however, is good for you because it means trucking companies are always desperate for new drivers.
If you have a commercial driver's license and show a willingness to work hard, you won't have trouble getting a job. This career is not for you if you don't enjoy being away from home for extended periods. The average wage is $43,690 per year. While many truck drivers opt to work overtime to increase their income, they can work no more than 14 hours per day.
Many truck drivers stay away from their home towns for days or weeks before returning. That is why truck driving is not just a career; it's a lifestyle choice. Keep in mind that some companies promise to keep you home for a certain number of days each week, but you need to make sure those terms are in your employment contract before you begin.
Otherwise, the company for which you work could change the terms with little to no warning, and proving a verbal contract won't be easy. You can record the conversation if you live in a one-party consent state. No matter the path you select, always review the terms before signing up for a commercial truck driver position.
8. Marketing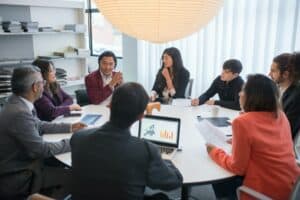 Marketing is another one of the top high-paying jobs for felons, and it could be the right option for you. Marketers earn an average wage of $132,000 per year. When you work as a marketer, you help companies create sales material that connects with their target audience on a deep level and compels them to buy. You do market research to learn the demand for the products or services your employer sells, and you then learn about the most pressing needs and desires of their ideal customer. Using that information, you improve your company's profit by creating advertisements that get results and grab attention.
Many people choose to work for someone else after becoming a marketer. The good news is that you can work for yourself online and in the real world. If you would like to work online, you can sign up to promote a wide range of affiliate products to people who need them the most. You use social media, search engine optimization, pay-per-click advertising and more to reach your sales goal each month.
If you would like to sell items in person, you can buy bulk products online and sell them at stores, trade shows or flea markets. Many companies require you to have a bachelor's degree before they accept you onto their marketing team. Some places are willing to work with you if you have relevant experience and prove your skills. You can work for yourself without any training and learn as you go. Consider taking online classes and reading books to boost your abilities and improve your sales rate.
9. Entrepreneur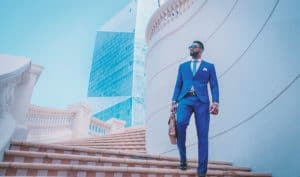 Many criminals are creative and determined individuals who need a healthy way to channel their energy. If you take those abilities and point them in the right direction, you will often get entrepreneurs. The best part of being an entrepreneur is that you decide what requirements you have to meet to move forward. When you work for someone else, the human resources department looks at your application and background to decide if it should hire you. As an entrepreneur, the people who hire you look at your skill and the results you can achieve for them.
Entrepreneurship is a unique and challenging career choice that's not for everyone. Being an entrepreneur means you are responsible for each success and failure you experience along the way. Not only do you need to be skilled in the industry in which you specialize, but you also need business skills if you would like to thrive over the long run. Entrepreneurs build businesses from the ground up and are passionate about what they do each day. This option could be a smart choice if you have a high risk tolerance and enjoy helping others.
10. Online Freelancing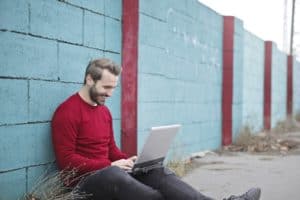 Online freelancing is a career path anyone can choose no matter their skill, experience or situation. A computer and internet connection are the only things you need to begin. You can make money as a freelance writer, graphic designer, sales agent, customer service agent and more.
The amount you earn depends on your skill and how much effort you put in each day. If you don't have a lot of experience, you start at the bottom and work your way up. You might think you can't be a freelancer if you lack the required skills. Even if you are not yet an expert, you can take online classes and learn as you go. Plenty of people on a budget are willing to hire professionals of all skill levels. Find freelance sites that connect you with people who need the services you offer, and you will go far.
The people for whom you work leave reviews on your profile so that other clients know what to expect when hiring you. You can start charging more once you earn a few positive reviews and prove you have what it takes to do the job you promise. You can expect negative reviews no matter how well you perform. When they come up, make sure to leave your side of the story. You should also contact the client who left the review and ask for clarification on what you could have done better. No matter how well you do, some people are never happy, leaving bad reviews all the time.
How Do I Get a Job as a Felon?
Getting a job as a felon is often a difficult task, but it does not have to be that way. This list of jobs is perfect for anyone with a felony conviction who wants to improve their situation in life with a high-paying job. Many of the jobs hire felons, and many employment opportunities offer on-the-job training. Many others only require a certification from a trade school for new jobs.
Since some states require you to have a license for a few of these positions, don't forget to check your local legal requirements before moving forward and selecting a path. If you still don't know which job makes the most sense for you, think about your interests and passions. One of the jobs is sure to match your style in a way that gives you a fulfilling career of which you can be proud. You are more than your criminal record!
Getting your new job is only the start of the life you are building for yourself. Once you get your foot in the door, make sure you keep your hands clean so that you don't find yourself in the same situation from which you recently escaped. Learn the policies and guidelines of the job you are trying to obtain, and you give yourself the highest odds of thriving over the long run.
Always look for additional ways to improve your skills and earning power if you are serious about crafting a much better life for yourself and the people about whom you care. No matter what roadblocks you face along the way, you can defeat them if you remain focused on your long-term goals and vision. The career for which you have been hoping is closer than you once thought, and you can take the vital first steps today.
Recommended Online Certification Programs
Explore our featured online programs to find the right match for you today.
Related Articles
Best College & Career Paths for Felons