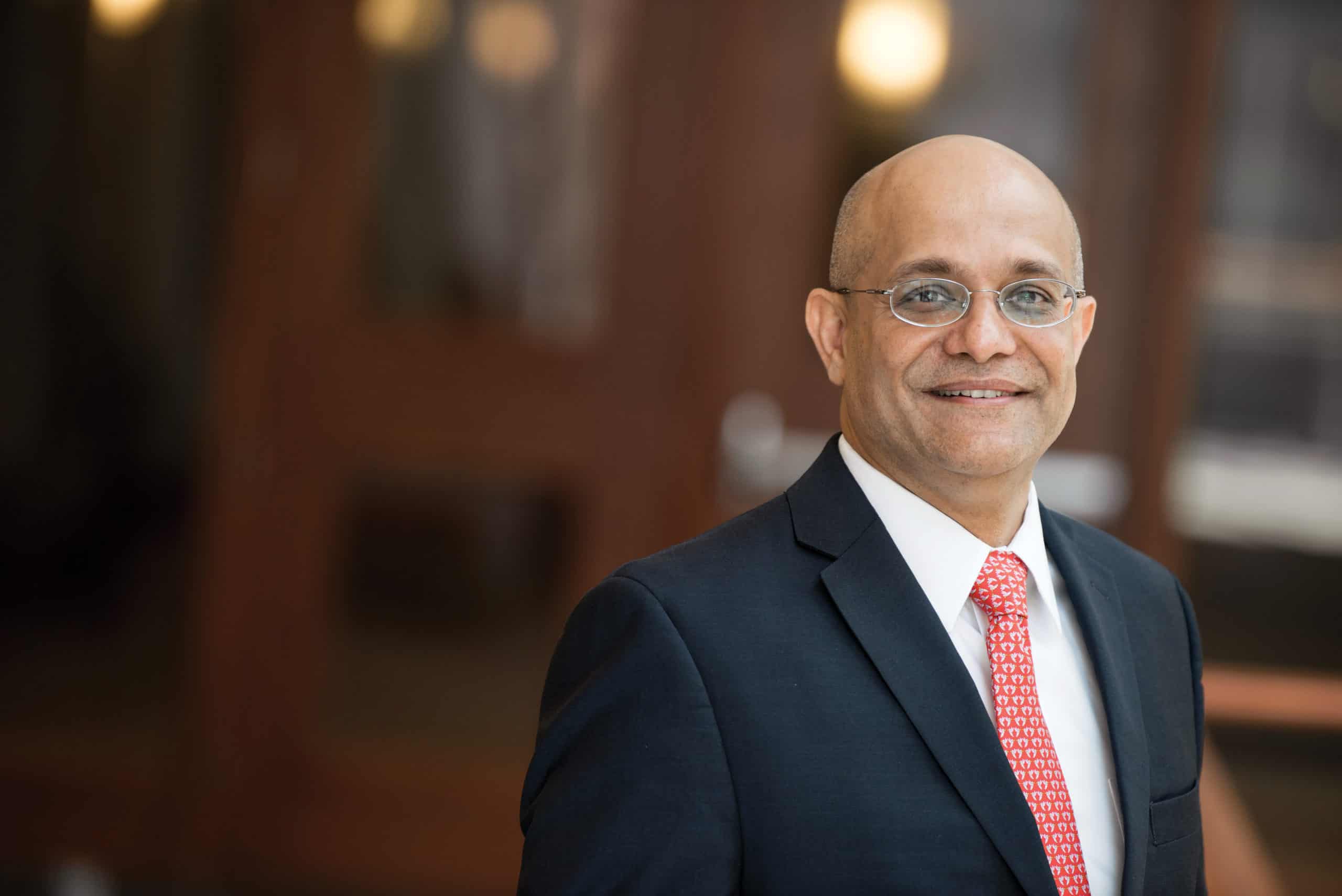 Many questions fill the minds of prospective students once they decide to pursue a business degree. How do I find the right business school? What are the critical facets of the school and program that I need to research? With the hundreds and hundreds of business schools, and even more business programs to choose from, the decision can be overwhelming. Students can find information about tuition, degrees, co-curricular activities, professors, accreditation, internship opportunities, curriculum, and student organizations on the school's website. But what about the underlying story behind all this information? College Consensus had the honor of talking with Dr. Paul Almeida, Dean of the McDonough School of Business at Georgetown University, to uncover their story. 
You will find Georgetown University at "the epicenter of global politics" in the heart of Washington, DC. Established in 1789, it is the "nation's oldest Catholic and Jesuit university." Georgetown is accredited by the Middle States Commission on Higher Education and contains several highly ranked schools offering degrees in law, business, medicine, nursing, health studies, and public policy. Over 5,400 students are studying for bachelor's, master's, and doctoral degrees. Some recognizable alumni include Patrick Ewing, Bradley Cooper, Bill Clinton, and Maria Shriver.    
The McDonough School of Business offers a global perspective, rigorous academics, and a culture of collaboration. It is AACSB-accredited, has a prestigious reputation, and is one of the highest-ranked business schools globally. This strong business school began as an undergrad program in 1936. Now, over 2,500 students study a variety of undergraduate and graduate business degrees. Business majors include Accounting, Finance, Management, Marketing, Operations & Information Management, International Political Economy & Business, Operations & Analytics, and International Business Regional Studies. McDonough joins the Walsh School of Foreign Service to offer the new Bachelor of Science in Business & Global Affairs. Graduate students can choose from a full-time or flex MBA, Executive MBA, Master's in Management, Master of Arts in International Business & Policy, and an Executive Master's in Leadership. Online students find excellent online business degree programs, including an online Master's in Business Analytics and the highly ranked online Master's in Finance. College Consensus has ranked Georgetown University in many rankings, including Best Colleges in Washington, D.C., Best Online Colleges & Universities in Washington D.C., Best Catholic Colleges & Universities, Best Green Colleges in the U.S., Best Colleges for Veterans, and Best Free Online Business Courses.
College Consensus: Please tell us about the McDonough School of Business and what makes it unique? 
Dr. Almeida: At Georgetown's McDonough School of Business, we are fortunate to be distinguished by three defining characteristics. First, we are part of a robust learning community at Georgetown University, with top programs in business, foreign service, law, medicine, policy, government, and more. Therefore, we have the ability to leverage knowledge from across the University to build a robust, interdisciplinary experience for our students in the classroom or through additional activities. This is especially important because most of the world's big issues – global health, cybersecurity, technology, and society – are essentially interdisciplinary in nature, with their solutions lying at the intersection of fields. 
Second, we are located in the global capital city of Washington, D.C., at the nexus of business and policy. Our students experience business through multiple lenses, with access to national and international business headquarters, embassies, NGOs, policy-makers, and a thriving entrepreneurial community. This translates to curricular and co-curricular learning activities, guest speakers, consulting and research projects, and eventually internships and jobs for our students.
Georgetown is distinctive for its deep-rooted Jesuit tradition, including care for the whole person and a commitment to serving the common good. At McDonough, we embody these values by building a community of belonging that supports one another and preparing students to be ethical leaders ready to tackle the world's most complex challenges.
College Consensus: What do you look for in successful applicants to your business school?
Dr. Almeida: In all of our programs at Georgetown McDonough, we take a holistic approach to the admissions process. Outstanding applicants demonstrate their potential for success in a rigorous academic environment while also demonstrating our community values. Our admissions teams also interview each student who is accepted into the program as part of the application process and get to know them as individuals. As a result, no one metric in an application is more important than another. We look at all of the pieces together.
College Consensus: How do you support your business students to leverage them into a career after graduation?
Dr. Almeida: Each of our academic programs offer robust career programming. Our Undergraduate Career Development Center provides tailored programming for students at each stage of their academic journey. They are housed at the business school and collaborate closely with university-wide career resources. For graduate students, our McDonough Career Services team works with recruiters, offers career advising, and has developed proprietary processes to help each student as an individual navigate a career journey. Our career teams also offer career treks, where students can travel to other cities around the world (once we are permitted to travel again, of course) to meet with alumni and business leaders to gain exposure to different industries and types of organizations. Within the academic programs, we also have formal mentorship programs that pair students with alumni throughout their journeys. Student organizations also host career days, where they invite alumni and industry leaders to share their stories and insights with our students. 
We continually engage with employers to understand the changing landscape of their talent needs so that we can shape our curriculum to best prepare students for success after graduation. For example, we recently added fintech and programming courses to our undergraduate and graduate curricula and MBA Intensive Learning Experiences, which allow us to develop one- to two-week courses that explore emerging trends in business. We also offer courses like our Undergraduate First-Year Seminar that culminates in a case competition solving a real-world problem for a local nonprofit organization. Our MBA Leadership Communications course with a final exam, called the Executive Challenge, engages the entire Full-time MBA first-year cohort in a day-long event where student teams role-play live cases with senior alumni. Our undergraduate and graduate students also have the opportunity to participate in the Global Business Experience, a consulting project for a client abroad where (outside of the pandemic) student teams travel to the organization's home country to present their findings and learn more about other cultures.
Finally, our long-term goal is to incorporate guest lectures or co-teaching from an alumnus or parent into every class at McDonough, where they would enhance the academic experience with the real-world experience they bring from within their industry. We began piloting this program two years ago but saw an acceleration in participation due to the pandemic, where our alumni from all over the world now have the ability to participate virtually in our classes.
College Consensus: Is there anything going on within your business education community that you are particularly excited about?
Dr. Almeida: At Georgetown McDonough, we know that the world's most complex issues can be addressed by working across industries and organizations. This collaborative and cross-functional approach allows us to gain diverse perspectives, share lessons learned, generate insights from across organizations, and unleash innovative solutions.
To address this, we have been building our capabilities around what we are calling "fields of the future": technology, analytics, and the future of work; the business of sustainability; business and global affairs; and, eventually, the business of health. To us, these areas hold the biggest challenges – and opportunities – for our society. 
For our students, this means we are creating entire new degree programs, like our Master's in Management that focuses on technology and innovation or our M.S. in Business Analytics, while also adding new courses and opportunities to existing programs, such as our MBA Certificate in Sustainable Business. We also are building our faculty expertise in these areas so we can generate research that benefits the business community and create lifelong learning programming that allows our alumni to re-engage with new knowledge years after they graduate.
College Consensus: What can you tell us about your online offerings?
Dr. Almeida: While all of our programs currently are either virtual or hybrid due to the pandemic, Georgetown McDonough is proud to have designed two online degree programs that help working professionals advance their careers from anywhere.
Our M.S. in Finance program has part-time and full-time options for both seasoned finance professionals and those seeking to transition into a finance role. Through small class sizes and a lock-step cohort format, students engage on an individual level with the faculty and staff of the program and build lasting relationships with one another. Students engage in both synchronous and asynchronous learning, including weekly discussion sessions. This program has a required in-person opening residency and a global residency featuring a consulting project for a client abroad. It also has a dedicated career team to help students achieve their professional goals.
In January, we launched our newest program — the M.S. in Business Analytics, which prepares students to understand and use data to create, share, and sustain value for their organization. It also is characterized by small class sizes, a dedicated career services team, and a mix of synchronous and asynchronous coursework. It includes two in-person, campus-based residencies and a capstone project. The capstone applies the program's study of concepts, methods, and tools to a challenging business data analytics assignment with a project sponsor.
College Consensus: Anything else you'd like to say about your programs and school?
Dr. Almeida: At Georgetown McDonough, our goal is to equip students with the tools, techniques, and confidence to make a difference. We see the world constantly changing, and we are committed to being innovative and able to adapt to the shifting dynamics of business. By doing so, we support our entire community of students, faculty, staff, and alumni in continually building new knowledge and expertise to confidently lead among change and uncertainty.
Crucial Characteristics
Interdisciplinary: The world of business has evolved immensely over the past few decades. In most careers that business graduates will pursue, there is a need to have some knowledge in another area outside of general business. Although it is still crucial to learn the foundational concepts of marketing, accounting, finance, and management, it has become as essential to integrate ideas, coursework, courses, and even full specializations from other fields. Providing an innovative interdisciplinary experience for business students enhances integrative learning, the ability to think across boundaries, creative and critical thinking, and reflects the real world in a powerful way. It allows a knowledge and skills base that can successfully solve problems and move organizations forward.
The McDonough School of Business takes pride in its ability to influence its business education with other disciplines through integrated learning. This interdisciplinary approach expands students' perspectives and competencies and allows them to tailor their education to meet specific career goals. Several of Georgetown's schools and their faculty collaborate together in research and the creation of interdisciplinary degrees. For example, McDonough works with Georgetown's School of Foreign Service to offer a Bachelor of Science in Business & Global Affairs. Graduate students benefit from a Master of Arts in International Business & Policy and MBA dual degree programs in law, foreign service, medicine, and public policy. McDonough's interdisciplinary approach helps equip graduates to tackle issues in society, global health, artificial intelligence, cybersecurity, climate change, and technology.
Holistic: Georgetown stands firm in its Jesuit traditions, and McDonough shares these traditions in its business programs. One of the main aspects of Jesuit education is Cura Personalis – "care for the whole self." As Dr. Almeida explained, McDonough values this belief and takes a holistic approach with students through creating an attentive, supportive, and caring environment that embraces everyone's unique personalities and talents. The holistic approach is also carried into the admissions process, as they consider the student as a whole in everything they have to offer.