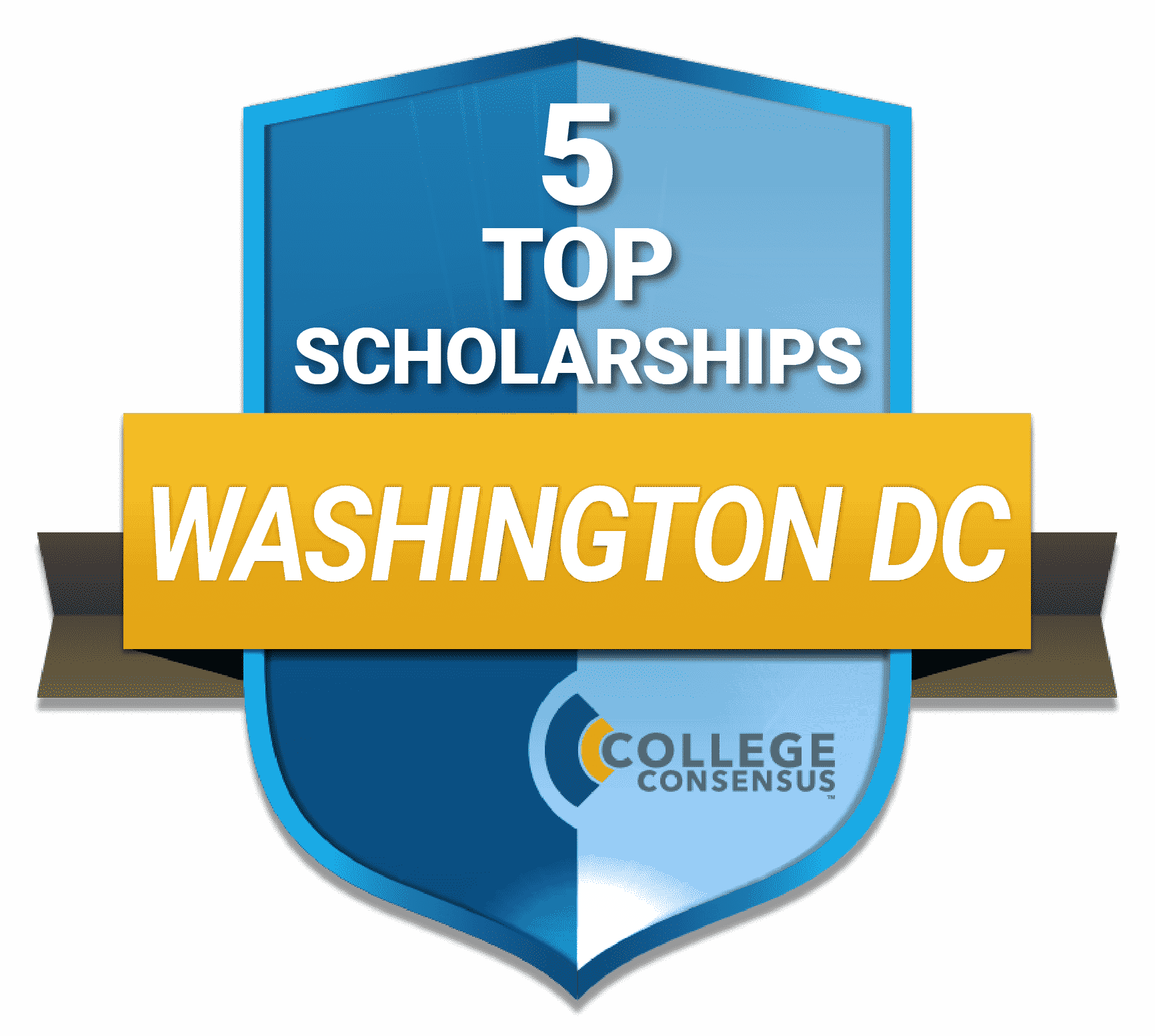 No matter where you live in the United States, attending college is expensive. Fortunately, states and entities across the country offer a number of grant and scholarship programs to help with tuition. This is no less true in Washington DC than it is anywhere else. As the capital of our nation, it stands to reason that DC scholarships and grants are quite plentiful indeed. The District of Columbia is actively engaged in promoting the educational needs of its residents. Students looking for a Washington DC scholarship program have many options available to them. 
For future political leaders, civil servants, and high-powered lobbyists (you know who you are) going to college in Washington DC, College Consensus has put together a guide to scholarships in the District of Columbia. Programs are below in alphabetical order.
See Also: Best Scholarships for Online Students
1
AFCEA Washington, DC Chapter
The Armed Forces Communications and Electronics Association (AFCEA) has been offering scholarships in Washington, DC since 1989. These Washington, DC scholarships are intended to promote education in STEM fiends such as engineering, chemistry, computer science, physics, and mathematics. To be eligible, students must live in Washington, DC and be accepted into a STEM program at an accredited 4-year college or university. The award amount is $12,000 and there are twelve winners announced each year. The deadline to apply is May 1.
AFCEA's Washington, DC chapter is committed to helping industry and government work together. The organization focuses on working with the intelligence and national security communities and the Department of Defense. AFCEA is managed by a board of directors and has dozens of executives in many industries pushing to support their work. The Washington, DC chapter hosts monthly luncheons, a Winter Gala, a spring technology summit, and many other events. There is also a Young AFCEA chapter in Washington, DC.
The Carson Scholars Program is unique because it is targeted toward younger children. Students from 4th through 11th grade can be nominated by their teachers to be considered for this Washington, DC scholarship. To be eligible, students must have a minimum 3.75 GPA and be involved in community service. One scholar is chosen from each school that has nominated students for the honor. The award is $1,000 and the application deadline is January 10.
The Carson Scholars Fund supports the Ben Carson Reading Project and the Carson Scholars Program. The reading program provides money to school districts for the purpose of creating reading rooms within the school. These rooms are intended to be inviting places for students to read. Retired neurosurgeon Ben Carson and his wife, Candy, started the Carson Scholars Fund because they were appalled at the state of education in the United States and wanted to make a difference. The Carson Scholars Fund now awards over 500 scholarships each year.
3
David and Maryla Korn Family Scholarship Fund
The David and Maryla Korn Family Scholarship Fund awards scholarships to primary and secondary students attending the Jewish Primary Day School or the Charles E. Smith Jewish Day School. Students must live in the metropolitan Washington, DC area to be eligible. The award amount ranges from $2,500 to $5,000 and applications are available from the schools. The deadline to apply is May 3.
The Jewish Social Service Agency (JSSA) is a nonprofit social service and health organization that helps families and individuals in the Washington, DC metropolitan area meet their social, emotional, and physical challenges. The organization supports more than 30,000 people each year. Its services include educational services, in-home support, counseling, special needs services, nursing, and hospice care. While the organization has Jewish roots, it is dedicated to helping as many people as possible, regardless of their faith or ability to pay for services.
4
DC Tuition Assistance Grant
The DC Tuition Assistance Grant was founded by an act of Congress in 1999 to provide Washington, DC scholarships to residents who want to attend college. To apply, students must submit the DC OneApp application form, along with any supplemental documents that are required. Students must also complete and file a FAFSA. The award amount is up to a $10,000 scholarship plus up to a $2,500 stipend for living expenses.
The DC Tuition Assistance Grant is overseen by Washington, DC government. Besides being the seat of government for the US, Washington, DC is committed to becoming a zero-waste city. There is a home composting program, a comprehensive recycling program, and an educational campaign that encourages everyone to use less, reuse more, and recycle and compost as much as possible. The Zero Waste initiative is a cooperative effort between the Department of Energy and Environment, the Department of Public Works, the Department of General Services, and the Department of Parks and Recreation.
5
Kappa Scholarship Endowment Fund
The Kappa Scholarship Endowment Fund awards scholarships to graduates of public schools and charter schools in the Washington, DC area. These Washington, DC scholarships have been distributed among eligible students for more than 30 years, and there have been over 700 recipients to date, totaling more than $2 million. To be eligible, applicants must be enrolled at an accredited four-year college or university. Applicants must have a GPA of 2.5 or higher and demonstrate financial need. To apply, students must submit the application form along with two letters of recommendation and a high school transcript. The award amount varies and the deadline to apply is March 31.
The Kappa Scholarship Endowment Fund is a nonprofit organization that exists to provide funding for Washington, DC students who want to pursue higher education. The endowment fund is a division of Kappa Alpha Psi Fraternity's Washington, DC alumni chapter. The endowment fund has grown to over $3 million, and the organization has a fundraising goal of to increase that amount to $8 million.
Does the District of Columbia Offer Scholarships and Grants?
Scholarships for DC students are many and always available, but students must meet the application requirements to be eligible. While it is easier to obtain DC scholarships for DC residents, there is no across the board rule for each scholarship you may apply for.
Some DC scholarships for college students will naturally require that eligible applicants live in the District of Columbia. Others only require that the student should attend a DC college or university. To learn more, talk to the Financial Aid office of the school you intend to enroll in to learn more.
Can I Get an Internship Scholarship in Washington DC?
If you are looking to advance your education and obtain valuable work experience at the same time, Washington DC internship scholarships are a great way to go. As you can imagine, there are many Washington DC internship scholarships available in our nation's capital owing to the fact that well trained and highly educated professionals are in high demand in Washington DC.
There are many organizations and foundations dedicated to the promise of delivering internship scholarships to students in Washington DC and the surrounding metropolitan area.
Washington DC internship scholarships are offered by a number of different congresspersons who wish to promote their causes and attract motivated support. One such example is the Kathleen Rice Scholarship Program, which is available to motivated students with a demonstrated financial need.
To learn more about DC scholarships, visit the Washington Internship Institute.
Area there Internships for Nurses in Washington DC?
Nurses are in high demand not only in the Washington DC area but all over the US and the world. That's why scholarships, grants, and internships can be readily found just about anywhere you go. This is no less true of our nation's capital, where nursing scholarships in Washington DC are plentiful!
A nursing internship is a great way to transfer your nursing career from the classroom to a real clinical practice by obtaining real-world, hands-on skills. There are many healthcare organizations in Washington DC that are eager to extend scholarship, grant, and internship opportunities to promising and dedicated nursing students.
Organizations offering currently available internship programs in the District of Columbia include:
Moon River Senior Care
BestSelf
ACO Bethesda
Health Initiatives
Baptist Memorial Health Care
Can International Students Get Scholarships in Washington DC?
Most academic institutions in the United States are eager to accept students from abroad. That being the case, many organizations are prepared to provide tuition assistance to foreign students- and many more are expressly designed for that purpose. This is especially true in our nation's capital where scholarships in Washington DC for international students are readily available.
One prime example is the American University in Washington DC, which states that "International students are invited to apply for tuition assistance programs and receive both merit awards and scholarships from American University and other organizations to help finance their studies."
Grants, scholarships, and other opportunities are extended to graduate and undergraduate students. Grants are extended based on situational, group membership, financial need, and other qualifications, while scholarships are extended based on merit.
Related Rankings: