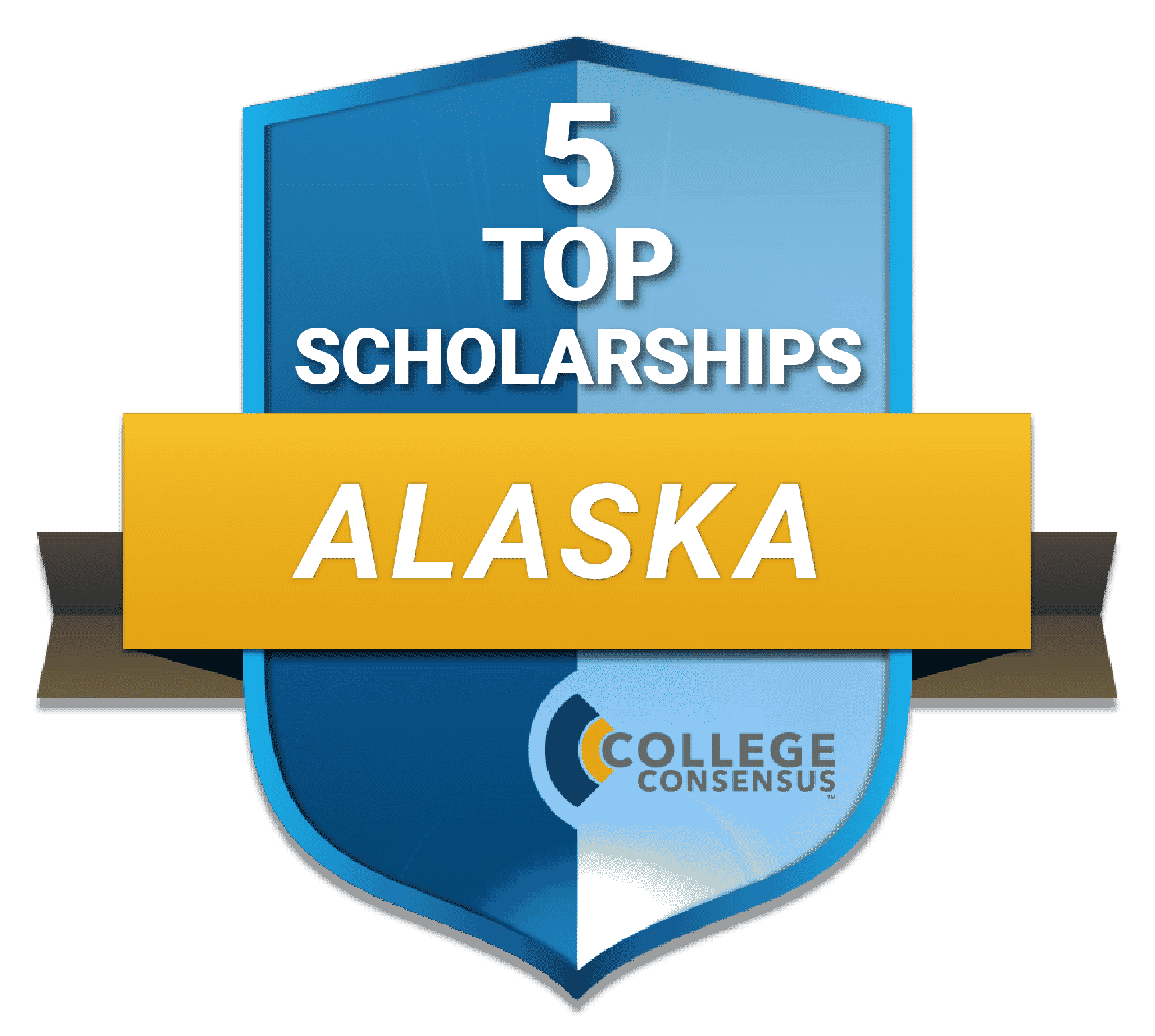 Students looking for college scholarships in Alaska have a wealth of options open to them. There are many scholarships for Alaska residents who are interested in earning a college degree. Alaska has twelve colleges. Some students who live in Alaska qualify state of Alaska scholarships due to attending a college in Alaska, while others qualify for scholarships for Alaska by growing up as or becoming a resident of Alaska later in life. The government offers both grants and scholarships to Alaska students. Grants are money that are given solely based on financial need, while scholarships are typically awarded by students who show a combination of merit and financial need.
If you're an Alaska college student, start your search right now with College Consensus. Scholarship programs are listed in alphabetical order.
Does the State of Alaska Offer Scholarships?
One of the most popular state of Alaska scholarships is the Alaska Performance Scholarship. This scholarship is given by the Alaska Commission on Postsecondary Education, and was created to help students who live in Alaska achieve college education and vocational training. The University of Alaska Scholars Program is another popular scholarship program for students who attend the U of A. This program works to support outstanding college students during their postsecondary education.
Are There Scholarships for Alaska Natives?
There are many scholarships in Alaska for natives, with funds set aside specifically for students who have indigenous heritage. One commonly sought after Alaska native college scholarships is the Full Circle scholarship, which is for students with native heritage who are studying at tribal colleges. The Full Circle scholarship is available to both undergraduate and graduate students.
The Bureau of Indian Education offers many scholarships in Alaska for natives. The Bureau offers Alaska native scholarships and grants to help native Alaskan students have a less stressful time figuring out how to pay for their higher education. The Bureau's Alaska native college scholarships offer financial help to undergraduate and graduate students. Some of the Alaska native college scholarships are for students who are studying in a specific field, such as science, engineering, or math. Other scholarships are based solely on academic merit, and require a certain GPA to apply. Some of the scholarships for Alaska natives are awarded on a one time basis, while others are able to be rewarded year after year, given that the recipient meets certain academic requirements.
Are There Scholarships Just for Nurses in Alaska?
There are many nursing scholarships in Alaska, as there is a high need for qualified nurses in the state. Many of the Alaska nursing scholarships require that nurses work in a small and/or underserved community in Alaska after they complete their education.
The Alaskan Native Medical Center Auxiliary Scholarship is one of the most sought after nursing scholarships in Alaska. The scholarship is for students who attended a rural high school (not off of one of the major highways) in Alaska. This is one of the Alaska nursing scholarships that aims to help students who may come from a lower income family get the same shot at higher education as their more affluent peers. This scholarship is only for students who are attending the University of Alaska.
The Cherokee Uniform Company (a popular nursing uniform supplier) is also offering scholarships to nursing students in Alaska. To apply for the scholarship, prospective winners will need to watch a video about nursing and write an essay. The ten best submissions will each earn a $2,000 scholarship.
If you're already working and want to earn your nursing degree, it's a good idea to check with your employer to see if they offer reimbursement. Similar to a scholarship, many employers offer employees who want to return to school some financial compensation for keeping their GPA above a certain level.
What Do I Need to Apply for Scholarships in Alaska?
If you're in the middle of filling out your Alaska scholarship applications, you may feel overwhelmed by the paperwork involved. Let's take a look at some of the most common items you'll need to fill out your Alaska scholarship applications.
You may need proof of financial need for the scholarship. You'll likely be required to fill out a FAFSA form, which will take into account whether your family will be able to help you pay for school. If you work, you may need to provide a copy of your most recent tax return to apply for scholarships.
If you're applying for a scholarship that is specific to Alaska natives, you may need to provide proof that you are a native Alaskan. If you are applying to a scholarship specific to any other cultural or ethnic group, you may need to provide proof that you are indeed a member of that group.
When you apply for scholarships, you'll notice other requirements as well. Some scholarships require that you have a certain GPA, while others require that you participate in community service. Read requirements carefully, but know that you can still apply even if you don't fit the requirements perfectly.
Related Rankings: