An estimated 6.1 million children ages 2-17 have been diagnosed with ADHD, which makes college accommodations for students with ADHD a central concern. Professionals in neurology and psychiatry, as well as ADHD advocates, have worked tirelessly in recent years to advance the understanding of ADHD as a neurological difference rather than a disability or disorder. It is a neurodivergence, closely related to autism and other neurological differences.
While many parent groups have expressed concern that apparently more children have ADHD than ever, experts make it clear that higher numbers of students with ADHD are the result of higher awareness and better testing.
With the increase in diagnosis, however, we have seen an increase in students identified as having ADHD entering college and finding that colleges designed for neurotypical students do not serve ADHD students well. Fortunately, today there are many resources for college students with ADHD.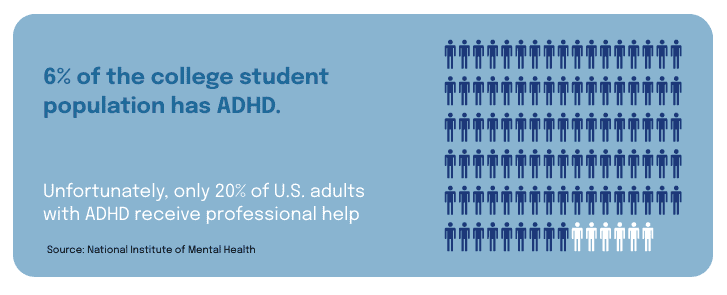 ADHD-Specific Resources
AACAP – College Students with ADHD 
This guide from the American Academy of Child & Adolescent Psychiatry provides information about studying, finding help, and managing medications for ADHD college students.
ADD Advocate 
ADD Advocate provides news, information, resources, and coaching for children and young adults with ADHD. Their site includes numerous articles related to ADHD and college, such as "ADHD and College: Connecting College Kids for Success."
ADDitude 
The online magazine ADDitude focuses on ADHD life at all stages, from childhood to adulthood, with content for people with ADHD and their parents. Their College Survival Guide for Students with ADHD is a valuable, informed overview.
ADHD Coaches Association 
As a professional organization, the ADHD Coaches Association advocates for ADHD coaching and promotes high ethical standards among professionals in the field. They also provide resources for ADHD people looking for reputable coaches.
ADHD World Federation 
The ADHD World Federation is an international organization dedicated to spreading awareness and understanding about ADHD around the world. They work to bring together experts, practitioners, organizations, and leaders to promote research and policy to help people with ADHD live in a world that treats them better.
Attention Deficit Disorder Association (ADDA) 
The Attention Deficit Disorder Association has been working for over 30 years to help adults with ADHD find the support and connections they need to live and work their best. Post-secondary education is one of their main missions, with courses, webinars, articles, and more providing resources for ADHD college students.
Child Mind Institute – Tips for Going to College With ADHD
This article by the Child Mind Institute gives ADHD college students simple tips for succeeding in college.
Children and Adults with Attention-Deficit/Hyperactivity Disorder (CHADD) 
The nonprofit organization CHADD works to provide support, education, and advocacy for people with ADHD and their families. CHADD offers a wealth of resources, educational materials, and links to support centers.
Dani Donovan – ADHD Comics 
Cartoonist and content creator Dani Donovan makes comics explaining life with ADHD, as well as videos, blogs, and public speaking engagements.
How to ADHD 
How to ADHD creates videos and social media content about ADHD, with a prolific YouTube channel and social content that helps people with ADHD feel connected and understood.
How to Explain ADHD (YouTube) 
This helpful video from How to ADHD is worth singling out for attention, because it provides people with ADHD a clear, understandable way to explain their way of experiencing the world to people who do not have ADHD.
LadyHD 
LadyHD calls itself "A podcast for distractible women." LadyHD is created by women with ADHD, for women with ADHD, covering topics valuable to women with ADHD, such as the workplace, relationships, motherhood, and the maximum number of open tabs a smartphone can support.
LD Resources Foundation – Resources, Tips, and Strategies for College Students With ADHD 
This article from LD Resources Foundation offers college students with ADHD straightforward information about topics like classroom accommodations, organizational hacks, and demanding their ADA rights.
On Their Own: Helping College Students with ADHD 
This recorded webinar from Help For ADHD discusses the transition to college for students with ADHD, from Dr. Theresa Maitland.
One ADD Place 
One ADD Place is a clearinghouse for resources related to ADD and ADHD, from information about medications, symptoms, and diet, to links for professional services and a community library.
Shire Content – 6 Steps to College 
This guide from the pharmaceutical company Shire offers checklists and advice for the parents of teenagers with ADHD to help organize their college application process.
Shire Content – College Testing Guide  
Another Shire guide provides a clearly structured explanation of the testing process for college applications, including the SAT and ACT, timelines, and study suggestions.
Totally ADD 
Totally ADD is a website from the makers of the Canadian documentary ADD & Loving It. They take a light-hearted but informative approach to guiding users through symptoms, diagnosis, treatment, and life with ADHD.
Understood 
The nonprofit organization Understood works with employers and employees to help create more inclusive workspaces for adults with ADHD and learning disabilities.
WebMD – Adults, How is Your ADHD Brain Different? 
This helpful video from WebMD speaks to adults who have ADHD, explaining the ways in which adult brains with ADHD work differently than neurotypical brains.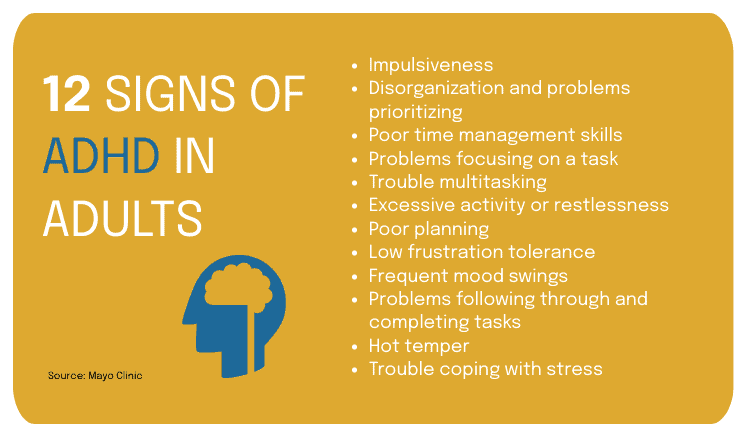 Finding ADHD Accommodations in College
While accommodations in lower grades via the Individualized Education Program (IEP) and 504 are fairly straightforward, it can be more complicated to get help for college students with ADHD. It's true that college accommodations for students with ADHD are not always exactly the same. That's because it's college. The environment is different. And, the reality is that study habits for college students with ADHD are often different in an on-campus scenario.
Students with ADHD are often misunderstood and their needs are not well-served in the traditional model of education.There is a lack of awareness about ADHD and its effects on students. This leads to a lack of support for those students who have to deal with this condition every day. Many college campuses are not equipped to provide adequate accommodations for these students.
However, ADHD college students can succeed and even thrive in college with the proper accommodations. Just as deaf or blind students need accommodations that can help them, students with ADHD need the appropriate help.
College is a balancing act for most people. It's a place where you have to juggle many different responsibilities and deadlines.
For people with ADHD, it can be difficult to manage the workload and stay on top of things. Despite the name, ADHD is not a deficiency of attention. In fact, people with ADHD may hyperfocus at times on thing that interest them. Other times, ADHD college students shift their attentions rapidly and uncontrollably. ADHD primarily causes executive functioning issues, which makes conventional time management and self-motivation difficult.
Besides executive functioning, other aspects of college life that are a challenge for ADHD college students include:
Socialization: Many people with ADHD face bullying and exclusion because of their symptoms. Because of their rapidly changing attentions, people with ADHD may have trouble maintaining friendships.
Rejection Sensitive Dysphoria: People with ADHD tend to take rejection very hard, or even just perceived rejection, such as criticism from educators.
Sensory Overload: Like autistic people, people with ADHD may have strong reactions to sensory stimuli. Processing sensory input differently may mean people with ADHD are bothered or distracted by things that other students ignore, like a buzzing florescent light.
College is a balancing act for most people, but students with ADHD have an even more difficult time managing the workload and staying on top of things. There are many colleges that are starting to offer specialized programs for these students, which offer academic support as well as accommodations that help them succeed while in school.
There are many colleges that are starting to offer specialized programs for students with ADHD. These programs offer academic support and accommodations that help students succeed while in school.
Disability Organizations
The Arc 
The Arc is the nation's largest nonprofit advocating for people with intellectual and developmental disabilities.
AHEAD 
The Association on Higher Education and Disability (AHEAD) is a professional organization made up of disability resource professionals and other college administrators and faculty who work to make college education accessible to disabled people.
DREAM 
DREAM: Disability Rights, Education, Activism, and Mentoring is a project associated with the National Center for College Students with Disabilities and AHEAD that advocates for disabled students' rights.
LD Online 
LD Online is a massive resource for students with learning disabilities and their families, including informative articles, interviews with professionals, videos, and more.
Learning Disabilities Association of America (LDA) 
The Learning Disabilities Association of America offers resources for parents, educators, adults, and students. Founded in 1964, the LDA is a leading source of information and resources nationwide.
National Alliance on Mental Illness (NAMI) 
The National Alliance on Mental Illness provides support and education for people with mental illnesses, working to build awareness in communities.
National Center for College Students with Disabilities (NCCSD) 
The National Center for College Students with Disabilities is a federally-funded project that provides resources, information, and support for disabled college students.
National Center for Learning Disabilities 
The nonprofit National Center for Learning Disabilities began in 1977 to advocate for people with learning differences, both children and adults.
Grants & Scholarships for Students with ADHD
Just because help for college students with ADHD may be different in many respects does not necessarily have to be a bad thing. Some programs and organizations offer scholarships and grants for college students with ADHD, which can also include coaching and counseling. The goal of these types of funding opportunities from corporations, private associations, and charitable organizations is to support the needs of students with ADHD, while giving them the resources that will help them succeed. Here are just a few examples of college grants for students with ADHD.
These college grants for students with ADHD are just a few of the examples of funding resources that help students to overcome basic financial and logistical challenges to pursuing higher education.
Good Colleges for Students with ADHD
While it would be great to imagine that every university or college would have programs designed to meet the needs of ADHD students, that's just not the case. Colleges with programs for ADHD students do exist, though. A few of the colleges with programs for students with ADHD include:
Good colleges for students with ADHD can and do make a difference, with support via workshops, coaching, and counseling services. These resources are al designed to help students with ADHD succeed.
Study Tips for College Students with ADHD
Good colleges offer study tips for college students with ADHD, because it's essential for success in an academic environment. Many of those study skills are just a matter of taking more time, developing a routine, etc. Here's a quick list:
Keep up with the work. When students with ADHD get behind, it can contribute to the feeling of being overwhelmed, without the ability to "catch up."
Plan for study every day, with the understanding that it will just take longer.
Use tutors and writing center resources.
Find a quiet space that's free from distractions. (For some students, a noisy space might be more conducive to study.)
Determine what time of day works best for studying.
Factor in extra time for rewriting and editing when you write for any assignment.
Take practice tests and take full advantage of essay questions and prompts.
Use tools like highlighters, sticky notes, and other supplies to mark up text and remember.
Take frequent breaks.
Take notes with a laptop or tablet.
Rewrite notes to reinforce learning and memory retention.
Use movement and/or verbalization to support the study and learning process.
While it may sound melodramatic, the goal is to have a survival guide for college students with ADHD. Be proactive in understanding the effective study strategies for college students with ADHD. Then, go beyond the study skills for college students with ADHD, and determine what other skills and resources you need to be successful in an academic environment.
Related: