If you are looking for a career that is designed to carve out a brighter future, special education might be the perfect landing place. For many, the COVID-19 pandemic has been a time of great personal reckoning. Many are asking big questions about new academic and career paths. Are you? No matter what it was that led you here, we want to support you to find a bachelor's degree program that meets all of your needs. Studying online might be the perfect fit for the times, but also in terms of juggling your other life commitments.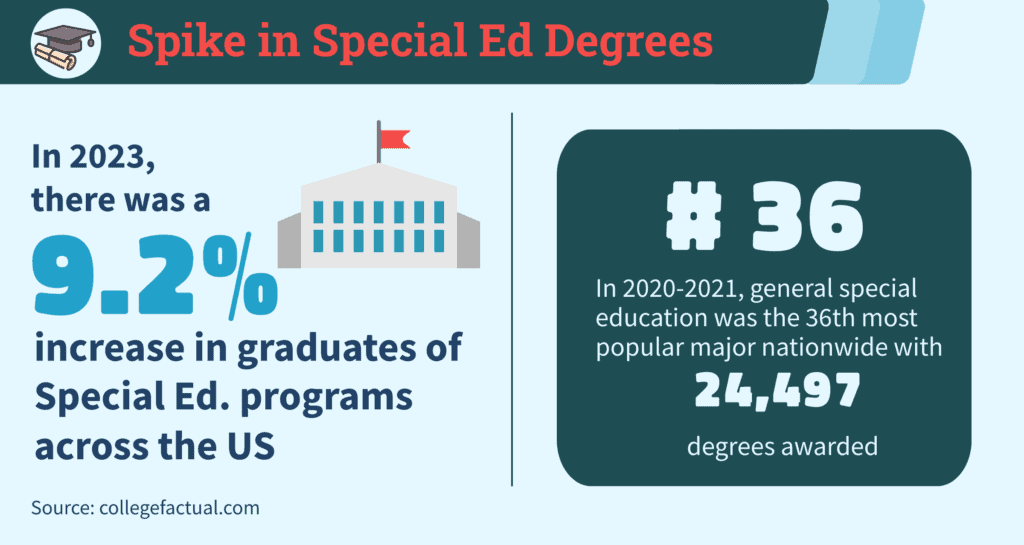 The projections from the Bureau of Labor Statistics suggest that the field of special education is not going anywhere. Many people choose to achieve an associate's degree in this field first, for the sake of affordability and practice. Therefore, many online bachelor's programs take into account previous academic credits and act as degree completion programs. An online bachelor's in special education can also offer the necessary flexibility to enable you to continue working in the classroom if you were already doing so, and if not maintaining other work and family commitments. You will learn all of the important skills and resources available to special education teachers.
Below you will find our list of best 25 online bachelor's degrees in special education, all of which have been ranked according to three metrics:
Cost
Reputation
Alumni Success Rate
This well-rounded list offers program options that support the needs of a variety of learners. We also touch upon the various roles of professionals in the field of special education. Take a good look and see if there is something that speaks to you and your goals. Best of luck.
How Much Can I Make as a Special Education Teacher?
According to payscale, a special needs teacher salary varies, depending on the level of degree the educator has achieved. An undergraduate degree in special education can offer an average salary of $58,000 per year. Preschool or kindergarten special education teachers can make an average of $40,000s with a special education teaching certification or special education licensure. There are many ways to approach this path, but clearly a bachelor and above makes all of the difference as far as salary is concerned. Clearly, this is variable depending on the school district, the difference between public and private schools, and if the teacher has a specialization. This does not, however, account for the perks of having job security and the benefits associated with working for school districts.
The salary potential is even higher if one chooses a special education career as an executive director or program leader. This can be upwards of $77,000. It is projected that a chief executive officer is well into six figures with a $153,000 median income range.
How Can I Get a Bachelor's in Special Education Online?
There are many versions of online special education bachelor degree programs. Some can enable you to achieve all 120 credit hours (or in some cases more) online. However, most of the programs out there are online bachelor's degree completion programs. These opportunities, however, are mostly completion programs. What this means is they are catering to students who already have an associate's degree in a similar discipline and want to complete a bachelors in a flexible format. Colleges that offer special education degrees might have an online arm in order to offer students a chance to work in the field while pursuing their degree, and utilize their current employment as fieldwork. Just like any program, special education degrees come in all shapes and the online learning opportunities are also not one size fits all. Some programs are more demanding and fast paced, while others allow students to work on their teaching degree online within their own time frame.
What Will I Learn in a Special Education Degree Program?
Special education degree programs offer a myriad of theoretical and practical skills with the intention of preparing students to work in the classroom following graduation. You will also learn how to navigate the world of IEPs and 504s. The skillset is vast and dependent on the teachers college. Special education degree requirements are often fairly ubiquitous and are made up of something close to 120 credit hours. I would say the majority of programs have an embedded field work, internship, and practicum component, ensuring that graduates have enough experience to be effective.
Many programs offer coursework in classroom management, understanding interventions for students with mild to moderate disabilities, creative classroom activities, and often coursework related to communication with students and families. There is a focus on essential learning theories, teaching strategies, and classroom practices for diverse learners within special education services. Many programs have explicit technology inclusion aspects that play a role in facilitating all of the coursework. Some even have a STEM inclusion aspect.
Many programs have a focus on intervention strategies or a generalist approach, in which case the classes reflect some of those concepts. Some of the programs have additional endorsement opportunities like reading specialists. Some of these options make a special education professional more marketable in the workforce, so it's certainly something to consider.
Related:
25 Best Associates Degree Programs in Special Education
25 Best Master's Degree Programs in Special Education
Special Education Teacher Job Descriptions 
Resources for Current and Future Special Education Teachers