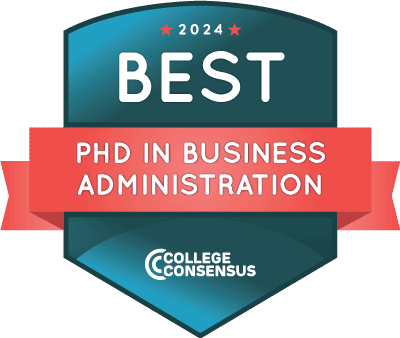 This Best Ph.D. in Business Administration ranking lists the most prestigious and highest academic degrees from around the country focused on business and management research. A Doctor of Philosophy, Ph.D., in Business Administration is a postgraduate degree offered by business schools and business faculties at colleges and universities across the nation. Professionals who complete a Ph.D. can enjoy an array of significantly superior career prospects. Graduate students and professionals interested in leadership research, administration, academia, consulting, and entrepreneurship will find that a Ph.D. in Business Administration is the exciting finish line.
Ph.D. in Business Administration
Many universities around the nation offer Ph.D. programs. It is common for doctoral students to specialize in Business Administration, Social Sciences, Engineering, Natural Sciences, Medicine, Sustainability, Humanities, and the Arts. Like in all other areas of concentration, Ph.D. in Business Administration holders are considered to be experts in their field. If you are interested in this type of doctoral degree, this ranking contains some of the best you will find in the nation.
Methodology
This is a consensus ranking of the best Ph.D. programs in business administration. What makes this ranking a great tool for prospective students is that we use data from five prestigious ranking systems. This means that students get a broad view of the best programs available, separate from any one particular organization's priorities. These are not the best according to one person. They are the best according to everyone.
This list shows the most prestigious programs across the board. Ranking scores were weighted equally, averaged, and converted to a score on a 100-point scale to reveal the degree's Consensus Score.
Data for our ranking order was collected from: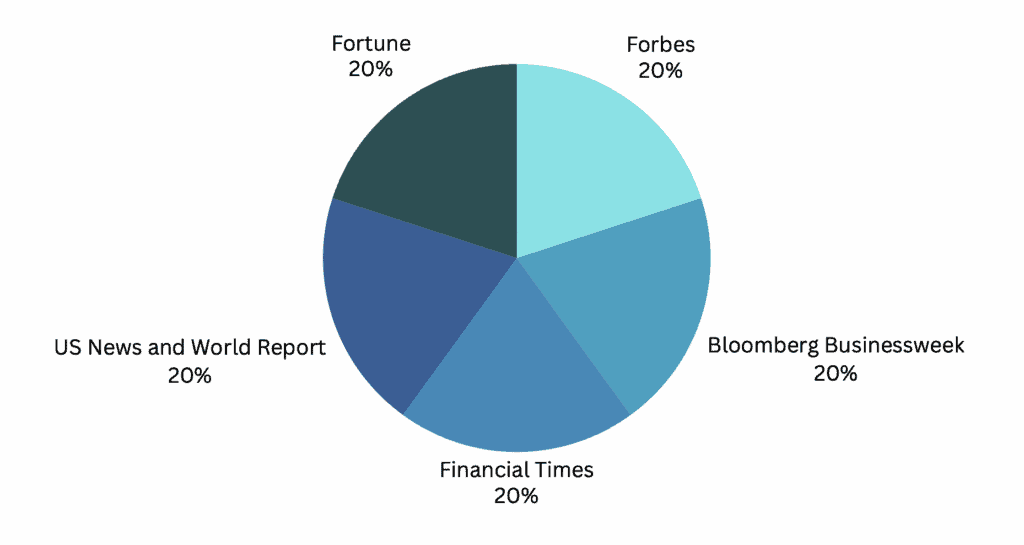 There was a significant change in the ranking order from the 2020 ranking. We used our consensus methodology from our MBA program rankings, giving us a comprehensive view of business schools with the best brands. This methodology change only kept five business schools from our previous ranking. But you will see that this ranking lists the most prestigious Ph.D. programs from around the country.
Related Rankings:
Best Undergraduate Business Programs
Best Online DBA Programs
Best Online Doctorate in Leadership Programs
Are you interested in becoming a business professor or pursuing a Ph.D. in Business Administration? There are several reasons why this is an excellent idea, including job security, intellectual stimulation, a lucrative income, flexible work conditions, and more. Given the current shortage of individuals holding a doctoral degree in business administration and the increasing demand for their services, now is an excellent time to consider pursuing a Ph.D. in Business Administration.
What is the Current Demand for Professionals with a Ph.D. in Business Administration?
In today's business, the number of new doctorates is less than the average of positions available. This tendency is due to three current realities:
Many senior faculty members are retiring or will soon retire,
There is an increase in the number of graduate students seeking business degrees (a trend likely to continue), and finally,
There remains an insufficient number of doctoral students enrolling in and completing doctoral business programs.
According to a survey conducted by AACSB International, demand for Ph.D.s in business schools rose slightly in 2006 while the overall vacancy rate rose to 6.8 percent. At the same time, the estimated growth in business faculty positions for 2007 was 4.7 percent. Overall, the shortage of business faculty staff members is predicted to reach 2,400 in the coming years.
The staff shortage has resulted in more attractive salaries for faculty at business schools. Combined with additional payment for activities such as summer teaching and research, consulting, sponsored papers, executive program teaching, textbook writing, and presentations, business administrators enjoy healthy incomes.
What Kind of Lifestyle Can a Ph.D. in Business Administration Expect?
Professionals with this type of degree can become economists, C-level executives, financial managers, and educators. Professionals working in traditional areas of executive business leadership will often experience more high-pressure roles within their organizations. University professors, however, enjoy many lifestyle and work privileges that are not typically found in other professions.
Significant intellectual and professional autonomy allows for an atypical degree of freedom in defining workflow and developing academic activity areas. Nine-month contracts in higher education allow professors the freedom to travel and experience alternative teaching, consulting, and research assignments. Tenured faculty in higher education have employment that provides unprecedented job security.
The opportunity to teach high capacity students, undertake research, and develop professional relations with colleagues across the nation and world is unrivaled in most other professions. Being a professor also means searching for knowledge that will make a mark on society and business practice. Through research and teaching, a Ph.D. in Business Administration can significantly affect the industry by influencing organizations to become more efficient, innovative, and profitable. They can also contribute by creating jobs and economic prosperity at the national level.
What Careers Can I Qualify for After Completing a PhD in Business Administration?
Ph.D. programs prepare students to conduct specialized scholarly research. Most Ph.D. in business administration graduates enter careers as university professors, senior researchers, or consultants in business or government.
A business professor teaches college students various subjects that help them manage or start a business. Business professors give their students the specific knowledge required to earn degrees offered by business programs at institutions of higher learning. Good business professors are naturally analytical, curious, outgoing, patient, and resourceful.
Business analysts are also called business systems analysts, enterprise analysts, business architects, and functional analysts. These professionals use data to suggest ways that organizations can operate efficiently. They gather and analyze information to develop and investigate potential solutions and system improvements. Business analysts use data modeling techniques to help businesses improve their processes.
What are the Different Types of Doctoral Programs in Business Administration?
The two main degree designations offered by business programs are the Doctor of Philosophy (Ph.D.) and the Doctor of Business Administration (DBA). In an earlier business education era, the DBA was regarded as providing broad exposure to business subjects geared towards practice. Simultaneously, the Ph.D. was thought to focus more on research in a given business realm. Over the years, the distinction between these two degrees has become blurred at many business schools.
Today, the Ph.D. is more widely available at business schools than the DBA, particularly in the United States. Most Ph.D. programs require full-time enrollment, while it is more common for DBA students to complete the degree on a part-time basis.
Will I need a Graduate Degree and Business Experience to Qualify for a Ph.D. in Business Administration?
While requirements vary among programs, many do not require that doctoral students have a graduate degree in business. There is no specific requirement to have business work experience either. However, students lacking a business background or degree will likely have to take foundational business courses.
What are the Application Requirements for a PhD in Business Administration?
Once you have completed your undergraduate degree or MBA, you point your academic career to a Ph.D. in business administration. But how do you get started? What are business schools looking for? And what can you be doing to prepare yourself for the application process?
Application Process
Step #1: Submit a Graduate Application found on your favorite B-school's website. After perusing the program that excites you, it's time to start the application process. Applications have never been easier to find and complete online. Business schools have different prerequisites, but all are looking for the same thing – a quality match between student and program. There might be an application fee, but many doctoral programs waive the requirement.
Step #2: Request your official transcripts be mailed electronically to an email the B-school gives you. Admissions directors want to see who they are dealing with. Those transcripts will reveal your past academic performance, showing that you have made the grade while taking relevant courses to ensure your academic success. Transcripts also show if you need to brush up on any foundational courses that Ph.D. in business administration students have benefited by taking in the past. 
Step #3: Look for specific admission requirements and courses. Business schools provide general requirements and some specific needs based on the degree you are pursuing. Rest assured, your favorite program lets you view its admission requirements and courses from a current graduate catalog.
Application Requirements
To be admitted to a top Ph.D. program, applicants must first meet all requirements for graduate admission to the university and the other requirements listed. Ph.D. requirements typically include the following needs:
You must earn a bachelor's degree from a regionally accredited college or university. International students must have graduated from a recognized equivalent in a similar or related field.
Undergrads must have a GPA of at least 3.0 in their last 60 semester credit hours.
A minimum GMAT exam score is required unless placement scores are waived.
Submit three recommendation letters from academic or professional sources.
Complete a personal statement including goals, experiences, scholarly accomplishments, and reasons for pursuing the Ph.D. You may include possible research questions or topics of interest.
A current resume or curriculum vitae.
Admission decisions for Ph.D. programs are made by college-level admissions committees in consultation with the respective faculty in each area of concentration. Committee members make determinations concerning the probability of a student's projected success. Ph.D. applicants need to provide materials that will help make those decisions.
Affordability of Top Ph.D. in Business Administration Programs
Most of the top programs in our ranking offer tuition waivers that cover all or most of the Ph.D. program. These Ph.D.s are full-time, residential programs with strict guidelines on no outside employment. Because of this, many schools additionally offer yearly stipends to offset their students' living expenses while in the program.
If you are not enrolled in a program with a tuition waiver and stipend, you might be wondering about how to pay for your program. Here are some factors to consider in making a Ph.D. in business administration and comparing costs:
Tuition Cost-Tuition costs for Ph.D. degrees run the spectrum. Some students get funding from employers, scholarships, and other sources of support. Tuition varies depending on whether students choose on-campus programs or online Ph.D. programs, public or private institutions, and whether the student qualifies as a resident.
Program Fees-Aside from tuition rates, Ph.D. students pay fees for books and other course-related items. Extra expenses associated with a graduate program can include computers, technical support, high-speed Internet, and other resources. Read all of the tuition information a business school gives. Some business schools offer programs to cover fees and some even hand out free devices to their students.
Accommodation-Housing for Ph.D. students can be expensive. The cost of living ranges based on where you attend business school. Factor in the costs of living ranging from $20,000 to more per year.
Study materials and resources-Take note that there will be some extra costs for study materials. Since many Ph.D.s divide the experience between two years of initial coursework and three years of dissertation. Your expenses will fluctuate annually. 
Parking-On-campus students must take paying for parking into consideration. An on-campus parking permit can cost Ph.D. students between $50 and $2,500 annually.
How do I Know What Doctoral Program to Select?
Personal considerations, including geographical location and educational preferences in a specialized field of interest, are criteria that will help narrow the range of possibilities. One primary concern is whether a particular business school has staff who specialize in the prospective student's study area.
Students may assume that all schools offer similar types of emphases and pay relatively no attention to the faculty's specific research interests. This may cause unfortunate surprises once a student enrolls in a doctoral program.
Even among leading postgraduate programs at the nation's top research universities, there are significant differences in what areas schools have national and international recognition for teaching and research. Potential students should research faculty interest areas at all schools being considered.
What Role do Accreditations and Rankings Play in Considering a Ph.D.?
Publications that offer rankings of business schools should be viewed with an understanding of their goals and priorities. All rankings are subjective to each entity's priorities and goals. Some focus on cost, some on college support, some on peer review, and some on student reviews. Ranking exposure should never substitute a student's own research and investigation, but only to aid as a tool.
A crucial selection factor to consider is accreditation. Accreditation is a viable measure indicating that knowledgeable peers from a neutral institution have determined that a school's program meets accreditation standards for:
Faculty composition,
Intellectual contributions,
Curriculum content, and
Instructional resources.
Most non-profit colleges and universities in the nation hold institutional accreditation conferred by regional accrediting agencies. Within the field of business, separate specialized accrediting agencies grant business accreditation to business schools or individual business programs. Among the top is AACSB. Selecting a business school accredited by AACSB is an assurance that the institution provides a high-quality education.
What is the Experience of Pursuing a Ph.D. in Business Administration Like?
Unlike bachelor's or master's-level work, where highly structured learning and individual courses with many different instructors are the norms, doctoral education places a higher premium on self-directed learning and closer relationships with fewer faculty members in a particular area of specialization. On average, Ph.D. programs will take five to six years to complete and involve the intense study of academic journal articles and original research writings. Doctoral students often forge close friendships with faculty mentors. These mentors work closely with students to:
Define a course of study,
Prepare for qualifying exams,
Provide guidance in the dissertation process, and
Help with pursuing their first faculty position.
How Can I Be Successful in Business School While Pursuing My Degree?
Returning to school to study business administration is a fantastic investment in your career. All business-minded professionals know you can't make an investment and check out. To be successful at a Ph.D. in business administration requires hard work, persistence, and grit to ensure it pays off. Here are some ways doctoral students can make the most of their degree and time as business students.
Keep the Goal in Mind-Remember why you are there. Keep your professional goals at the forefront and let them guide your decisions. 
Get Organized-Find ways to learn quality time management. Getting organized also means scheduling all of life's demands to get the job done.
Stay Flexible-Learn how to bend to keep you from breaking. Your expectations during business school will only sometimes get met. Roll with the punches and keep a cool head when things heat up.
Make Connections–Business school is a time to build your network. The relationships you make with instructors and fellow students will last a lifetime. 
Develop Study Skills-When you learn how you study best, you learn how to use time wisely. Work smarter, not harder, and get the most out of your Ph.D. experience.
Why Pursue a Ph.D. in Business Administration?
People pursue a Ph.D. in Business Administration for various reasons, as it offers unique benefits and opportunities for personal and professional growth. Many individuals pursue a Ph.D. in Business Administration to engage in rigorous research and contribute to the academic field. They aspire to become professors or researchers, conducting in-depth studies and publishing their work in academic journals.
Pursuing a Ph.D. in Business Administration is a journey of personal and intellectual growth. It offers an opportunity to delve deeply into a specific area of interest, expand knowledge, and develop critical thinking skills. A Ph.D. program allows individuals to specialize in a specific area of business administration. This specialization enables them to develop deep knowledge and expertise in their chosen field, such as finance, marketing, organizational behavior, or strategy. This level of specialization can make them highly sought-after experts in industries, consulting firms, or think tanks. Some individuals pursue a Ph.D. in Business Administration to enhance their leadership and consulting skills.
For many, obtaining a Ph.D. in Business Administration is a personal achievement and a symbol of dedication, perseverance, and intellectual rigor. It is a significant milestone that brings a sense of personal fulfillment and sets individuals apart as experts in their field.
A degree like a Ph.D. in Business Administration is an opportunity that has much to offer in terms of intellectual stimulation, future income, lifestyle, and many other attractive characteristics. It is a challenging and rewarding journey that opens doors to a wide range of opportunities in academia, research, consulting, and leadership roles.