Undocumented college students face unique challenges that other students do not. These students often lack access to student visas, student loans, and even deferred action for childhood arrivals (DACA). But for undocumented immigrants, a college degree or other postsecondary education can be crucial to achieving the American Dream. Accessing higher education is a challenge, but with campus resources, tuition support, and community support, international students can make it.
Despite these obstacles, undocumented college students have an incredible amount of resilience and determination to succeed in their educational pursuits. Their residency status or citizenship status does not define them. This College Consensus guide will provide resources and information to help undocumented and DACA college students overcome the barriers they face in order to achieve success.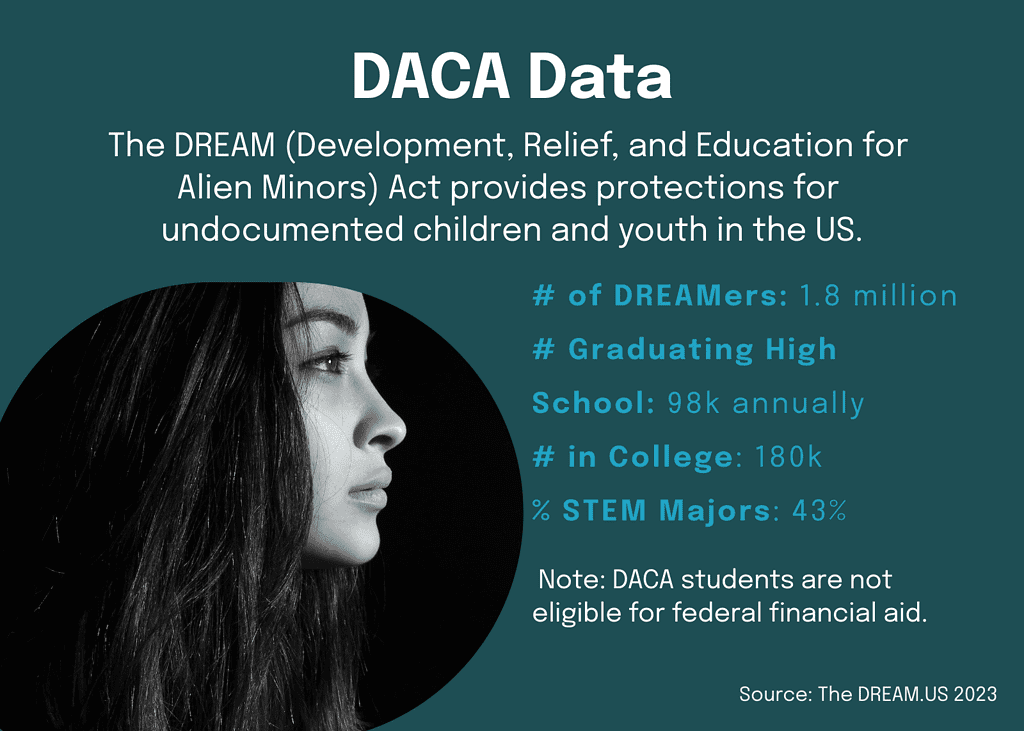 About Undocumented Students
There are estimated to be about 65,000 undocumented students— defined as children who were born somewhere abroad, so they are not U.S. citizens or legal residents—who graduate from high schools across the United States annually. These children are provided a legal guarantee to a U.S. public school education through grade 12. However, beyond that, they often face tough financial/legal challenges if they seek to attain an undergraduate or graduate degree.
Relevant DACA Statistics
According to the President's Alliance on Higher Education and Immigration (The Dream.US) –
In the last decade, DACA has protected more than 825,000 individuals.
43% of DACA-eligible students seeking an undergraduate degree are studying for a STEM degree.
An overwhelming majority of DACA recipients have completed high school, and almost 50% have completed some form of college or postsecondary coursework.
Admission for Undocumented Students
Undocumented students should not incorrectly assume that their status automatically excludes them from attending college in the United States. And for the record, there are no state or federal rules/laws that would prohibit an undocumented immigrant from applying for or attending a public or private institution of higher education in the U.S.
However, as one would imagine, the policies regarding the admission of an undocumented student will vary – sometimes substantially. Some schools may require evidence of legal residency or citizenship as a part of their admission protocol.
In many states, public colleges and universities have a policy in which they allow the admission of undocumented students but manage these students using a process designed for foreign students attending the school. So, this essentially makes undocumented students ineligible for state financial aid or the discounted tuition rates offered to other state residents.
Tuition for Undocumented Students
The question of whether an undocumented student who has been residing in the United States should be eligible for reduced tuition rates – as a state resident continues to be a hotly debated issue. If undocumented students must pay out-of-state tuition rates, they are being penalized, and this additional cost will likely put a college education far out of the reach of the undocumented student.
There are certain jurisdictions and states that choose to enact laws to address this issue, so there are states that, under certain conditions, an undocumented student will pay the reduced in-state tuition expenses.
Financial Aid for Undocumented Students
Undocumented students are not eligible to receive any federal financial aid as this requires legal residency. This ineligibility includes several forms of federal student aid assistance typically used to help students, including student loans, traditional scholarships, grants, or work-study opportunities. However, private colleges can chose to offer their own financial aid when admitting undocumented students, and some states allow undocumented immigrants to access state financial aid.
In most states, immigrant and undocumented students will not be able to receive college financial aid from any state resource, although some jurisdictions will provide financial aid opportunities for those undocumented students if they meet the qualifications established for in-state tuition eligibility. Stay tuned for recent developments in federal or state law, which can happen at any time.
Besides federal aid, most students look to scholarships for financial assistance. Most scholarship funds offered by private entrepreneurs or foundations require scholarship candidates to be legal residents or U.S. citizens; however, each scholarship's protocol will vary, and private scholarships can be given to whoever the foundation chooses, regardless of legal status. Private institutions are capable of setting their own financial aid policies, so there may be certain options for financial aid.
General Resources for Undocumented Students
Undocumented college students face unique challenges when pursuing higher education. To help them navigate the system, there are a variety of resources available to support their journey. These resources include online support groups, student advocacy organizations, and other initiatives that are designed to provide assistance and guidance for undocumented college students.
There are a number of organizations and initiatives that provide legal support and advice to undocumented college students. These organizations offer a variety of services, from providing legal counsel to helping undocumented students access financial aid. With the right resources, undocumented college students can get the help they need to pursue their education and achieve their goals.
The American Council on Education
The American Council on Education (ACE) advocates for comprehensive reform of immigration legislation impacting –
Undocumented students living in the U.S. since they were young children.
Talented international STEM academic degree holders.
Educators for Fair Consideration
Educators for Fair Consideration (E4FC) is a part of the Heising-Simons Foundation, which seeks to unlock possibilities through opportunity and knowledge.
Generation Progress
Generation Progress operates as a national advocacy group to promote progressive and uplifting solutions across the political, cultural, and social spectrum.
Hispanic Outlook on Education
Hispanic Outlook on Education issues a monthly magazine offering innovative and cutting-edge news and resources for students of all ages.
Immigrants Rising
Immigrants Rising, which is based in San Francisco, has been offering support to undocumented students for more than 1.5 decades.
Informed Immigrant
Informed Immigrant seeks to provide information, knowledge, and resources to undocumented immigrants who wish to understand their legal options.
My Undocumented Life
My Undocumented Life offers up-to-date and current information for those undocumented students and their families. It includes a network of more than 200 schools and organizations.
The President's Alliance on Higher Education & Immigration
The President's Alliance on Higher Education & Immigration is made up of educators trying to reframe the public understanding of the impact of immigration policies.
Undocublack Network
Undocublack Network offers resources from its three local chapters in DC, LA, and NYC. The organization has recently launched a Mental Wellness Initiative.
United We Dream
United We Dream offers important and detailed information and history regarding DACA and other legislation.
Scholarships Information for Undocumented College Students
For undocumented college students, scholarships can be a great way to pay for higher education. With the rising cost of tuition and living expenses, scholarships are becoming increasingly important for those who are unable to access traditional financial aid options.
Scholarships that are specifically designed for undocumented college students can provide much-needed relief. These scholarships can help cover tuition costs and other educational expenses, making it easier for these students to pursue their educational goals.
Undocumented college students should take advantage of the various scholarship opportunities available to them. From federal grants to state-funded initiatives, there are numerous opportunities that offer financial assistance and support for these individuals. By taking the time to research and apply for these scholarships, undocumented college students can make their dreams of a higher education a reality.
The following offers a partial list of some of the available scholarship opportunities –
Big Future Scholarships
Big Future Scholarships are offered by the nonprofit organization known as the College Board – which helps millions of students annually.
The Golden Door Scholars
Golden Door Scholars offers support and financial opportunities for undocumented students that include mentorship and community-building programs.
The Hispanic Association of Colleges and Universities
The Hispanic Association of Colleges and Universities offers a variety of scholarships through partner programs.
The Illinois Dream Fund
The Illinois Dream Fund seeks to help undocumented students overcome challenges by providing opportunities.
The Jack Kent Cooke Foundation
The Jack Kent Cooke Foundation offers scholarship opportunities to high-achieving high school seniors, with a value that is up to $55,000 per year for undergraduate school.
The Mexican American Legal Defense & Educational Fund (MALDEF)
The Mexican American Legal Defense and Educational Fund (MALDEF) is the country's leading Latino legal civil rights organization in the U.S.
The Immigrants Rising Scholarship Fund
The Immigrants Rising Scholarship Fund offers an interactive list of specialty scholarships – all online.
The International Financial Aid & College Scholarship Search
The International Financial Aid & College Scholarship Search is a great online resource for discovering financial aid options.
Paul and Daisy Soros Fellowships for New Americans
Paul and Daisy Soros Fellowships for New Americans offers scholarships for 30 immigrants or children of immigrants annually.
The Dream.Us
The Dream.Us is recognized to be the largest college access program for DREAMers. To date, it has committed to more than $140 million in scholarships.
Scholarly Articles
Academic articles about undocumented college students can provide insight into how these individuals are affected by their circumstances, as well as how they can be better supported in their academic pursuits. By looking at research on this topic, we can gain a better understanding of the unique needs and experiences of undocumented college students and how best to help them succeed in higher education.
To delve deeper into this topic, consider these scholarly articles regarding undocumented college students –
The Academic Performance of Undocumented Students in Higher Ed in the United States
An education abstract analyzing the academic performance of undocumented students in the U.S.
Access to Higher Ed For Undocumented Students – The Outlaws of Social Justice, Equity, & Equality
This is an interesting look into how undocumented students must fight for higher education access.
How Can Universities Foster Educational Equity for Undocumented College Students?
UCLA's Institute for Research on Labor & Employment offers guidance in fostering educational equality.
Immigration Status & Postsecondary Opportunity – The Barriers to Affordability, Access, & Success for Undocumented Students, & Policy Solutions
A look at the challenges undocumented students face when seeking a postsecondary degree.
The Post-DACA Generation is Here
An honest discussion about the true numbers of undocumented students who are disqualified for higher education options.
Undocumented Students & The History & Implications for Higher Education Administrators
The Journal of Hispanic Higher Education offers a brief history of undocumented students.
The Undocumented Students in Higher Education
The Presidents' Alliance on Higher Ed & Immigration summarizes and details where undocumented students attend college in the U.S.
The Undocumented Students in Higher Education Series – How Liminal Legality Influences a College Experience
A legal perspective on the limitations faced by undocumented students.
The Undocumented Students in Higher Education Series – A Review of the Literature, 2001 to 2016
A fifteen-year review of the literature regarding undocumented students and higher ed in the United States.
The Undocumented Students Pursuing Higher Education
UC Merced offers this research journal article regarding undocumented students who wish to pursue a postsecondary degree.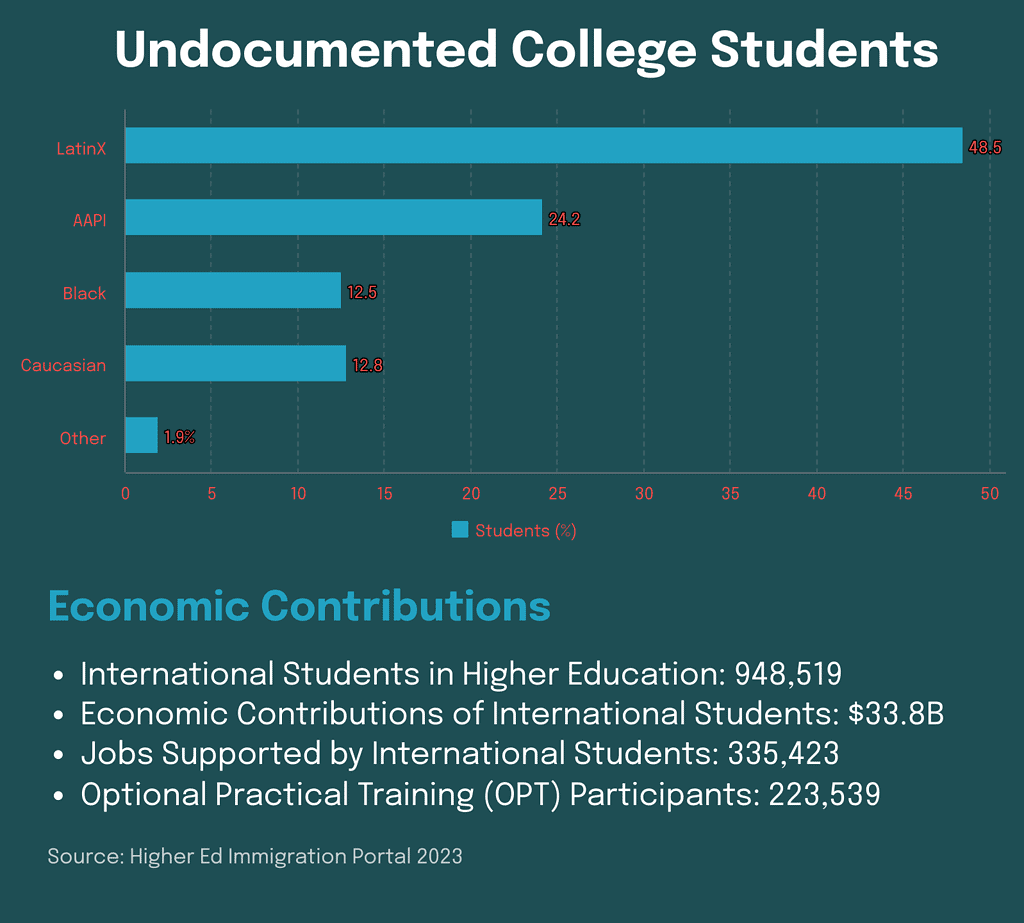 Data and Statistics
Undocumented college students are an often overlooked and underrepresented group in higher education. Despite the fact that they face numerous challenges and obstacles on the path to college, the data shows that many of these students are succeeding. In this section, we will explore the data about undocumented college students to better understand their unique experiences, needs, and barriers to success.
These publications and online resources offer great data regarding undocumented students and higher education –
Immigrant/Origin Students in United States Higher Education – A Data Profile
The Migration Policy Institute provides historical fact sheets and other statistical reports/graphs.
National Data – Immigrant and International Students in Higher Education
This website offers national data regarding undocumented students and higher education in the U.S.
National Immigration Law Center Toolkit
The NILC's toolkit is helpful as it offers a comprehensive list of relevant links.
Policy Research Brief (The City University of New York)
The Policy Research Brief is a profile of those undocumented students within the CUNY system.
Renewing the Dream
California's Student Aid Commission's college affordability report for undocumented students in the Golden State.
Report Finds Growth in Undocumented Student Population
Interesting statistics and insights into the current undocumented immigrant student population in American higher education.
UCPromISE
UC Irvine and the Undocumented Student Equity Project offer a research study across nine of the UC campuses in 2020.
UC San Diego – Supporting Undocumented Students
The San Diego campus of UC offers detailed data, statistics, resources, and best practices for undocumented students in California.
Undocumented Students in California
Final statistics for 2018 undocumented students in California from the Education Trust-West.
Undocumented Students NASSP Report
This report from the National Association of Secondary School Principals offers insights into undocumented students.
Legal Resources for Undocumented College Students
Navigating social and legal issues that may arise for undocumented immigrants can be a daunting task. DACA status updates, ICE enforcement laws, and legal rights of undocumented immigrants are just some of the issues that need to be addressed. It is important to understand the complexities of these issues in order to ensure that all individuals have access to their legal rights.
The following offers a partial list of legal resources in support of those undocumented students who wish to continue with their education past high school –
Al Otro Lado
Al Otro Lado is an organization that offers humanitarian/legal support for migrants, deportees, and refugees in the United States as well as Tijuana.
The American Immigration Lawyers Association
AILA is a bar association of attorneys/law professors that is nationally based. It offers various resources and education, including professional services, through more than 16,000 members.
The American Immigrant Representation Project
The AIRO, headquartered in Washington, DC, offers volunteer legal professionals to advocate for due process/justice for those immigrants currently held in the US immigration system.
The Coalition for Humane Immigrant Rights
CHIRLA was founded in the mid-1980s. This organization offers legal services and workshops – to know your rights in the U.S. – for those who are undocumented and need immigration guidance.
Immigration Justice Corps
The IJC, founded in 2014, serves immigrants and their family members in a variety of ways. This fellowship identifies legal advocates who can put their legal talents to the best use in the immigration community.
ImmigrationLawHelp.org
This website offers a simple-to-use searchable directory of more than 1,000 free/low-cost/sliding-scale legal service providers. They offer services in all fifty states.
The Immigrant Legal Resource Center
The ILRC trains legal professionals to be advocates for the improvement of immigration law and policy.
Immigrant Legal Services
This nonprofit organization, ILS, is headquartered in San Antonio, TX. It is to designed to help individuals navigate what can be complex immigration laws and processes.
The Refugee and Immigrant Center for Education & Legal Services
RAICES is a national organization supporting immigration rights for all. They seek to empower families and individuals.
World Relief Immigration Legal Services
WRILS provides technical legal assistance across a network of legal service providers.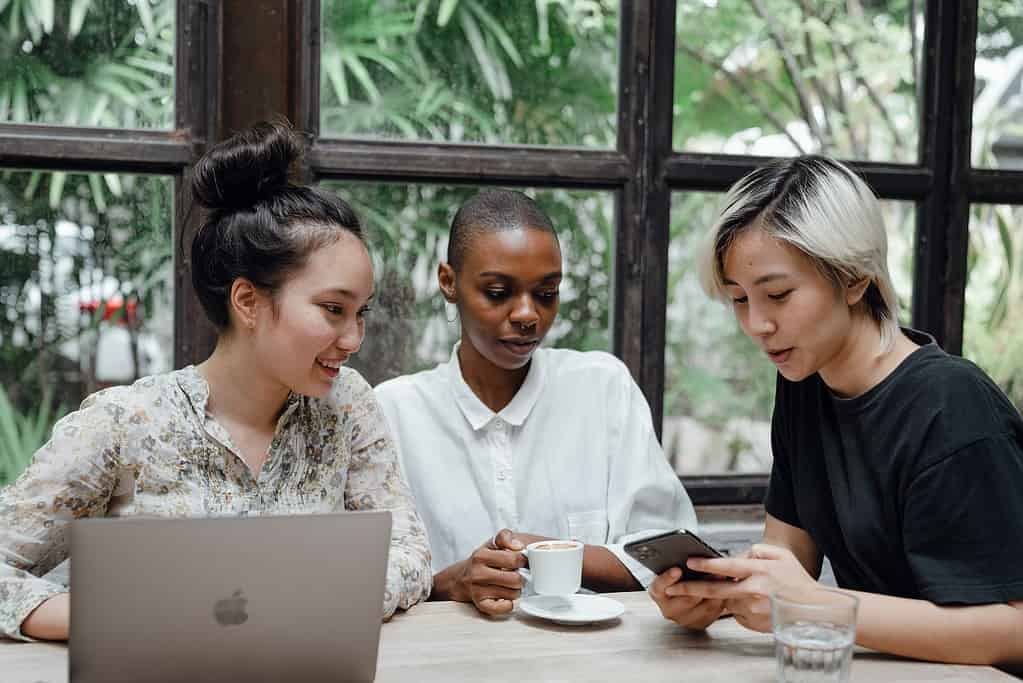 State-Specific Resources for Undocumented College Students
Undocumented college students will find resources and help from these state-run organizations –
Access to Higher Ed for Undocumented Students (Florida)
The Florida Immigrant Coalition offers a short and comprehensive booklet filled with resources and helpful information for those undocumented students seeking the opportunity to attend postsecondary school.
Arizona Improves College Access for Undocumented Students
A recent legislative action – Proposition 308, has made it more affordable for undocumented youngsters to attend the state's community colleges and universities at the same discounted cost as citizens.
Basic Facts About In-State Tuition
Tuition equity laws/policies exist in 23 states (and D.C.) as of November 2022. This legislation allows those who attend public schools to attend/pay in-state tuition for state-run postsecondary schools regardless of immigration status.
California State University (Cal State)
Cal State University offers a comprehensive immigrant legal defense/DACA update, including questions and answers to many important and common questions.
College Information for Immigrant Students (New York City Public Schools)
This helpful webpage offers great information and essential links for undocumented youth in New York seeking to further their education.
South Texas College (STC) Dreamers Center
South Texas College's online DACA and college dreamer site offers updates and resources to enrollment services and counseling options.
Texas State University (TS)
Texas State University's website offers answers to frequently asked questions related to immigration policy and law, plus links to resources that include the counseling center and the Office of Financial Aid and Scholarships.
UC Berkeley
The University of California, Berkeley, partnering with East Bay Community Law Center (EBCLC), offers assistance for current undocumented students at the school.
Undocucarolina
This website from the University of North Carolina offers helpful links, information, and insight into navigating the higher education system in North Carolina for undocumented students.
Undocumented UNM
The University of New Mexico (UMN) has an open-door policy for undocumented students. The school's resources can be accessed from this main homepage.
Video Resources for Undocumented College Students
In the age of YouTube, video is one of the primary ways people get information. This is why it is important to create videos that can help educate and inform people about the struggles undocumented college students face. Through these videos, we can spread awareness and provide support to those who are navigating their way through college without the same resources or privileges as their peers. By providing a platform for undocumented college students to tell their stories, we can create an inclusive environment in which everyone has a voice and an opportunity to succeed.
The Dehumanization of Undocumented Immigrants
This 12-minute video, put out by a first-generation college student, analyzes current policies that lead to the dehumanization of undocumented immigrants.
For DACA students, it's Hard to Focus on a Bright Future When Faced with Deportation Fears.
A short video presentation discussing what it is like to attend college in the United States while worrying about future deportation.
Georgia's Underground University for Undocumented Students
This video from the New Yorker Magazine discusses how undocumented immigrants in Georgia have created a school to attend in that state.
How Do California Community Colleges Help Undocumented Students?
The community colleges in California have put together a short video advising on available resources for undocumented students.
I Am An Undocumented Student
An unvarnished interview with an undocumented student who honestly shares what they face living with this immigration status.
An Immigrant Student in America – Finding a College
This video, developed by Education Week, offers insight and solutions to the many challenges immigrant students face as their American dreams clash with their cultural heritage.
UC Berkeley's Undocumented Student Program – Your Campus, Your Community.
This video explains the school's Undocumented Student Program, a comprehensive network of student support services.
Undocumented Students and College Scholarships.
The TEDx Talk offers great insight, from a then-Utah high school senior, into the challenges of financial aid that face undocumented and immigrant students.
The Unseen Obstacles Facing Undocumented College Students.
The Hechinger Report's online video offers insights into hidden challenges that face undocumented students who wish to pursue a postsecondary academic degree.
Valedictorian Reveals Undocumented Status in Speech.
A poignant moment at McKinney Boyd High School when the valedictorian reveals in her speech that she falls into that immigration status.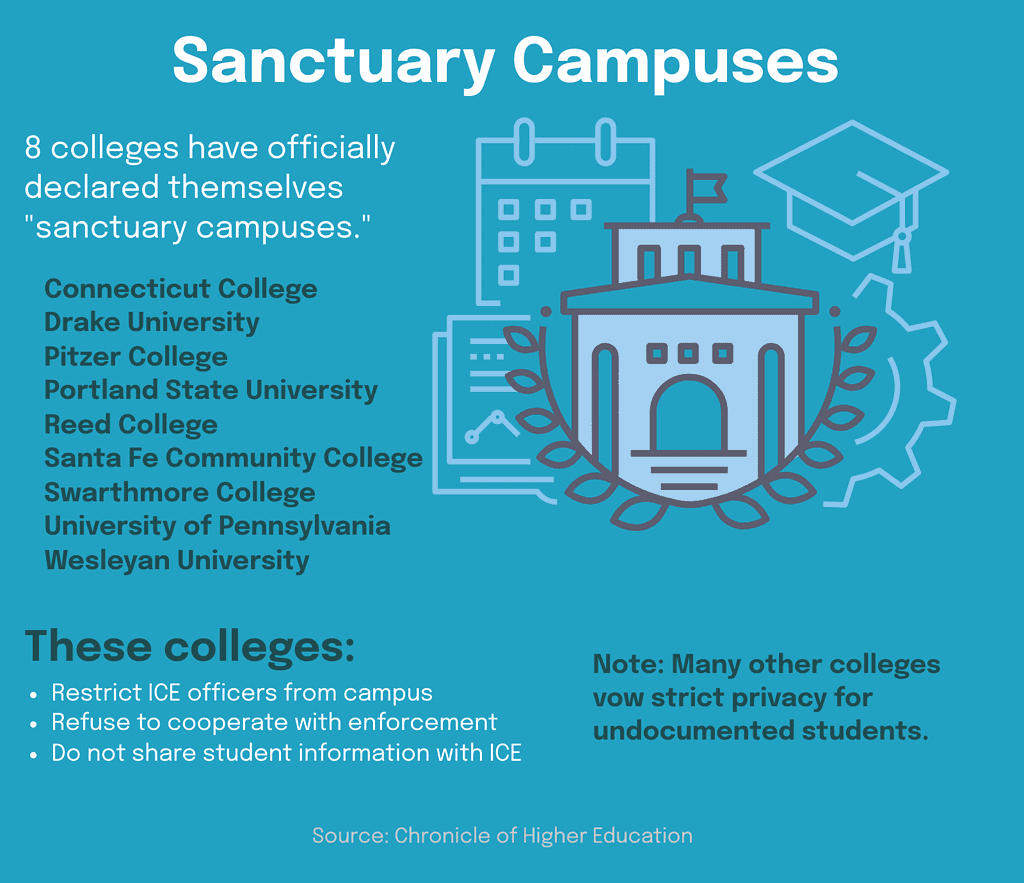 FAQs
Undocumented and DACA college students often face a lot of questions and uncertainty when it comes to their education. They may not know what resources are available to them or how to best navigate the college system. Here are some of the most frequently asked questions from undocumented and DACA college students so that they can make informed decisions about their future. By providing answers to these common questions, we hope to empower undocumented and DACA college students with the knowledge they need to make sound decisions about their education.
How Can Undocumented College Students Protect Themselves?
For undocumented college students, the legal landscape can be confusing and intimidating. With the current political climate, it is more important than ever to understand what legal rights and protections are available to them. Thankfully, there are various legal options available to them that can help protect their rights and provide them with the support they need. From enrolling in a college's Deferred Action for Childhood Arrivals (DACA) program to seeking asylum, these options can give undocumented students the comfort of knowing that they have a solid legal foundation from which to pursue their education.
How Many Undocumented College Students Are There?
There has been a recent rise in the number of undocumented students in the United States. According to a 2020 study, there are more than 450,000 college students estimated to be undocumented. This includes both U.S.-born and foreign-born individuals. However, it is important to note that these numbers are not 100% accurate due to lack of census figures as well as underreporting or misreporting by schools. Many undocumented students and their families work hard to avoid notice, leaving them unaccounted for by conventional means like the census. They may also hide their identity from their school, or the school itself may hide their identity for their safety.
The number of hidden undocumented students may be much higher than estimated.
How Are Colleges Protecting Undocumented Students?
With the current political climate, many undocumented students are feeling uncertain about their future. Colleges and universities across the country have stepped up to protect these students and ensure that they can continue their studies without fear of deportation or other consequences. Colleges are protecting undocumented students in many ways, including the use of legal assistance, providing financial aid, and creating safe spaces on campus.
Legal Assistance
Many colleges have started providing legal assistance for these students. This assistance can range from legal advice and support to help with the college application process.
These colleges are helping undocumented students by giving them access to resources they may not otherwise be able to find or afford. This includes providing legal advice, connecting them with lawyers who specialize in immigration law, and offering workshops on how to navigate the college admissions process.
By providing this type of assistance, colleges are showing their commitment to supporting all students regardless of their immigration status. This is an important step towards creating a more welcoming and inclusive environment for all students on campus.
Financial Aid
Without state-based financial aid or federal financial support, financial aid for undocumented students can come in the form of scholarships, grants, loans, the ability to access in-state tuition, or other forms of assistance. This type of aid is becoming increasingly available as more colleges realize the importance of providing access to higher education for all students, regardless of immigration status.
The availability to receive financial aid for undocumented students varies from college to college. It is important for prospective students to research the different options available at each institution before making a decision about where they would like to attend school. With the right resources, it is possible for undocumented students to find a college that will provide them with the financial assistance they need in order to pursue their educational goals.
Sanctuary Colleges
Colleges and universities are stepping up to provide sanctuary for these students, offering them a safe place to study and pursue their goals. By creating an environment that is welcoming and supportive of undocumented students, these institutions are helping to ensure that these individuals have the opportunity to reach their full potential.
Sanctuary colleges are a safe haven for undocumented students. They provide resources and support to these students who have limited access to education due to their immigration status. These colleges provide an open and inclusive environment where undocumented students can pursue their educational goals without fear of deportation or discrimination. Sanctuary colleges also offer financial aid, legal assistance, and other services that help undocumented students succeed in their academic career. By providing sanctuary to these students, these institutions create a more equitable society and a stronger economy.
Eight colleges have officially designated themselves as sanctuary colleges:
Portland State University
Reed College
Wesleyan University
Pitzer College
Santa Fe Community College
University of Pennsylvania
Connecticut College
Drake University
Swarthmore College
Sanctuary status includes a vow to refuse to cooperate with customs enforcement or immigration enforcement, including deportations. Other colleges, like Rutgers University, have developed policies to protect the privacy of undocumented students while stopping short of the actual "sanctuary" name. Federal law largely grants colleges to make these decisions themselves, without federal government agencies intervening.
Related:
Ultimate Guide to College for Latinx & Hispanic Students
Representation of Black Voices in the Classroom: High School and College Resources for Black History Month