Taking an online bootcamp for programming can help students who are unable to attend class continue their education. Coding bootcamps are intensive training programs that help students master real-world skills that can increase their salary potential and help them enter technology fields.
This article answers the following questions for prospective students wondering whether to take coding bootcamps in person or online:
Are coding bootcamps worth it?
Are online coding bootcamps worth it?
How much is a coding bootcamp?
Can coding bootcamps get you a job?
You may wonder why students are attracted to coding bootcamps as opposed to more formal training in a degree program. Online coding bootcamps provide access to students from high school to postgraduate level education. it's a convenient way for students to learn new skills for career changes or to enhance their job skills in their current position.
Pros of Coding Bootcamps
Bootcamps provide accessibility to learning core skills without taking general education classes. They also don't have strict admission requirements as two-or four-year colleges do. students also have a lot more flexibility when it comes to taking online courses for coding. Bootcamps run for different periods of time, averaging 12 weeks. Most bootcamps require full-time immersion, but some let students take courses and finish assignments at their own pace.
Are coding bootcamps worth it? For students looking for an educational opportunity with flexible repayment options, bootcamps may provide the answer they're looking for. You can find programs that offer deferred tuition, employer sponsorships and income sharing tuition agreements.
Students pick up practical skills and learn the latest languages demanded by prospective employers. In contrast, computer science degrees emphasize theory and include general education courses that don't directly apply to computer programming.
Cons of Online Bootcamps
On the negative side, many bootcamps do not have accreditation at the national or regional level. This is something that college programs look at should students decide to pursue their degrees. Accreditation is widely accepted as a way to measure academic quality for various educational programs.
Bootcamps are condensed and designed to cram a lot of information into a short period of time. This means that students do not have as much time to absorb the material as in a two- or four-year program. They also don't typically include a lot of theory and depth that may provide context around learning materials. Students may find it difficult to get financial aid for bootcamps at unaccredited colleges, universities and other venues.
The good news is that the cost of coding bootcamp varies greatly. Students can even find free courses to introduce them to different topics. This can help students weed out courses that they don't find helpful before committing to a more intensive program with a higher coding bootcamp cost.
How much is a coding bootcamp? Keep reading to find out.
How Much is a Coding Bootcamp?
Some bootcamps cost more than others and there is a vast range of quality that may or may not correspond to cost. Decent bootcamps cost between $1300 and $30,000. The company collected data from 600 bootcamp programs and determine an average cost of $13,500.
For example, Ada Development Academy, a nonprofit, offers free bootcamps based on corporate partnerships and donations. Other programs collect referral fees based on job placement services.
Bootcamps that offer high-quality instruction give students more bang for their buck than programs with little guidance or instruction. However, compared to the average cost of a four year degree, it may be worth the risk. The cost of a four-year degree at a public college or university may cost $20,000 while private schools charge an average of $43,000 a year.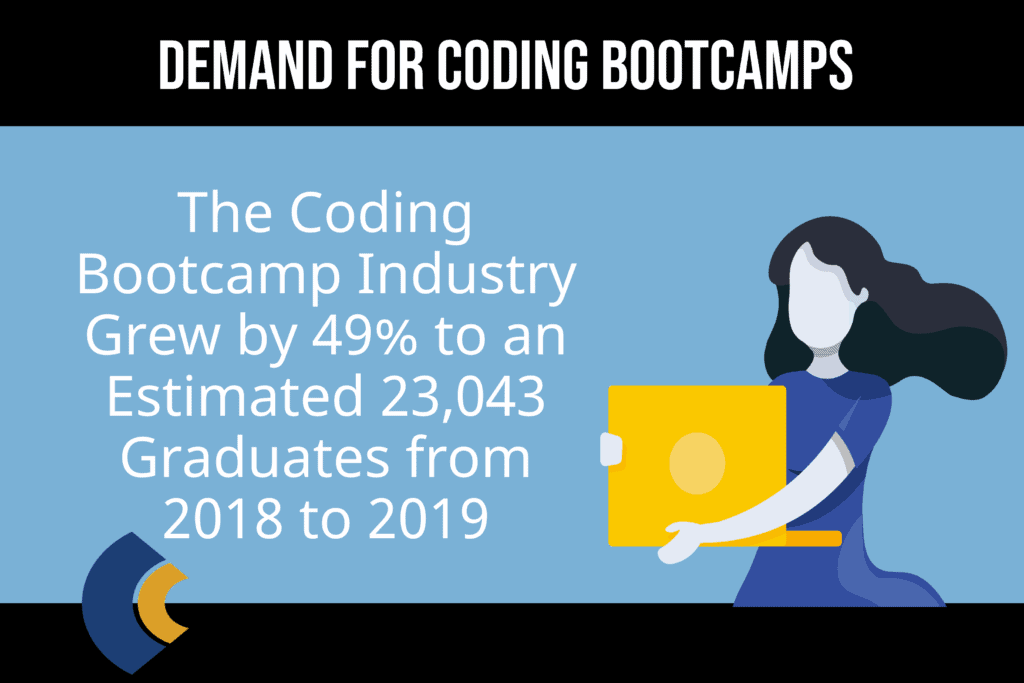 Are Online Coding Bootcamps Worth It?
Coding bootcamp in a digital environment costs much less than attending classes in person. However, price isn't the only factor when it comes to determining whether you should take an intensive bootcamp.
Are online coding bootcamps worth it? One could argue that knowledge in any area has intrinsic value. The unique qualities of bootcamps allow students to absorb a great deal of material in a short period of time. This could make these programs attractive to employers looking to educate their existing workforce. These programs are also attractive to students working in other fields who want to switch to computer technology jobs. They may not be able to afford the time or money involved in going back to school to get a new degree. Therefore, a coding bootcamp might work for them.
Convenience
Attending an online bootcamp allows students to balance their jobs, family life and other interests. Many people choose online bootcamps due to the convenience. Students can study at home or at the library when they have free time. The lack of a set schedule takes some of the pressure off the intensive pace of most online bootcamps.
There are a lot of self-motivated people who are willing to sacrifice to gain coding skills. Many factors come into play when it comes to deciding to take coding courses online. For example, students may live in a remote area making it hard to attend classes in person. There are also students who take programming classes because they have severe disabilities that limit their mobility. In this way, online bootcamps are worth it for those who need a little more flexibility than attending classes at the local university.
No Geographic Restrictions
Taking online bootcamp classes allows students to choose the best college for their career goals. There are no geographic boundaries in cyberspace. Therefore, students have a huge advantage compared to those who are limited to local colleges and universities for educational opportunities.
Great Option for Introverts
There are many students who are painfully shy and uncomfortable around large groups of people. Attending classes online allows them to interact and network in a controlled environment. For some, taking classes online becomes an empowering experience that can help them slowly come out of their shells. This is especially true for those who choose to freelance rather than commute to work every day due to social anxiety and other disorders.
Budget-friendly
The expense of academic learning has become astronomical at some colleges and universities. Online learning options for bootcamps can help students save money while getting the information they need to pursue jobs as software developers, website designers and technology specialists.
The gap of quality between online classes and in-person lectures is dwindling every day. In some cases, online courses from prestigious universities offer the same knowledge in a more relaxed atmosphere — at a much lower price.
Of course, there are also downsides such as less social interaction. Taking courses on campus gives students a chance to meet other students in person and make new friends. These friends can later become networking opportunities for new jobs and Contacts with similar interests.
Like most things, online learning has pros and cons. However, at its core, it provides additional opportunities for students who would not otherwise be able to take classes and learn technical concepts. It also fulfills a need for more people who understand data science, machine learning, AI and other concepts associated with digital transformation.
How Much is a Coding Bootcamp?
Looking at different sources, one thing is clear. The cost of coding bootcamp varies greatly. There are many free courses that are based on single concepts that students with a little determination can cobble together to increase their knowledge in the field. However, a comprehensive, well-organized fast-paced bootcamp program pays for itself if students manage to land a job in their desired field.
Since procrastination is very much a part of the human condition, it might make more sense for students to take structured courses with specific beginning and end times. This is especially true if students are on a deadline for learning particular technology concepts, such as a new computer language.
How much is a coding bootcamp? According to Course Report, students can expect to pay anywhere from $30 per month in a subscription service to a full-time, short-term bootcamp that costs upwards of $20,000 or more. Some programs offer income sharing opportunities which can bring down the cost of the bootcamp. Remote bootcamps cost a lot less than in-person classes. But not always significantly so. According to course report:
A typical online bootcamp tuition costs $11,118 for 15 weeks
A typical in-person bootcamp costs $11,906 for 14 weeks
How do you decide what to budget for an online bootcamp that's right for you? First, you need to determine what your goals are. Perhaps you're pursuing a specific track to help you do your job better or look for a job with a higher salary.
While the cost of tuition isn't always an indicator of program quality, the maxim that you get what you pay for generally holds true when choosing a coding bootcamp.
Schools $15,000 and Up
Income sharing agreements lower the cost of the bootcamp if you agree to provide a certain percentage of your salary to the course directors for a certain period of time after finishing the program. For example, Lambda School charges $15,000 but offers an income sharing program.
Coding Dojo charges just under $15,000 but offers monthly payments of around $250. They also offer scholarships for military personnel, women and diverse students. Many programs are intensive. Coding Dojo expects students to dedicate between 70 to 90 hours to coursework every week.
Students can find a complete range of online coding bootcamps. For instance, some programs run for eight weeks or longer and concentrate on full-stack immersion that covers back-end and front-end coding concepts.
When comparing costs and course content, students should consider more than the price and the length of the program. This is especially true for those looking for a career change who must learn enough skills to break into the lucrative computer programming field.
In general, worthwhile coding bootcamps will include exposure to several of the following programming concepts and languages:
HTML
CSS
JavaScript
Python
Ruby on Rails
Node.js
Angular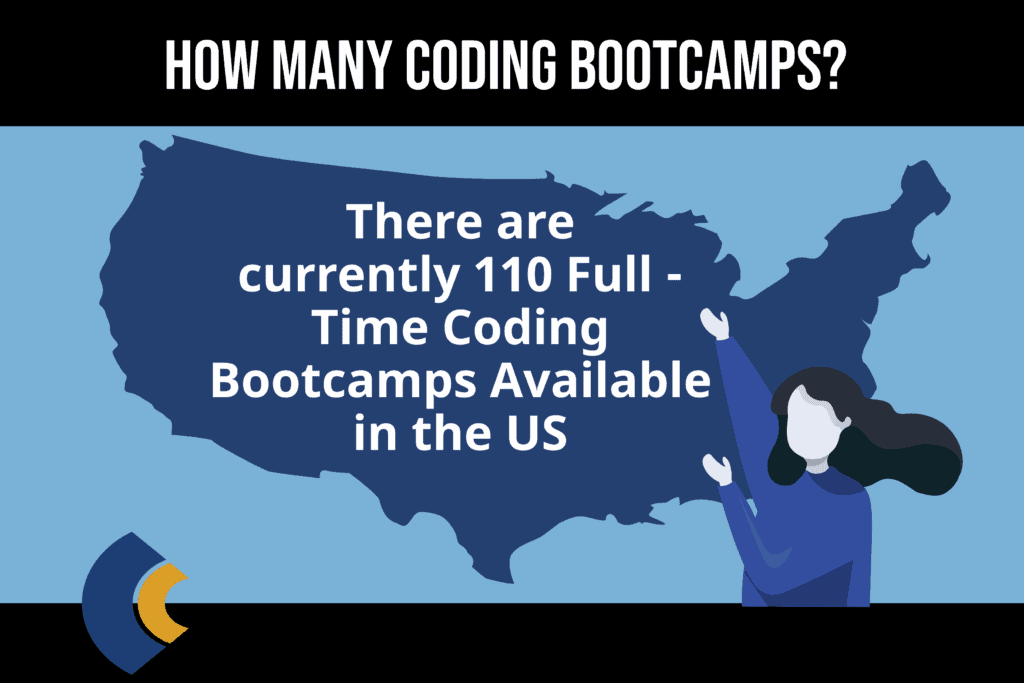 Can Coding Bootcamps Get You a Job?
Many coding bootcamps have job placement services. Some guarantee employability upon completion of the program. According to Career Karma, a student's chances of placement after bootcamp are excellent — with up to 90% of students finding employment within six months. Many bootcamps average 74% job placement.
While many universities and colleges keep their employment statistics under wraps, coding bootcamps brag about their placement statistics. Bootcamps work with employers in the tech industry and tailor their programs toward in-demand job skills. This is one of the reasons that students who complete coding bootcamps have such prosperous job outlooks.
What Jobs Can You Get After a Coding Bootcamp?
The cost of coding bootcamp pays off almost immediately for those able to find jobs as programmers, developers and technologists. Additionally, coding bootcamps work hard to place students in technical rules.
What jobs can you get after a coding bootcamp? Here are a few jobs that offer six-figure salaries to talented, motivated coders:
Web development
App development
Data science
Game design
Mobile app designer
Keep in mind that hiring rates tend to increase with specialization. So, when choosing an online bootcamp, try to stick with one that plays to your strengths. Whether you want to work in an office or from home, coding bootcamp can help you find lucrative jobs in technology.
Education Matters (To Some Extent)
If you have a college degree, even one in another field, it can improve your job placement rate after completing coding bootcamp. In fact, many employers prefer candidates with four-year degrees in analytics or computer science. This may impact your starting salary but with a little hard work and some experience under your belt, you always have the option to change jobs to increase your salary. When it comes to technical jobs, experience is king. The challenge is landing your first opportunity, which bootcamp can help you achieve.
Now that you know the cost of coding bootcamp and earning potential, you can determine whether the average coding bootcamp cost is worth it to you. Can coding bootcamps get you a job? Yes, absolutely. Choosing a program that partners with employees ensures that the skills you learn are relevant in the market.
Are coding bootcamps worth it? Ultimately, that's a personal decision. Although they can be cost-prohibitive, coding bootcamps give you the opportunity to learn a lot of material in a short amount of time.
Related:
Top 50 Colleges for Free Online Courses
30 Free Online Classes from Elite Institutions