Study after study has shown that Americans have poor financial literacy, and that American young people – teenagers and early 20s – are unfortunately among the lowest in knowledge and understanding. From student loan debt to credit card debt, American high school and college students struggle to understand financial decisions and the repercussions of bad financial decisions. Their credit scores and student debt demonstrate the problems of personal financial planning for college students.
One of the biggest downfalls for young people today is a lack of clear financial goals, which often leads them to take on student debt that they may never be able to pay off. Compounded with credit card debt, car loans, and the soaring cost of rent, students today graduate much worse off financially than students in the past, without an obvious path to see themselves clear.
How to Manage Money in Your 20s and Teens
The editors at College Consensus know that a college degree is no use if students can't make the most of their education due to financial problems. We want to help increase financial literacy for our audience. That's why we've put together this comprehensive list of resources students and their families can rely on to build their financial expertise. Even if you're not financial professionals, you can understand money management at any age.

Basic Financial Resources – Financial Tips for College Students
Annuity – Students & Financial Literacy
Annuity offers a guide to help college students understand finances as they apply to them, including FAFSA, scholarships, and student loans.
Avantax – 10 Lessons in Financial Literacy All College Students Should Learn
Avantax's guide uses a simple 10 lessons for college students to help understand saving, money management, financial aid, and the concept of "opportunity cost."
Brookings – Financial Literacy Review
The Brookings Institution published this major review of the scholarship on financial literacy in 2018, but it remains relevant to understanding gaps in young people's financial knowledge.
CNBC – From saving money to paying down debt, here's why financial literacy is so important
This article from CNBC discusses the importance of financial literacy after the pandemic, based on troubling reports from multiple surveys.
Consumer Financial Protection Bureau – Money as You Grow
The CFPB's Money as You Grow is a guide to parents and caregivers to teach their children and youth about managing money, saving, investing, and more.
FDIC – Money Smart for Young People
The FDIC publishes Money Smart for Young People, a set of resources for parents, educators, and students designed for their level of understanding and need.
Financial Literacy 101 – Financial Literacy for College Students
Financial Literacy 101 offers college students access to courses about all manner of financial issues, from setting a monthly budget to having a baby, taking on an auto loan to working toward financial goals.
InCharge – Free Financial Literacy Resources for College Students
InCharge provides teachers and college students with educational resources about practical money skills, like how to save money, with guides and slide-show presentations.
Inside Higher Ed – Where the Weaknesses Are in Student Financial Wellness
This Inside Higher Ed survey finds important information about the financial well being of college students, such as pervasive food insecurity, student loan debt, and lack of savings.
Investopedia – Tips for Young Investors
An article from Investopedia offers simple, clear financial tips for young adults who are interested in investing and saving for the future.
The Mint – Tips for Teens
The Mint has a section of brief explainers and guides for teenagers to learn about earning, saving, spending, and investing money.
National Credit Union Administration
The NCUA provides American credit unions with the Financial Literacy & Education Resource Center, which offers educational materials for customers and their families.
New York Public Library – Books & Resources To Help Teens Learn Good Money Habits
This list from the New York Public Library points teenagers and their parents to books that can help them learn about finances, saving, and credit cards.
S&P – Global Financial Literacy Survey
The S&P Global Financial Literacy Survey is an invaluable source of information for understanding American finlit and how it compares to other developed nations.
U.S. News – Financial Literacy for College Students
One of the most trusted sources of higher education information, U.S. News provides knowledge and resources for college students working on their financial literacy.
Vector Solutions – Financial Education for College Students: 3 Reasons Why It's Important
This short article from Vector Solutions explains why financial education is important for college students, with links to helpful resources.
Wallethub College Student Financial Survey
This infographic from Wallethub provides clear and simple facts about college students' financial literacy.
Youth.gov
Youth.gov provides links to informative federal government resources to provide financial help for students at college who want to increase their financial knowledge.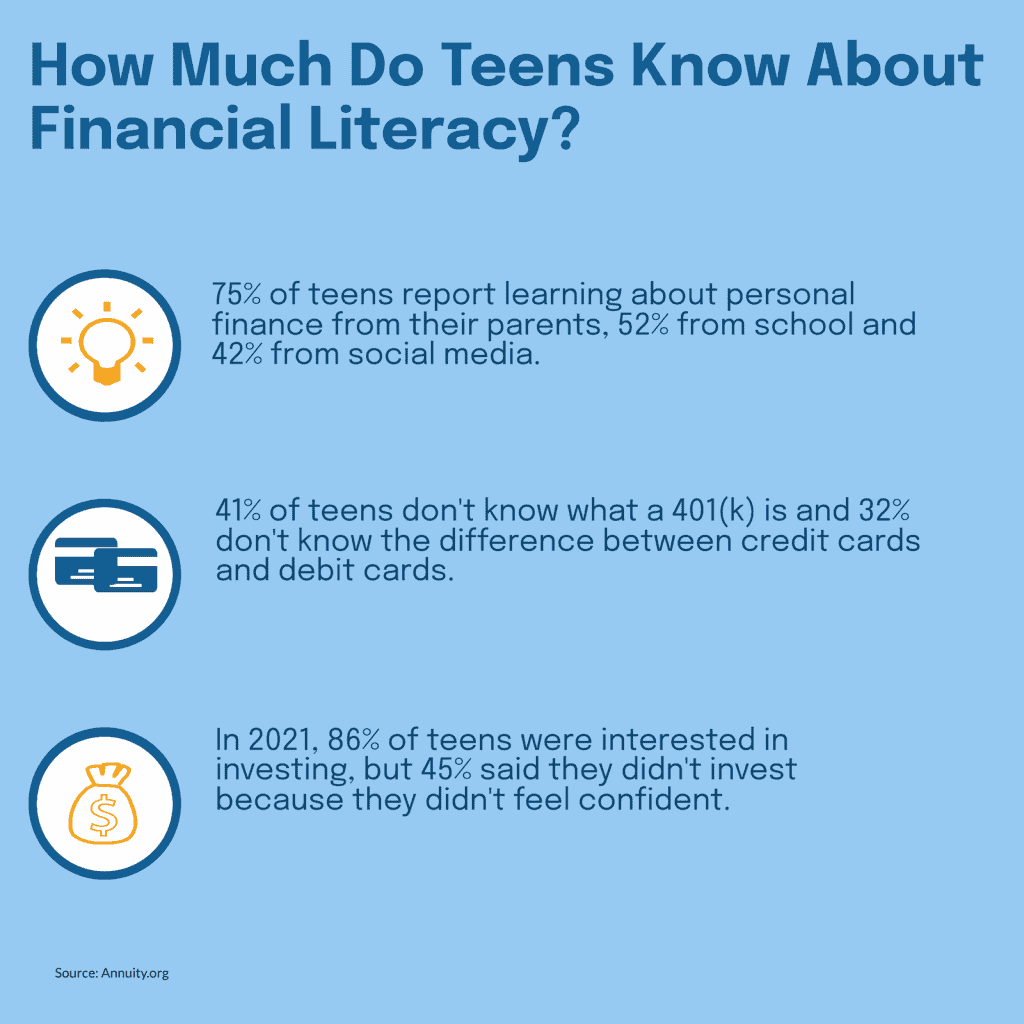 Resources for Underserved Populations
Annuity – Financial Literacy in the Black Community
Annuity clearly explains the wealth gap between the black community and the US as a whole, with an emphasis on improving financial knowledge.
Bank On
Bank On is a platform provided by the Cities for Financial Empowerment Fund, offering news, resources, and support for credit unions and credit union members.
Black Business and Professional Association – Financial Literacy Program for Black Youth and Young Adults
The BBPA provides financial literacy and entrepreneurship training workshops for young black people to prepare for financial and business success.
CEOs of Tomorrow
CEOs of Tomorrow is an organization dedicated to bringing financial education, understanding, and health to underserved teens and young adults.
Cities for Financial Empowerment
Cities for Financial Empowerment works with local government and communities to spread financial education and literacy to underserved populations.
CNBC – Op-ed: Make financial literacy in underserved communities a national priority
This opinion article from CNBC explains the critical importance of providing financial literacy to young people in underserved communities for the future economic health of the nation.
The Collaborative
The Collaborative works to close the wealth gap in North Carolina through housing support, money management, and financial education for young people.
Fidelity – Financial Forward
Fidelity's Financial Forward program supports financial literacy education in underserved communities and schools.
Financial Literacy Youth Initiative
The Financial Literacy Youth Initiative (FLY) brings financial literacy programs to students to break the cycle of generational poverty.
American Council of Life Insurers – Meeting Financial Education Needs in Underserved Communities
The American Council of Life Insurers partners with many organizations to fund and support financial literacy education for at-risk families and youth.
Investopedia – The Racial Gap in Financial Literacy
This article from Investopedia explains the differences in financial literacy between racial groups in the US and offers links to resources for financial health.
Junior Achievement USA
Junior Achievement USA describes their mission as "Economic Empowerment Through Education" and works with schools, parents, and corporate partners.
Managing Money
Managing Money provides news, resources, and educational materials from a wide variety of sources, including nonprofits and government agencies.
Money Geek – Tackling Disparities in Finance for Black and African Americans
This article from Money Geek explains financial disparities in the black community and offers resources and strategies for overcoming the gap.
National Congress of American Indians – Native Financial Education Coalition
The Native Financial Education Coalition is a program from the National Congress of American Indians to provide financial literacy resources for indigenous Americans.
Stride Insights – What can we do to improve financial literacy in underserved communities?
This podcast from Stride Learning discusses strategies for building financial literacy for young people and others in underserved communities.
TIAA Institute – Financial literacy, wellness and resilience among African Americans
One of the most trusted investment organization in the US, TIAA publishes this in-depth examination of financial literacy and health in the black community.
National Financial Literacy Resources
American Bankers Association – Financial Education Programs
The ABA Foundation provides consumers and bankers with valuable financial education resources, such as the teen-focused Lights, Camera, Save!
DebtSlapped
The amusingly-named DebtSlapped offers free lesson plans and videos for teachers and high school students to understand higher education financing.
EconEdLink
EconEdLink offers numerous free resources for students and teachers from kindergarten through 12th grade.
EverFI – Free, Online High School Financial Literacy Lessons
EverFi offers free lesson plans for financial literacy for young adults that can be used by teachers in a class or independently by students.
FAFSA
The Free Application for Federal Student Aid is the starting point of nearly every college student's process, providing financial help for college students for aid, grants, scholarships, and loans.
FDIC – Youth Banking Resource Center
The FDIC offers information and resources to help young people understand the banking system and how they can use banking to their advantage.
Financial Beginnings
The nonprofit Financial Beginnings uses volunteers to spread financial literacy education and financial help for students across the US.
Hands On Banking
Hands On Banking is a resource offered by Wells Fargo. It includes information, guides, and calculators for consumers to understand debt and valuation.
InCharge – Financial Literacy for High School Students
InCharge offers teachers a pre-developed curriculum with 14 lessons, including teacher's notes, worksheets, slideshows, and everything else needed for a high-school level financial literacy course.
Khan Academy – Life Skills: Personal Finance
Khan Academy offers lessons on personal finance that are designed for teens and families to understand their savings account, investing, taxes, and more.
Money Prodigy – 15 Financial Literacy Activities for High School Students (PDFs)
Money Prodigy offers a list of 15 activities high schoolers can work through to understand financial literacy concepts like establishing an emergency fund, using credit, private loans, comparison shopping, and renting a home.
NASFAA – Resources for Students and Parents
The National Association of Student Financial Aid Administrators offers resources for students and parents who need to understand the financial aid system.
NEA – Tools for Teaching Financial Literacy
The National Education Association has a helpful page of resources for financial literacy education at all grade levels.
OppU – Financial Literacy for High School Students
This page from OppU provides a simple, practical explanation of financial literacy for young people and links to valuable resources.
RMAI – Financial Literacy Rocks – Recommendations for Teaching Financial Literacy to College Students
Financial Literacy Rocks presents college students with free resources about financial literacy, including videos, games, lessons, and more.
Scholarship America – Five Financial Literacy Month Tools for College Students
This resource list from Scholarship America points young people to useful tools for their financial literacy development and growth.
Schwab Moneywise
Moneywise, from the Charles Schwab Foundation, provides numerous resources, such as workshops and partnerships, for high school students to learn about financial literacy.
Youth.gov – Youth Funding Opportunity Grants
Youth.gov offers grants to fund youth programs, including programs for financial literacy.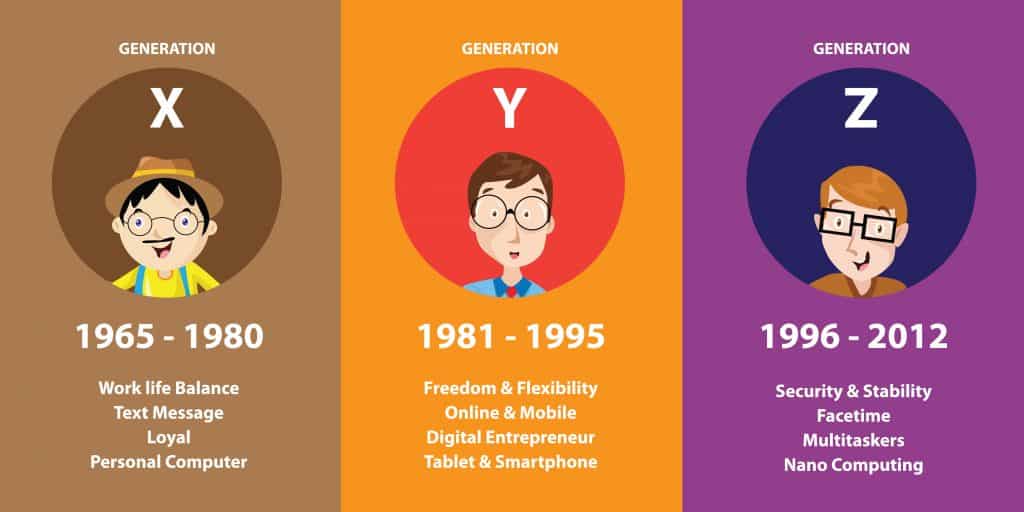 Regional Resources for Financial Literacy
Berkeley College – Financial Literacy
The Student Financial Literacy Group at Berkeley College is dedicated to helping students plan and work toward a healthy financial future.
Charter College – Financial Literacy and College Students
Charter College provides its students with a list of resources for building financial literacy and know-how.
The Citadel – Financial Literacy for College Students
The Citadel offers a list of simple definitions and reliable resources for their students to learn about financial literacy.
Consumer Jungle
Consumer Jungle is a Washington State-based organization providing financial education for schools and teachers in the Pacific Northwest.
Harvard College – Financial Literacy
The undergraduate college of Harvard University has put together a helpful guide for students to learn basic concepts like taxes and investing, as well as yearly events.
Home Room – Financial Literacy Education and Paying for College
Home Room – the official US Department of Education blog – lays out the case for financial literacy education and provides government resources.
IRS – Find a Location for Free Tax Help
The IRS has developed a system for citizens to find free tax preparation services in their area.
King's College – Financial Literacy
Students at King's College can access resources and events related to financial literacy.
Lehigh University – Financial Literacy for College Students: CommonCents Financial Wellness Program
Lehigh University offers students the CommonCents Financial Wellness program to foster financial literacy through on-campus events.
Lehman College – Financial Literacy
Pathways to Success gives Lehman College students resources and information for making good financial decisions in college and after.
Mercer Savings Bank – Six of the Best Tax Tips for Young Adults
Mercer Savings Bank has simple, effective suggestions to help young adults make the most of their tax returns and refunds.
Mercy College – Financial Literacy Principles for Every College Student (YouTube)
This video from Mercy College lists key principles of financial literacy in a simple, easy to understand format.
Mississippi College – Financial Literacy
Mississippi College's Financial Aid department provides this list of resources to help students understand their finances.
My Free Taxes – Understanding Tax Credits (CA specific)
This California-specific program helps students understand all of the tax credits and benefits available to taxpayers in California.
Purchase College – Financial Literacy
Purchase College curated this list of resources and presentations for college students to develop their financial literacy.
Purdue University Global – Budgeting and Financial Literacy for College Students –
Purdue University Global, one of the world's largest online higher education institutions, offers an in-depth guide to finances for college.
Randolph College – Financial Literacy 101
Randolph College works with GradReady to provide videos, tools, and other resources to help their students improve their financial literacy.
Richmond Community College – Managing Your Finances
Richmond Community College has a list of resources for their students' understanding of financial literacy.
University of North Florida – Financial Literacy
The Student Financial Services Office at the University of North Florida provides a long and in-depth guide to financial literacy for college students.
Tax Resources
AICPA – Tax Education Resources for Students and Teachers
The American Institute of CPAs provides a wealth of resources and financial information for students and teachers who are learning about taxes.
Center for Law and Social Policy – EITC for Childless Workers: What's at Stake for Young Workers
The Center for Law and Social Policy has a valuable report that explains the importance of the Earned Income Tax credit for workers without children.
H&R Block – Tax Deductions and Credits for Young Adults
H&R Block offers a helpful guide to the most common tax deductions and credits young adults and college students may qualify for.
H&R Block – Tax filing guide for college students
H&R also has a resource hub dedicated to tax filing for college students, including free tax filing options.
IRS – Understanding Taxes Student Site
This site was developed by the IRS to help high school and college students understand how taxes work and how to file taxes.
IRS – Tax Information for Students
This IRS page offers helpful tools for college students filing their taxes, such as a link to get tax information directly from FAFSA.
John Burton Advocates for Youth -Tax Filing & Tax Credits: Informational Resources
JBAY provides a useful list of resources from financial professionals for young people about filing taxes in both English and Spanish.
Money – Why Teenagers Should File a Tax Return — Even If It's Not Required by the IRS
This article from Money magazine explains the benefits of filing a tax return as a teenager, such as starting a retirement account.
Money Instructor – Taxes Lessons and Worksheets
Money Instructor offers lessons and worksheets for students to learn about taxes and practice filing their own taxes.
National Safe Place Network – Helping Teens File Their Taxes
The National Safe Place Network has prepared this guide for teenagers to find free tax preparation help wherever they live.
TaxAct – The Ultimate Tax Guide for College Students (and Their Parents)
TaxAct offers this in-depth guide to tax prep to help college students and their parents with a new challenge.
TaxSlayer – Taxes for Teens: A Beginner's Guide
TaxSlayer has a readable, convenient guide for teenagers to understand taxes and to start filing their first tax return.
TaxSlayer – Education Tax Credits for College Students
TaxSlayer also has an informative guide to education tax credits college students can use when they file their taxes.
TaxSlayer – Tax FAQs for College Students
Another handy guide from TaxSlayer lays out some of the most common questions college students ask about filing their taxes, with useful answers.
Urban Institute – Young People and Tax Credits
This publication from the Urban Institute explains how the Earned Income Tax Credit can work for young people with and without children.
U.S. News – Tax Filing Tips for College Students
This article from U.S. News explains issues related to filing taxes as a college student, such as whether they can be claimed as a dependent.
Volunteer Income Tax Assistance
The US government offers Volunteer Income Tax Assistance for the elderly, disabled people, and people making $54,000 or less – which would include many college students.
ZDNet – Tax guide for college students: How to file and tips and tricks
This explainer from ZDNet helps give college students a jump on filing their taxes by explaining some of the key parts of the process many miss.
Banking and Investing Resources
Bank of America – Financial guidance for students
Bank of America provides a wealth of resources for college students to learn and practice financial literacy.
Bankrate – 7 best ways to invest while you're in college
This article from Bankrate provides simple ways for college students in invest, such as investment apps, high-yield CDs, and more.
Clearpoint
Clearpoint is a service of the nonprofit Money Management International helping people address personal finance education and basic financial concepts.
CNBC – How college students can start investing — and making — money
This article from CNBC explains why and how college students can use their financial skills to invest and make money.
The College Investor – The College Student's Guide to Investing In College
The College Investor has a valuable guide to investing during their college education, including links to useful resources and services.
Consumer Financial Protection Bureau – Banking basics card game
The Banking Basics Card Game from the Consumer Financial Protection Bureau is a unique way to practice making informed financial decisions.
FDIC – The Learning Bank – The FDIC's Webpage for Students, Teachers and Parents
The Learning Bank is a center for the FDIC's online resources, covering financial topics in a way young people can understand and implement.
Forbes – 7 Tips For Investing As A College Student
Forbes offers 7 useful tips for investing as a college student, with advice most students can identify and put into practice with their personal finances.
Hands On Banking – High School Resources for Educators
Hands On Banking, from Wells Fargo, provides resources to help students develop a financial plan and increase their financial capability.
How the Market Works
How the Market Works is a free game that simulates the stock market to assist students in learning to understand how investing in the market works.
Investopedia – Best Investments for Young Adults
Investopedia offers a list of useful investments that most college students can benefit from.
Investopedia – Build Credit
Investopedia also offers comprehensive information for students who want to build a solid credit history and understand how much debt they can take on.
Money Instructor – Banking, Bank Accounts, and Earning Interest Lessons
Money Instructor offers useful educational lessons for kids and teens about how the banking system works.
Money Under 30 – Banking 101—A Guide For Teenagers (And Anyone Who Needs A Refresher)
Money Under 30's Banking 101 is a guide designed the teach teenagers how banking works.
National Foundation for Credit Counseling
The National Foundation for Credit counseling helps citizens with coaching sessions and additional resources for getting good credit.
Pathway to Financial Success – Using Financial Services
Pathway to Financial Success provides lesson plans for high school students about using financial services to their benefit – rather than bad credit card debt and auto loans.
Study.com – Money, Banking & Financial Markets Activities for High School
Study.com gives high schoolers access to numerous lessons and activities related to banking and financial planning.
U.S. SEC – Investor Bulletin – Top 10 Investment Tips for College Students
The US Securities Exchange Commission Investor Bulletin includes 10 simple investment tips for college students.
Youth Programs for Financial Literacy
ACT for Youth – Helping Youth Achieve Financial Literacy
ACT for Youth has links to youth programs from other organizations that will help them develop their financial literacy.
The Actuarial Foundation – Building Your Future
The Actuarial Foundation offers numerous free books and lessons with their Building Your Future program.
Consumer Financial Protection Bureau – Youth Financial Education
The CFPB provides a wealth of educational tools for kids from K-12, tailored to their academic year.
Council for Economic Education
The Council for Economic Education has provided valuable financial skills for more than 2 million students with their education programs.
Earn to Learn
Earn to Learn helps low and middle-income students make a financial plan to get through college successfully, without student debt.
Federal Student Aid – Financial Aid Toolkit
The Federal Student Aid Financial Aid Toolkits is a thorough resource for students getting ready to start college and apply for financial aid.
Gold Credit Union – Financial Education Resources for Teens & Young Adults
The Gold Credit Union offers financial education resources for teachers and students, including an interactive webinar session delivered to the classroom.
Jump Start
Jump Start offers educational resources, financial literacy programs, and events for educators and students.
MoneyThink
MoneyThink is an organization devoted to students graduate successfully, debt-free, and with achievable financial goals.
Mott Foundation – Youth Engagement
The Charles Stewart Mott Foundation Youth Engagement division works to help young people engage with entrepreneurship and service.
National Endowment for Financial Education
The NEFE High School Financial Planning Program has been providing education in finances for schoolkids since 1984.
Next Gen Personal Finance
Next Gen Personal Finance provides extensive educational materials for free online.
Operation Hope
Operation Hope helps young people build their skills to achieve financial independence.
Partnership for After School Education – ​Fostering Financial Literacy for Youth
The Partnership for After School Education offers Fostering Financial Literacy for Youth workshops.
Treasury Direct – Money Math
Money Math, from Treasury Direct, is a free education resource for middle school math teachers to incorporate real-world financial skills into the classroom.
You 4 Youth – Financial Literacy Course
You 4 Youth provides a free Financial Literacy Course for certification.
Young Entrepreneur Institute
The Young Entrepreneur Institute offers tons of resources for young people to practice entrepreneurship and learn financial independence.
Other Resources
Annual Credit Report
Annual Credit Report provides the only truly free, federally-approved process to get a credit report once a year and protect from identity theft.
Brookings – Recommendations for Improving Youth Financial Literacy Education
This Brookings Institution study from 2018 outlines their suggestions for increasing financial literacy in the younger generation.
BudgetPulse
Budget Pulse is free, easy-to-use software for developing a monthly budget, tracking spending, and saving money.
Cash Course
Cash Course works with school administrators and students to cover basic money questions.
Federal Student Aid – Financial Aid Toolkit
The FSA provides a list of financial literacy resources from the federal government.
FinAid Budget Calculator
FinAid offers useful tools like the Budget Calculator than can help students and young people visualize their budgets.
FSA Loan Simulator
The FSA Loan Simulator is a useful tool for students to see how their student loans will grow and be paid back.
JumpStart Reality Check
The JumpStart Reality Check does just what it says – provides users with a reality check as to how much their ideal life will cost, and how to get there.
Mint
Mint is an invaluable app from Intuit that helps users track every aspect of their finances, from auto loans and credit cards to retirement accounts and real estate, all in one place.
Related:
Best Private Student Loans for College