Ask around, and you will realize that podcasts are here to stay for listeners looking to be informed and entertained. You can listen to them while washing the dishes, walking the dog, or while waiting for your child in the carpool line. Whether you are looking to grow your business, learning from top international business experts, or just trying to set some healthy habits in your work and personal life in a more substantial way, business podcasts can help you get started. And while more and more organizations realize the need to alter their policies and practices to become more environmentally friendly, there has never been a better time to consider subscribing to some of the nation's best green business podcasts.
These resources are 100% free and offer cutting edge tips on how to stay current with developing sustainability concepts in global business. Students within some of the United States' Best Green Business Schools will also thrive with the chance to glean material from other academic and business sources found within these podcasts. Here are the nation's top green business podcasts.
Greentech Media (GTM) offers market analysis, conferences, and business-to-business news informing and connecting participants in the global clean energy market. Its coverage extends across clean energy industries, emphasizing the electric utility market's evolution and solar power. Greentech Media's industry-leading services are provided by world-class journalists and a global network of expert writers and researchers, supported by a team of analysts from its market intelligence arm, Wood Mackenzie Power & Renewables.
GTM's green business podcast is called The Energy Gang. It is the perfect resource for listeners looking for information on the fast-changing world of energy. This podcast is not your ordinary energy business show. Each week, program leaders debate and discuss the latest trends in renewables, energy, cleantech, and the environment. Episode titles include Why Local Solar and Storage is the Pillar of the Net-Zero Grid, Revisiting Pandemic Predictions for Energy, and Day One Climate Priorities for President Biden's White House.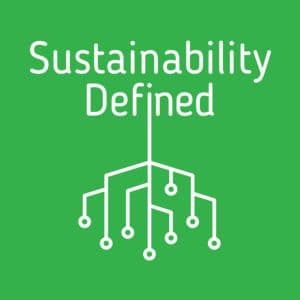 Jay Seigel and Scott Breen started recording the Sustainability Defined podcast out of their shared passions for good conversation, the environment, and – of course – really bad jokes. Since meeting at a happy hour in Spring 2016 in the nation's capital, the organization has grown from a spreadsheet of personal sustainability facts and contacts to an acclaimed worldwide podcast that's downloaded in well over 100 countries, included on course curricula at colleges and universities across the United States.
Sustainability Defined is regularly listed as one of GreenBiz's most-listened-to sustainability podcasts. Each episode of the podcast focuses on a single topic of discussion that moves sustainability forward. Program hosts explain each topic with an experienced pro who comes on each week as a guest. Subjects are placed within an organizational tree, and listeners are aided in defining what exactly sustainability is, episode by episode. Sustainability Defined currently features a library of over 55 episodes to choose from.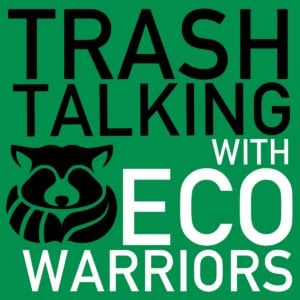 Trash Talking with Eco-Warriors is a green business podcast about environmentalism created to respond to the world's rising issue of waste and waste management. By weekly sharing the inspiring stories of professionals and individuals creating positive change for the planet, podcast leaders hope to move everyone closer to living a life with a decreasing carbon footprint.
The podcast's host is Barbara Lee. Lee was born and raised in Hawaii, where she was taught the importance of protecting nature's fragile beauty. A former world traveler and journalist, Barbara was committed to combining her love of a minimal, zero waste existence and her storytelling skills into a project that inspired environmental change. The Trash Talking with Eco-Warriors podcast is full of inspiring stories from eco-warriors worldwide and their work in conservation, green business, and sustainability. To date, there are over 30 episodes available on Apple or the podcast's website. Podcast guests include Wendy Hapgood of Wild Tomorrow Fund, Tal Chitayat of Full Circle Home, and Lauren Liles of New York City Council.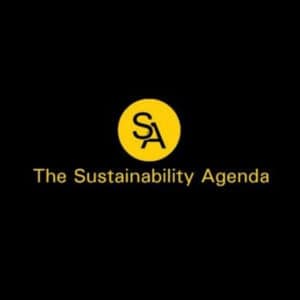 The Sustainability Agenda is a weekly podcast that explores today's most significant sustainability issues. Leading sustainability thinkers and contributors offer their views on the world's most substantial sustainability issues while sharing the latest thinking. Guests are encouraged to share what's working in environmentalism and what needs to change.
The podcast's host and executive producer is Fergal Byrne. Fergal challenges each of his interviewees to think about and share what will determine the future of sustainability. The host is also a seasoned researcher, interviewer, and writer. A long-time writer for The Financial Times, he has penned many reports for the Economist Group. Fergal's writings have appeared in other newspapers, including The LA Times, The Guardian, and The Evening Standard. The Sustainability Agenda is one of the nation's best green business podcasts as it dives into topics like ecological restoration and conservation of water and land, the social implications of environmentalism, and the varied approaches to climate governance.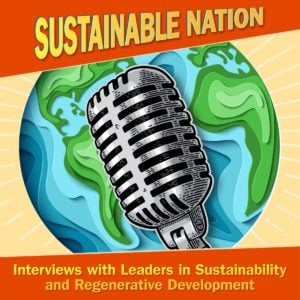 This podcast is available to listeners through Sustridge's efforts. Sustridge is a sustainability consulting organization established in 2017 with a single mission of helping organizations of all sizes become sustainability leaders. It approaches each of its clients with fresh eyes to develop unique, customized strategies that meet its client's specific needs. Sustridge takes a holistic approach to sustainability by utilizing systems thinking to understand and interpret the client's organization's critical sustainability issues. Its environmental solutions are developed to maximize its client's sustainability commitment to maximizing the social, economic, and ecological benefits of its sustainability.
The Sustainable Nation Podcast is just one of the resources Sustridge provides free of charge to business leaders interested in worldwide sustainability. Podcast listeners have access to interviews with some of the best and brightest in business leadership. Topics of conversation include higher education, government sustainability, and corporate sustainability. Listeners can find this green business podcast through Sustridge's website and Apple podcasts.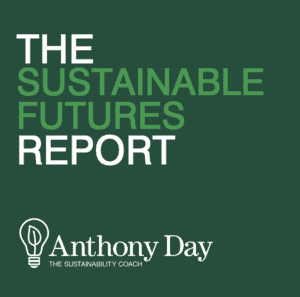 The Sustainable Futures Report is one of the nation's best green business podcasts and is completely free. Podcast episodes are released each week. Podcast leaders present conversations and facts about how to survive climate change, the planet's resource depletion and energy crisis, and how environmentally focused individuals and organizations can stay profitable.
Anthony Day is the green business podcast's host. Program lengths vary from 15 to 30 minutes giving the listener a chance to hear about several climate issues within an hour of enjoying the podcast. Some of the nearly 100 episode library titles include The Carbon Debate, What's the Truth?, Ecosystem Collapse, Absolute Zero, and Green Homes: Warm Homes. The Sustainable Futures Report boasts an impressive five stars for user ratings. This reveals a satisfied listener base that enjoys hearing about relevant sustainability issues. An example of the podcast is an episode called Keep Track. Within it, the host develops the notion that if we create a sustainable world, we also need to ensure that the services we use and the products we buy stem from sustainable sources.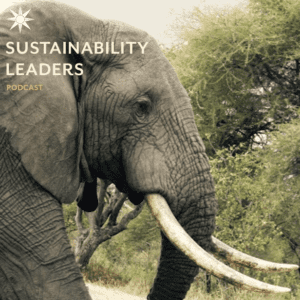 Sustainability Leaders is presented as a free podcast that seeks to advance the conversation business leaders need to have on attainable approaches to sustainability. Sustainability is a rapidly growing field driven by billions of dollars in international investment. This podcast series talks with leading sustainability practitioners from the academic, corporate, investor, and NGO communities. Hosts and guests of the podcast explore each week how this rapidly evolving field is influencing global investment in the United States and across the globe.
Listeners and subscribers gain first-hand knowledge as hosts David Sneyd, Michael Torrance, and Jonathan Hackett interview sustainability and business experts worldwide and bring their diverse perspectives to life with sustainable concepts and practical applications. This podcast features a library of over 20 episodes, which are typically one hour in length. Podcast users can meet the people leading the way toward a low carbon, sustainable future each week.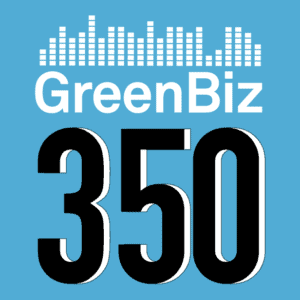 GreenBiz Group is an events and media organization that advances business, technology, and sustainability intersection opportunities. Through its podcast, websites, peer-to-peer network, research, and events, GreenBiz promotes the potential to accelerate the transformation and drive progress within firms, cities, industries, and within the very nature of global business.
GreenBiz 350 is one of the U.S's best green business podcasts. It is currently co-hosted by and Heather Clancy and Joel Makower. The weekly podcast centers on the companies and people behind the headlines in clean technology and sustainable business. Original interviews and stories cover renewable energy, clean technologies, food, sustainable supply chains, cities, climate change, and more. This podcast series has a successful run and currently features over 250 episodes within its library on Apple podcasts and the GreenBiz website. Program lengths run from less than thirty minutes to around an hour based on the week's guests and subject matter. Episode titles include Biden Wish Lists and Supporting Intersectional Environmentalism, Duty to Democracy, and Parsing Plastics Policy.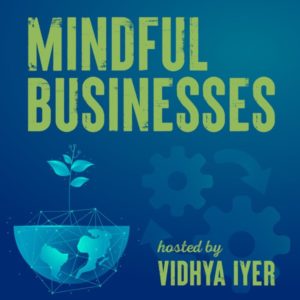 A mindful business adopts and utilizes sustainable economic, social, and environmental practices. Mindful Businesses currently airs as one of the nation's best green business podcasts. Each week the podcast host, Vidhya Iyer, welcomes representatives from sustainable businesses and organizations from all over the world to share their principles and practices.
Podcast guests include passionate firm founders who lead companies that sell from simple everyday items like household items to advanced and unique products like Geodisc homes. The guests and host talk about their struggles, journeys, life lessons, and where they see themselves and the world in the future. Podcast listeners are sure to appreciate how there are so many nuances and paths to becoming a mindful consumer or organization. Within the podcast, businesses learn about new and exciting sustainable practices while consumers are informed about new green businesses. Some of the podcast's past guests are Redecker from Germany, Ricron Panels, Phool Co from India, and Reel Toilet Paper from the USA. Mindful Businesses launched its first episode in July of 2019.
Named in honor of a charismatic tea lady who worked for the publisher, Faversham House, edie was based on the idea of making a positive difference among its audiences through inspirational, engaging events and quality, informative journalism. Now, more than two decades later, it still delivers on that idea every day with one of the country's best green business podcasts.
edie is a purpose-driven and industry-leading business media company that empowers energy, sustainability, and environmental professionals at all levels to make business more sustainable. The edie network includes its flagship website, which powers content and gives podcast listeners the chance to tune into Sustainable Business Covered. Sustainability professionals will enjoy listening to this podcast, which features almost 100 episodes. Most episodes within the podcast feature exciting and informative interviews with industry experts. Episode titles include A World Green Building Week, A Plastic-Free July, and Streaming and the Environment.
The thing most listeners love about podcasts is the opportunity to learn precious information while enjoying other activities like driving, exercising, and enjoying the outdoors. Many podcast subscribers also begin to enjoy a connection with program hosts as they learn to listen and apply concepts shared.
Green business podcasts are a great addition to a business degree in sustainability and environmentalism. Those unfamiliar with podcasts may feel they are passive ways to gather information, yet many current podcasts build substantial audiences of subscribers by offering interactive elements to the podcast. It is common for popular podcasts to answer listener questions while recording, offer polls for listeners, and provide other ways for subscribers to contribute to topic selection.
Business podcasts have proven themselves over the years to be assets for students and working professionals alike. Enjoying green business podcasts is an excellent way to learn more about environmentalism and sustainability.
Related Resources
Best Green Business Schools Ranking
Online Master's in Environmental & Sustainability Management
Best Free Online Green Business Courses