19 SCHOOLS in NEW MEXICO
They don't call New Mexico the Land of Enchantment for nothing. With vast, sparkling deserts, mountains that seem to float in the distance, and sudden bursts of color in the most unexpected places, New Mexico seems more like a place you dreamed than the real world. It's no wonder the state has inspired generations of artists, musicians, filmmakers, and poets.
With its roots in the Spanish conquest, nearly half of all New Mexico's people have Hispanic roots, and with around 10% of the population descended from Native Americans, one of the largest proportions of Native peoples as well. As such, most of New Mexico is bilingual, and Mexican and Native cultures are recognized, celebrated, and studied for insights into the people and place.
It is the duty of New Mexico's handful of accredited colleges and universities to provide the means for social mobility, financial stability, and economic opportunity for the state's many people, who live in one of the lowest population densities in the US. New Mexico's higher education institutions are working admirably to meet those needs, making strides all the time.
Brookline College-Albuquerque
Albuquerque, NM
Eastern New Mexico University-Main Campus
Portales, NM
Institute of American Indian and Alaska Native Culture and Arts Development
Santa Fe, NM
National American University-Albuquerque
Albuquerque, NM
National American University-Albuquerque West
Albuquerque, NM
Navajo Technical University
Crownpoint, NM
New Mexico Highlands University
Las Vegas, NM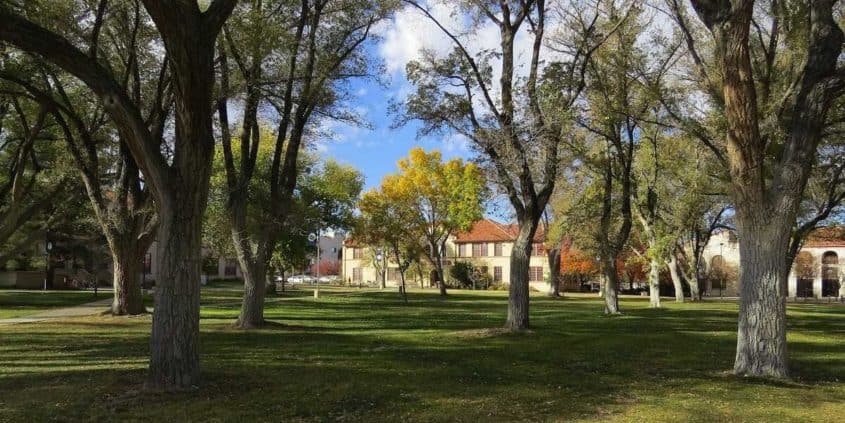 New Mexico Institute of Mining and Technology
Socorro, NM
New Mexico State University-Main Campus
Las Cruces, NM
Northern New Mexico College
Espanola, NM
Santa Fe University of Art and Design
Santa Fe, NM
Southwest Acupuncture College-Santa Fe
Santa Fe, NM
Southwest University of Visual Arts-Albuquerque
Albuquerque, NM
Southwestern College (NM)
Santa Fe, NM
St. John's College (NM)
Santa Fe, NM
University of New Mexico-Main Campus
Albuquerque, NM
University of Phoenix-New Mexico
Albuquerque, NM
University of the Southwest
Hobbs, NM
Western New Mexico University
Silver City, NM