31 SCHOOLS in CONNECTICUT
One of the first English colonies, Connecticut has been one of the most influential states in the union since the earliest days of settlement. Dominated by the Congregationalist Church – which established Yale University – Connecticut was always known for industriousness, political activity, and education. Connecticut became one of the most prominent colonies in the American Revolution, pulling together their ample resources and soldiers as well as their well-educated leadership; like Massachusetts and Virginia, Connecticut was the home of many Founding Fathers. Connecticut was central to the Industrial Revolution in the US, and due to its proximity to New York, grew as an extended suburb of the New York City mega-metropolitan area.
Those facts explain why, even as the nation's third-smallest state, Connecticut nevertheless has the highest standard of living and highest per-capita income, and is the 4th most dense in population. New England in general is known for education, and Connecticut is an excellent example, with much higher proportion of bachelor's and graduate degree-holders than the national average. With an economy largely founded on finance, real estate, and high-level manufacturing, Connecticut has a much greater need for college-educated managers and highly specialized engineers and skilled workers, and Connecticut's higher education system is exceptionally prepared for the needs of Connecticut's professionals and workforce.
Yale University, of course, is the biggest fish in the sea, but Connecticut is filled with world-class universities and liberal arts colleges. The University of Connecticut, New England's most prestigious public research university, has an outsized influence as well, though the smaller public institutions in the system, like Eastern Connecticut State University, have an important impact on the job market and employment pool. Besides public institutions, New England defined the liberal arts college, and Connecticut has some of the highest-ranked in the nation, like Wesleyan University, Connecticut College, and Trinity College. Whether its engineering, health sciences, education, or business, Connecticut's best colleges and universities are there for the long haul.
Albertus Magnus College
New Haven, CT
Central Connecticut State University
New Britain, CT
Charter Oak State College
New Britain, CT
Connecticut College
New London, CT
Eastern Connecticut State University
Willimantic, CT
Fairfield University
Fairfield, CT
Goodwin College
East Hartford, CT
Hartford Seminary
Hartford, CT
Holy Apostles College and Seminary
Cromwell, CT
Lincoln College of New England-Southington
Southington, CT
Mitchell College
New London, CT
Paier College of Art Inc
Hamden, CT
Post University
Waterbury, CT
Quinnipiac University
Hamden, CT
Rensselaer at Hartford
Hartford, CT
Sacred Heart University
Fairfield, CT

Southern Connecticut State University
New Haven, CT
St Vincent's College
Bridgeport, CT
Trinity College
Hartford, CT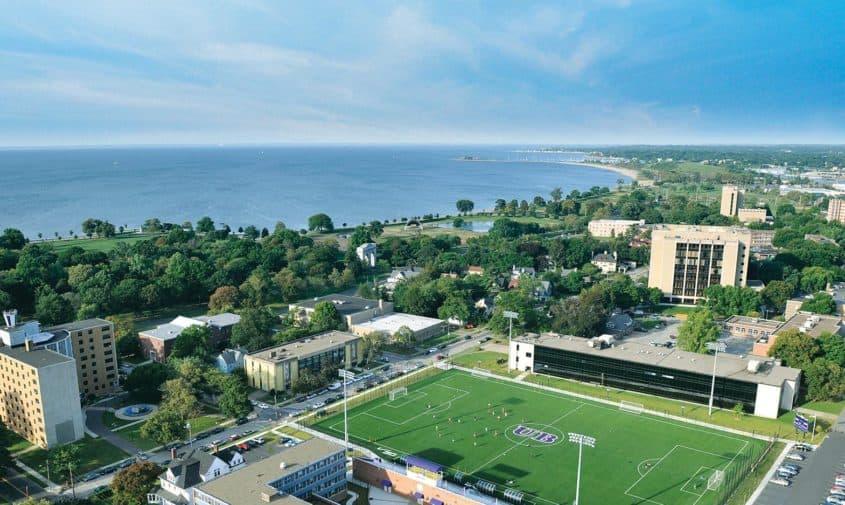 University of Bridgeport
Bridgeport, CT
University of Connecticut
Storrs, CT
University of Connecticut-Avery Point
Groton, CT
University of Connecticut-Hartford Campus
Hartford, CT
University of Connecticut-Stamford
Stamford, CT
University of Connecticut-Waterbury Campus
Waterbury, CT
University of Hartford
West Hartford, CT
University of New Haven
West Haven, CT
University of Saint Joseph
West Hartford, CT
Wesleyan University
Middletown, CT
Western Connecticut State University
Danbury, CT
Yale University
New Haven, CT