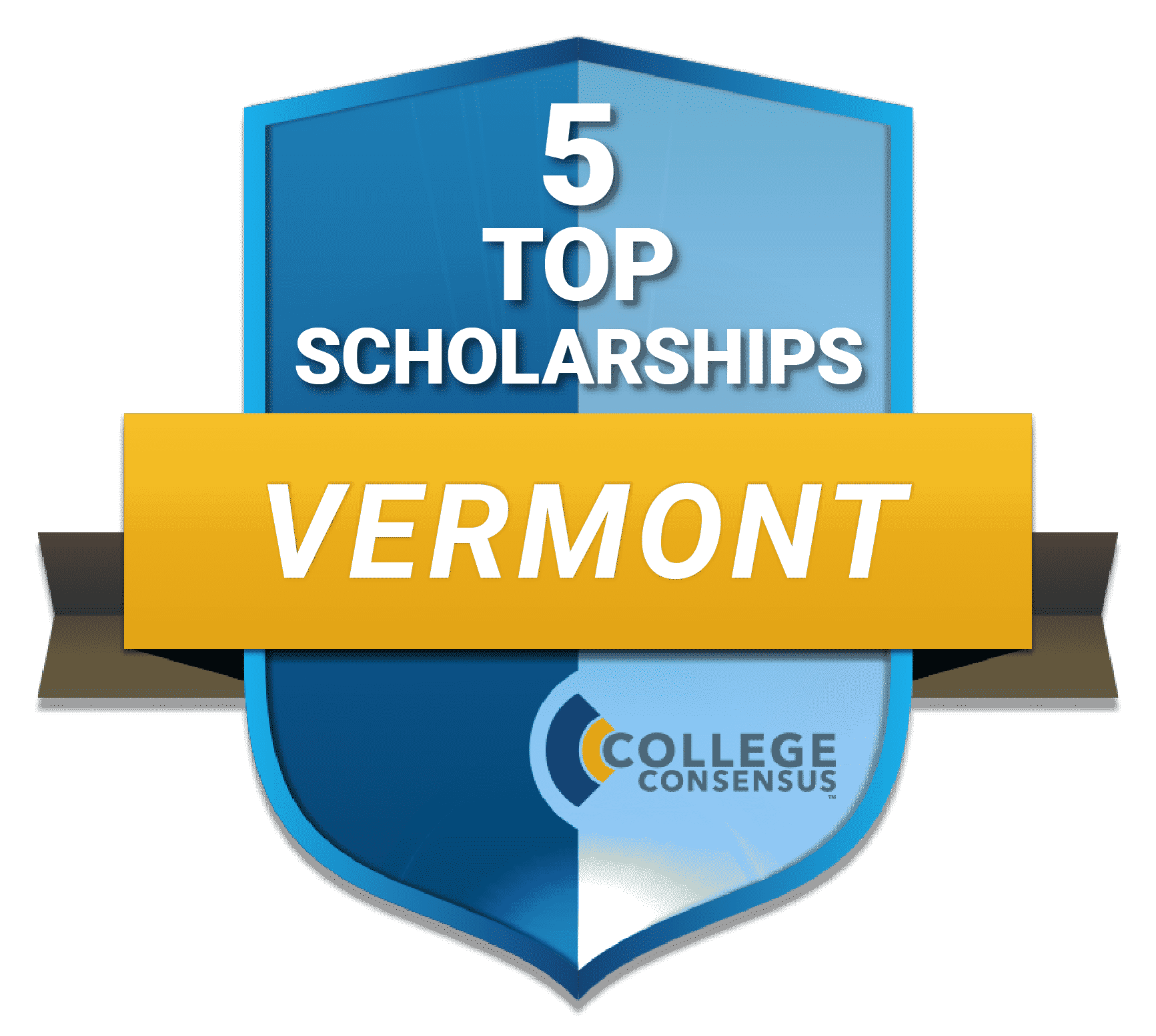 Vermont scholarships for college students change annually, but state residents are typically eligible to apply for dozens of awards that are funded by the government. As an incentive to receive a higher education through state colleges, the Vermont Student Assistance Corporation (VSAC) was created through the Vermont legislature in 1965 as a public non-profit organization. The organization advocates on behalf of state residents to receive as much money as possible to assist with the high-cost of college. Through the VSAC, Vermont scholarships for college students in Vermont have exceeded $705 million. VSAC also provides counseling services to help connect students with the right Vermont scholarships for high school seniors. 
Of course, there are many opportunities for scholarships from all kinds of private institutions, charities, and organizations. College Consensus wants to point Vermont students to some opportunities they might miss – and give them the motivation to search for more. Programs are placed in alphabetical order.
See Also: Best Scholarships for Online Students
Does the State of Vermont Offer Scholarships and Grants?
Since 1993, the Vermont Student Assistance Corporation has advised high school seniors and older students on how to get as much scholarship and grant money to assuage tuition costs. To apply for any scholarships sponsored by the VSAC, a student must complete a single dedicated application.
Vermont education grants are typically need-based awards. Vermont has three different types of awards: full-time (incentive grant), part-time (part-time grant), and short-term non-degree (advancement grant). To apply for these programs, Vermont students must submit enrollment information, social security number, and financial information. Depending on the student's current status, both the student's and parents' financial details may be required to process the application for grant aid. Vermont education grants range between awards of $1,000 and $12,000 per year. Vermont students can also apply for grants through the federal government such as the Pell and FESOG.
Private Vermont scholarships for college students are also available and listed through the VSAC's website. Private businesses may request separate applications and have different award requirements. Examples of Vermont businesses and civic organizations that sponsor scholarship programs include the Burlington Veterans Club, Vermont Police Association, and the Ludlow VFW.
Are there Scholarships for Nurses in Vermont?
The VSAC is also a useful resource for those looking for Vermont nursing scholarships. Through a downloadable PDF, students can review requirements for each award they are interested in. The booklet features awards for specific majors including nursing. To apply for the VSAC nursing scholarships, students need to first fill out a FAFSA. Additional documentation required includes two personal letters of recommendation, official high school transcripts, and an essay response. The essay response can be on a general topic selected by the nursing student. Examples include a description of nursing goals, address any financial barriers in place of nursing education, or a description of past community service.
The Evelyn M. Soforenko Nursing Scholarship was created specifically for Vermont residents currently enrolled in a nursing program. The annual award is one of the most popular nursing scholarships in Vermont among students enrolled in an associate degree or LPN program. Award amounts vary based on student need and available funding. Another option for Vermont nursing scholarships is the Freeman Nurse Scholars Program. This scholarship is available to students enrolled in an accredited nursing program in the state. The student must be in good academic standing and agree to practice as a nurse in Vermont for at least two years following graduation. Current scholarship award amounts for the Freeman Nurse Scholars Program is $7,500 annually.
Vermont nurses can also review scholarship guidelines for national awards. For instance, the F.A. Davis Nursing Scholarship for $1,500 is offered to one undergraduate and one graduate nurse per year. The student must be a legal resident of the United States or Canada and be enrolled in an NCLEX-RN program or graduate-level nursing degree program.
Are there Scholarships for Teachers in Vermont?
Vermont teaching scholarships provide prospective educators with the funding they need to earn their degrees. Like all other majors, education degree seekers should apply for scholarship programs through the VSAC. The VSAC website lists scholarships open to Vermont students and will also detail eligibility requirements for each individual awards. Examples of requirements for Vermont teaching scholarships are demonstrated financial need, residency in certain Vermont counties, and a minimum GPA. To apply for VSAC teacher scholarships, a single application can be submitted to the non-profit. A highlighted program in Vermont is the TEACH Early Childhood Scholarship, this project was developed for those pursuing an education in early childhood development in Vermont. The scholarship pays for early childhood development associate degree programs at Vermont community colleges, childcare apprenticeship programs in Vermont, and pathways to early childhood education licensure. Vermont teacher associations also tend to fund scholarships for prospective teachers. The Vermont NEA sponsors four different annual scholarship programs:
Maida Townsend Scholarships
Angelo J. Dorta Teaching Excellence
Human and Civil Rights Award
ESP of the Year Award
These scholarships are open to current Vermont NEA members and their children. Each scholarship has different eligibility requirements with applications due by February 1 annually. Most of the awards provide $1,000 toward educational costs.
Related Rankings: 
Best Online Colleges in Vermont