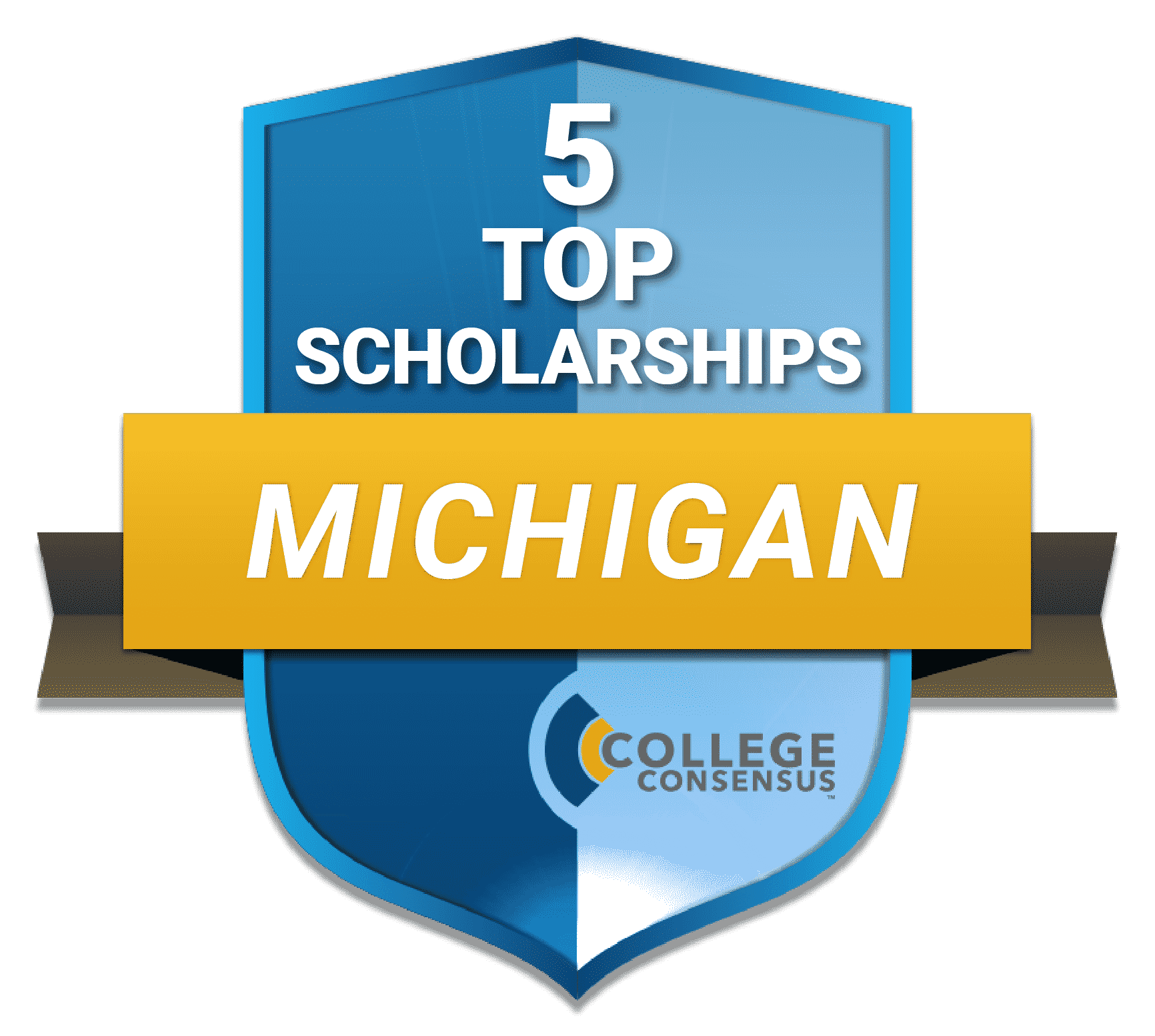 When you are looking into scholarships for college in Michigan, you want to clarify the options that apply to your situation. Scholarships for students in Michigan range from merit-based scholarships to options designed to help out low-income students who may have limitations on their ability to pay for college. Organizations in Michigan also offer many scholarship opportunity for disadvantaged students, especially minority groups such as African-Americans, for undocumented students, and for first-generation students. It's all part of helping young people make the most of their talents and potential.
College Consensus wants to make that happen, too, so we are providing a list of scholarships just for Michigan. We have arranged programs below alphabetically by name.
See Also: Best Scholarships for Online Students
Does the State of Michigan Offer Scholarships?
The Michigan Promise Scholarship is a merit-based option that applies to students who attend college in the state and meet the qualification standards. The initial standard for the scholarship is that a student must pass a test in their high school junior year that shows proficiency in four subjects. If a student does not pass the exam, then he or she may also apply for the scholarship after two years of studying college course material.
The Office of Scholarships and Grants Michigan may apply to many schools and institutions. Students may find that a college offers assistance finding state options for scholarships if they are looking for a way to pay for school. The school can help clarify if students qualify for special circumstances and scholarships that apply to a specific situation. The variety of options available to students ensure that individuals have many solutions to help with the costs of their education. The state and private organizations within the state offer scholarships that apply to students who fit the criteria or meet the stated standards. The key is comparing the options and verifying the scholarships that apply to your situation.
Are there Scholarships for Minority Students in Michigan?
When it comes to Hispanic scholarships in Michigan or other scholarships for minority students, there are options available that apply to specific groups. The state offers minority scholarships to Hispanic students that set clear standards for qualification. For example, the Becas Univision Scholarship Program applies to students with Hispanic heritage who have a 3.0 GPA or higher. The scholarship does require that the student is a first-generation college student, so a mother or father cannot be a college graduate for students to qualify for the scholarship.
The state also offers scholarships for African-American students like the Bell Labs Fellowships for Underrepresented Minorities. Students should keep in mind that qualification standards for scholarships may vary significantly. In some cases, students will need to write an essay or meet other standards to qualify for the funding. Furthermore, a student may need to maintain a certain grade point average throughout college to continue receiving funding if the scholarship offers funds for more than one year.
The options available to minority students are not limited to programs that specifically focus on a minority group. Students can apply for scholarships that are based on their grades, major in college, or minority status. Students may also qualify for sports-related scholarships or other programs designed around a specific interest. The options available to students depend on their goals and situation.
Are There Scholarships for Nurses in Michigan?
When you're looking for a Michigan nursing scholarship, you have a variety of options focused on your goals. The Michigan Nursing Scholarship offers funding for students who agree to work at a state-run facility for each year they receive the scholarship. For example, if the student receives the scholarship for one year of study, then the student will work for the state for one year. If a student receives the scholarship for two years, then he or she will work for the state for two years.
Nursing scholarships in Michigan are not limited to the basic state-run scholarship program. Students may also consider the Michigan Nursing Student Association scholarship program or the Michigan Nurses Foundation scholarship program. The right Michigan nursing scholarship program for a student's goals may vary significantly based on his or her goals.
Students should keep in mind that the standards for the scholarships may vary. The scholarships may require a student to write an essay or to become a member of the organization to qualify for the funds. Students should keep in mind that nursing scholarships may also set standards in relation to a student's work after graduation. The exact standards may vary between scholarships.
Although specialized scholarships are available for nursing students, state-wide scholarships may also apply to a student's account. The key is identifying the standards for scholarship qualification and ensuring that the scholarship applies to the school and the major of study before moving forward with an application. Students should also be aware that they may need to file some paperwork or provide specific details related to their family's educational history, their income level, their grades in high school, or related information to qualify for the scholarships. Each scholarship has different requirements for students to qualify for the money, so nursing students should read through the details to ensure that the appropriate information is provided to the organization or the state when applying for a scholarship.
Related Rankings:
Best Online Colleges in Michigan
Best Online MBA Programs in Michigan
Best Colleges & Universities in Michigan
When are Application Deadlines for Colleges