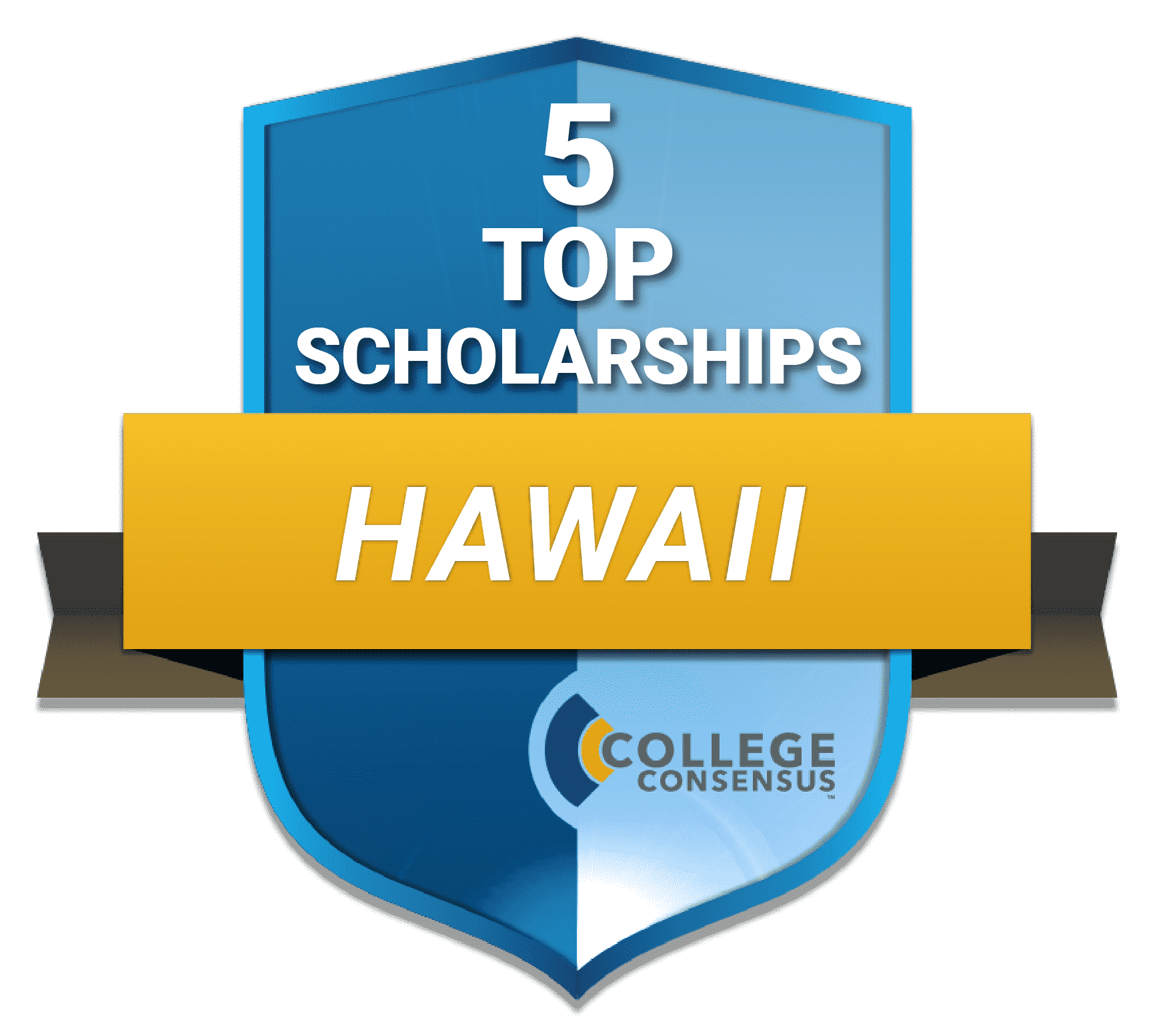 Everything costs a little more in Hawaii – it's the price of living in paradise. But college doesn't have to cost more. Most students need some kind of financial help in order to go to college, and Hawaii grants and scholarships are a great place to start getting the money you need in order to further your education. The state of Hawaii offers a number of grants for Hawaiian students. A grant is different from financial aid. Grants are gifts – money that does not have to be paid back. A financial aid package that you receive from your school often has a combination of grants, loans, and scholarships. It's a good idea to apply for both grants and scholarships to make sure you're paying as little for your education as necessary.
For Hawaii college students who need that extra help, College Consensus has started your scholarship search for you with our list of college scholarships for Hawaii students. Hawaiian scholarships are in alphabetical order.
See Also: Best Scholarships for Online Students
Do I Need Good Grades in High School to Get a Scholarship?
Not necessarily. While good grades can been helpful in earning Hawaii student scholarships, grades aren't the only thing that matters when it comes to getting free money for college. There are scholarships for many different categories, and it's possible that merits other than your grades could qualify you for a scholarship. Do you go to a religious place or worship, or belong to any organizations? If so, you may qualify for certain Hawaii student scholarships for high school students. College scholarships for Hawaiians are not hard to come by- it's simply important that you apply, even if you aren' sure whether you're fully qualified for the scholarship.
Many Hawaii student scholarships are based on extracurricular activities. If you play a sport, it's likely that there's a scholarship out there for you, even if you don't plan to play the sport in college. Some Hawaii scholarships for high school students are given to students who participate in specific extracurriculars, such as dance, drama, student government, or history club. When you're researching college scholarships for Hawaiians, it's a smart move to apply for all of the scholarships you come across, even if you don't meet all of the qualifications. Often, the scholarship goes to the applicant who comes closest to meeting all of the requirements, even if no applicant meets them all perfectly.
Some colleges offer scholarships to students after they've been accepted to school. If you've been accepted to school but aren't sure if you're going to be able to afford tuition, talk to your school's financial aid office to see if they offer any school-specific scholarships. Often, alumni and private organizations connected with the school offer scholarships to students dealing with financial hardship.
Does the State of Hawaii Offer Grants for College Students?
If you're interested in earning one of the many Hawaii grants and scholarships offered to Hawaii residents by the state government, you'll need to start by filling out your free application for federal student aid, or FAFSA, form. You'll need income information for both you and your parents in order to fill out the FAFSA. Filling out this form will give the government an idea of how much financial assistance you may need to attend college, and may qualify you for certain scholarships or grants that are based on financial need.
The University of Hawaii offers a number of Hawaiian grants for college students, especially those who demonstrate exceptional financial need. One of the most popular grants for Hawaiian students is the student incentive grant. These grants for Hawaiian students are given by the federal government, and then matched by the state government. This means that the qualifying student gets double the funds.
It's important to note that there is a difference between Hawaiian grants for college students and Hawaiian scholarships for college students. Grants are provided on a basis of need, while scholarships are provided on a basis of merit. This means that after you're accepted to school, you simply need to apply for grants, and if you qualify, you'll get the money. Scholarships are different, and may require an essay or proof of why you deserve a shot at the scholarship.
Are there Scholarships for Native Hawaiians?
Are you a native Hawaiian? Great news! There are many native Hawaiian grants for college. ALU LIKE is a popular resource for students who are looking for scholarships for being Hawaiian. The organization is dedicated to helping Hawaiian students achieve their dreams, and providing college grants for Hawaiians is one of the many ways they work to achieve their mission. The Islander Institute also offers scholarships for being Hawaiian to qualified students who show care for their families, communities, and the island. If you have a specific interest in helping the people of the island improve their health, you may be able to earn native Hawaiian grants for college. The Native Hawaiian Health Scholarship offers college grants to Hawaiians who show dedication to improving the health of Hawaiian people. This program requires students to serve in a medical professional capacity in an underserved or unserved area of the island for an amount of time that correlates with how long they're supported by the scholarship.
Related Rankings: 
Best Online Colleges in Hawaii