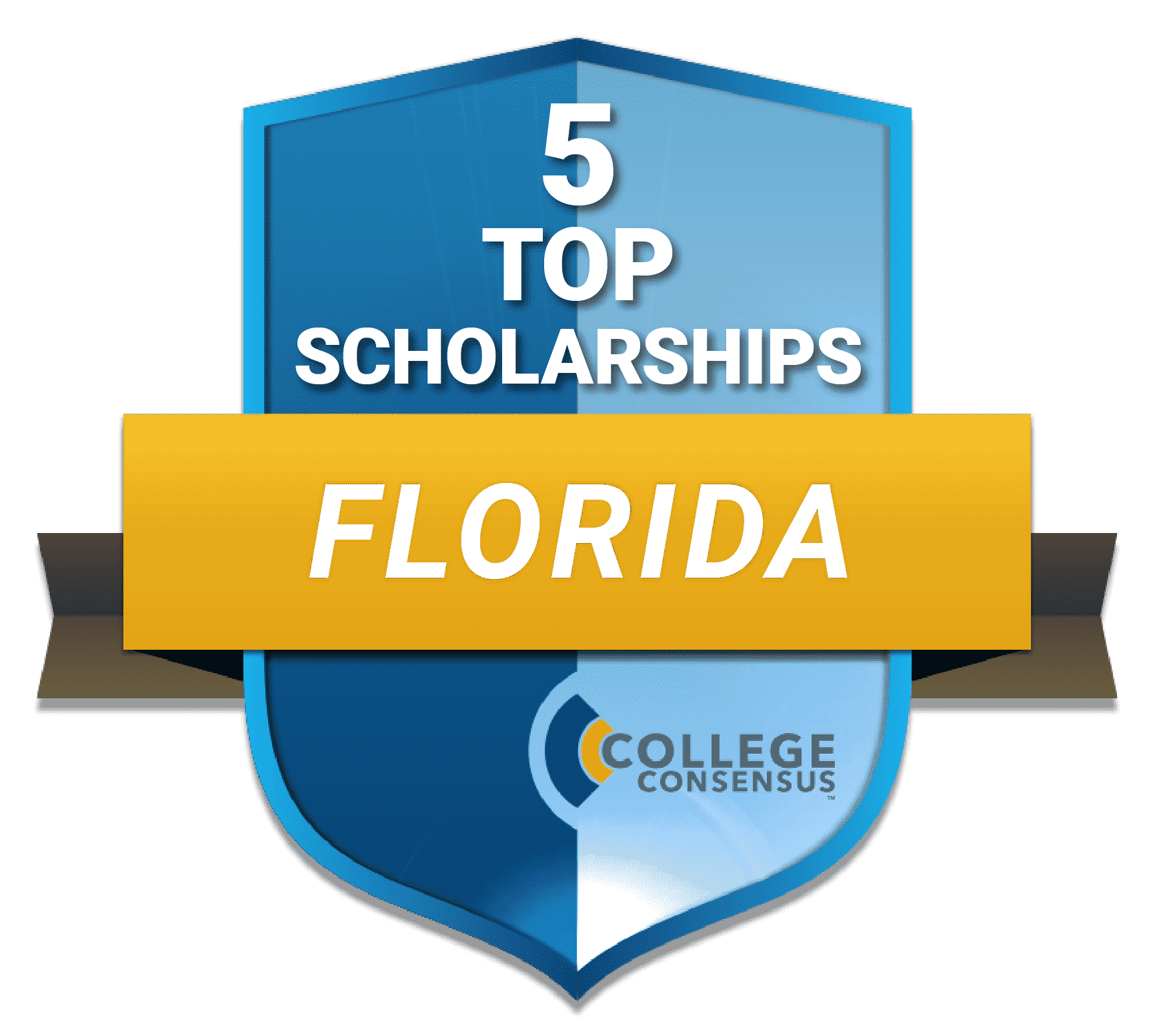 The Sunshine State has some of the nation's best public universities and most respected private colleges, but how will you pay for them? There are a number of Florida scholarships and grants for students seeking higher education. Florida college scholarships come from a variety of sources and organizations. The state has scholarships for Florida college students based on grade point average such as the Florida Bright Futures Scholarship program. These particular college scholarships in Florida are based on scholastic performance and not necessarily need.
To get your scholarship search started off on the right foot, College Consensus editors have put together a list of scholarships for colleges in Florida. Programs are set in alphabetical order.
See Also: Best Scholarships for Online Students
1
Armando J. de Moya Scholarship
The Armando J. de Moya Scholarship is designed to assist a Florida student who intends on majoring in Civil Engineering. Requirements include being a resident of Florida; a description of the type of job the student hopes to have after graduation; an essay on why they feel they are deserving of the Armando J. de Moya scholarship and how it will have an impact on upcoming college career. Two letters of reference; resume; IRS income tax form; official college/university transcript. Applicants will be required to complete a statement of accuracy.
Presented by the De Moya Foundation, students receive a total of $5,000 in honor of the co-founder and past president of The de Moya Group. A hard worker, he believed in achieving dreams with perseverance and hard work. This scholarship mirrors his principles of living at full potential, facing challenges with fearlessness and teaching others to be the best they can be. Deadline to apply is May 31st.
2
Barbara L. Frye Scholarship
The Barbara L. Frye Scholarship is designed to assist graduating high school seniors or college attendees in acquiring funding for their educational pursuits in journalism. This scholarship is also eligible for graduate students. Criteria for this scholarship include attending a high school in Florida and attending a higher education institution in Florida. Applicants must submit a resume; letter of recommendation; answer two essay questions and three samples of their work.
Presented by the Capitol Press Club, this scholarship awards talented, aspiring journalists the opportunity to hone their craft. Awards up to $2,000 are granted annually, with past recipients who show financial need being able to reapply if still eligible. Applications are due August 1, with winners announced in September. Applications must be emailed to [email protected]
3
Henry Morrison Flagler Scholarship
The Henry Morrison Flagler Scholarship was created by The William R. Kenan, Jr. Charitable Trust to assist students in need with their expenses associated with attending the Honors College at Florida Atlantic University. The student must be an incoming freshman; Florida resident; and eligible to receive a Florida Bright Futures Scholarship. Applicants must demonstrate leadership; scholarship; integrity; courage and resilience.
Presented by the Harriet L. Wilkes Honors College, this scholarship applauds student leaders who aspire more through personal and intellectual development of their skills. The scholarship helps support the Honors College in promoting global awareness, understanding, interaction and peace. One of the more generous scholarships in Florida, the lifetime value over four years exceeds $72,000. The deadline to apply is December 15th, and disbursements are $7500 per semester.
4
Minority Teachers Education Scholarship
The Minority Teachers Education Scholarship is for underrepresented minority students who are interested in becoming an educator. Basic application requirements include the individual being a resident of Florida; be a member of a certain minority (Black, Latino, Pacific Islander or Native American). The student must be accepted into a state-approved teacher education program; be a junior, senior or graduate student without a bachelor's degree; have received an AA degree or 60 hours. Student must not have exceeded credit hours of upper division level courses totaling no more than 18 credit hours.
Presented by the Florida Fund for Minority Teachers, students receive a total of $4,000 annually. Students may receive the scholarship for up to two consecutive years and must attend the yearly symposium. This fund is important for exposing upper-level students who are interested in becoming educators the opportunity to network and receive training in the field. There are two deadlines: August 2 for the fall term and November 30 for the spring term.
5
Rick and Sherry Murray Medical Futures Scholarship
The Rick and Sherry Murray Medical Futures Scholarship helps individuals living with ALS or those who have lost someone to the disease. Requirements include being a legal resident of Florida; being the spouse, child or grandchild of someone who had ALS; must plan on attending full time and must major in a medical-related degree program. Presented by the ALS Association Florida chapter, this scholarship is $5,000 and interested students must turn in the application, transcript and a 500-word essay describing how their personal experience dealing with ALS has impacted their decision to work in the medical field. Two letters of recommendation are also required.
Rick Murray had an active and lively lifestyle until the diagnosis of ALS in 1999. Although given only three years to live, Rick's active lifestyle tripled that time. This scholarship is important, as it aids in bringing awareness to the disease and sheds light on the impact it has for others who deal with a loved one going through a terminal illness. One of the most philanthropic scholarships for colleges in Florida, the deadline to apply is July 12.
Does the State of Florida Offer Scholarships?
When seeking financial aid and scholarships for the coming year, working with a counselor or doing the research can be beneficial. There are hundreds of scholarships every year that go unclaimed because students do not know they exist. Additionally, when searching for scholarships, there is a scholarship for almost everything. Seeking out the little scholarships available can all add up to quite a bit of scholarship money in the end. From banks to grocery stores, Florida scholarships and grants for students are plentiful. The key is in following the criteria and applying for every scholarship opportunity available.
Schools also offer scholarships in specific areas based on the level of financial need. This is separate from Pell Grants or other financial aid that the student may qualify for. Some of these in-house scholarships are based on need, while others are based on merit. When hearing about students who received millions of dollars in scholarships for Florida students, those opportunities usually come to those students who take the initiative and apply for everything.
Are there Scholarships for Hispanic Students in Florida?
There are quite a few Hispanic scholarships in Florida designed to assist Hispanic scholars to achieve higher education. Florida Hispanic scholarships are sponsored through private organizations, or distributed through minority scholarships in Florida program. Students must prove their Hispanic lineage to apply for these Hispanic scholarships in Florida. There are a number of higher education institutions offering in-house scholarships for Hispanic students, like the Seminole State College of Florida scholarship. Other scholarships for Hispanic students include the ACS Scholars Program; NBCC Minority Fellowship Program; HENAAC Scholars Program, UNCF/NBC Universal; ACS Scholars Program; Hispanic Scholarship Fund and others. Amounts in all of these scholarship programs vary.
Hispanic scholarships in Florida may fall under a direct Hispanic-named scholarship, or those funds will come from a minority scholarship program that is designed to benefit minority students who wish to further their education. Criteria for these scholarships change based on scholarship, funding sources, financial need and more. A very popular scholarship in this area is the Sallie Mae Fund and Hispanic College Fund.
Are there Scholarships for First-Generation Students?
In order to give all students a strong educational foundation, first-generation scholarships in Florida were developed to provide opportunities for students who wish to pursue higher education but may not have had the advantage of coming from a family background of scholars. According to the New York Times, 20% of today's students at 4-year universities are first in their family to attend college.
First-generation students have a number of opportunities, as scholarship opportunities continue to grow in this demographic. Some specific scholarships addressing this demographic are the StudySoup First in Family Scholarship; Benjamin A. Gilman International Scholarship; Fontana Transportation Inc. Scholarship Fund; Odyssey Scholarship; Cynthia E. Morgan Memorial Scholarship; Dell Scholars Program; Gates Millennium Scholars Program and others.
Some very popular first-generation scholarships in Florida also include the Mercedes Benz Drive Your Future Scholarship; Coca Cola Foundation First Generation Scholarships; J. Craig and Page T. Smith Scholarship Foundation; Farash Foundation First in Family Scholarships; Florida Department of Education's First Generation Matching Grant Program. Knowing how to ask the right questions will allow the right people to point aspiring students in the right direction to find these scholarship opportunities.
Can Nurses in Florida Get a Scholarship?
There are many nursing programs in Florida's institutions of higher learning. In order to accommodate the needs of students wanting to enter this career field, scholarships for nurses in Florida were designed to help provide assistance throughout the rigorous program. Nursing scholarships in Florida can be found in a variety of places through public and private organizations. This includes scholarships from the Florida Nurses Foundation; Tylenol Foundation; American Association of Occupational Health Nurses; Barbara Rhomberg Excellence in Nursing Scholarship and a host of others.
The opportunities are endless for students choosing to pursue a career as a nursing student but lack the financial resources to do so. Scholarships for nurses in Florida are plentiful – students must do their research and work with the financial aid office, or a counselor at the school to determine the types of nursing scholarships in Florida they are eligible for. The number of scholarships available usually exceeds the number of individuals applying for them because people are unaware they exist. Taking the time to find those scholarships for any level of nursing can help alleviate the financial burden associated with attending nursing school and the rigorous demands of the program.
Related Rankings:
Best Online Colleges in Florida
Best Online MBA Programs in Florida