With the COVID vaccine becoming available across the U.S., the question of when the Covid-19 vaccine for college students will become a priority as they move back onto college campuses. To date, the focus has been on vaccinating teachers and K-8 education. Depending on vaccine distribution, the COVID vaccine for college students may be available around April according to Dr. Anthony Fauci.
Although there is a phased approach to individuals receiving the vaccine, it's important to know and understand the protocols surrounding the question, "Are college students eligible for COVID vaccine distribution?" There are a number of underlying factors that must be considered, including where these vaccines will be administered, the prior health history of the individual, and whether it will be a requirement for returning to school.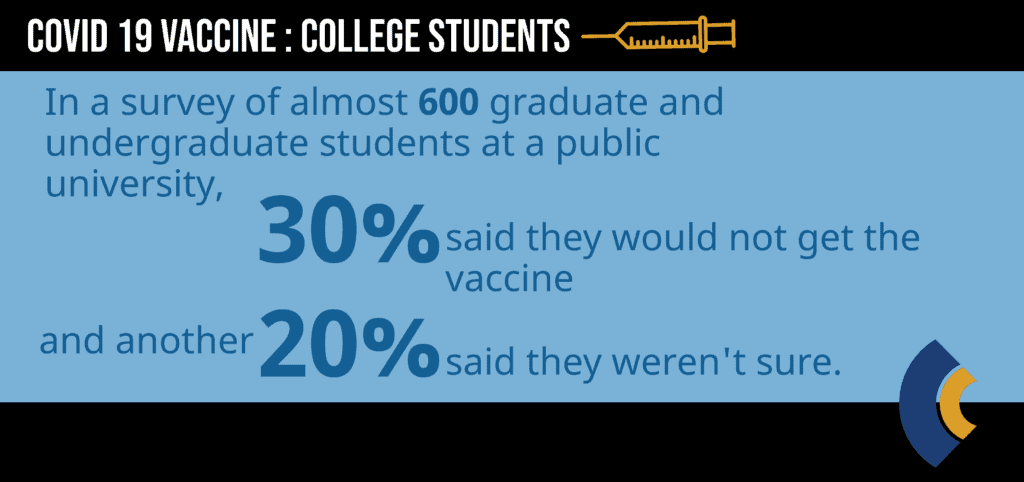 The Centers for Disease Control and Prevention (CDC) guidelines indicate healthy college students fall in Phase 2. While studies have shown that young adults may be at low risk for getting Covid-19, college administrators are delaying moving forward in fully opening campuses until they figure out when will college students get COVID vaccine approval. In a best-case scenario, colleges will return to normal in the fall, with a number of colleges and universities indicating in-person instruction will begin in fall 2021.
What College Students will Get the COVID Vaccine?
Right now, it depends on where they are located, as some areas have vaccine priority while others do not. There is also the problem of students not wanting to get the vaccine. A Pew Research Center poll indicates Americans aged 18-29 do not really want to get the COVID vaccine. On campuses, the consensus is similar. 30% of 600 students at a Connecticut public university indicated they would not get the vaccine, and 20% of those students indicated they were on the fence.
Colleges and universities may have to resort to requiring proof of having being vaccinated before students return to campus, but what happens to the students who have waivers and where will they go? Some colleges like Northeastern University were placed into Phase 1 distribution, as they are listed with the CDC as a school with a key role in vaccine distribution. This may mean that once Phase 2 opens, those schools and their students will have priority. The vaccine is not mandatory right now by colleges and universities as they are awaiting federal mandate instructions but may end up being a requirement like polio, measles, and tetanus vaccines.
How Can the COVID Vaccine Be Mandated?
Even with varied percentages of students skeptical about receiving the vaccine, there are some students who lend their support to requiring vaccinations before heading back to school. In fact, many students prefer this over social distancing guidelines. The CDC's guidelines have made it easy for employers to require their employees have the COVID vaccine before returning to work. In the same instance, Dr. Howard Forman, director of Yale University's MD/MBA program says, "Schools are allowed to require vaccinations to protect both the students and teachers. There are reasons why employment law allows for vaccine requirements."
"Under everything that we've seen, and the guidance from agencies like the Equal Employment Opportunity Commission and the Department of Education, it's been stated that just like how colleges require other vaccines like meningitis and measles and hepatitis for incoming students, they can require this vaccine as well. The EEOC's guidance released in December made it clear and paved the way to say vaccines can be mandated and that isn't considered a medical examination which is prohibited by the Americans with Disabilities Act.
Can International Students Get the COVID Vaccine in the U.S.?
College students are at the bottom of the totem pole and aren't due to receive the vaccine anytime soon unless they are essential workers or have a health condition. As it currently stands, international students will be eligible for the vaccine in the U.S. just like student citizens due to receive the vaccine when the time comes. International students should check the government websites of the states in which they reside to see the specific guidelines for individuals living, working, and studying in the U.S. For these students, they have to decide if they want to receive the vaccine in their home country or in the U.S.
What are the Exemption Rules?
Because of the efficacy of the vaccine and underlying health factors being a possible risk, there are valid, legitimate cases for exemption. This can include medical conditions, religious or philosophical objections. For students who do not want to take the vaccine if mandated by a college or university they are attending, schools may face a decline in enrollment from student transfers. At some point, proof of the vaccine may become a reality but as it stands, there are too many questions and variables involved to make a decision that may impact colleges, universities, and the students they serve.
According to Rupali Limaye at John Hopkins University in Maryland who is an expert in vaccines and public health, it is likely that other methods will be used to control the spread of the virus entering the 2021-2022 school year even if some students and professors have already received the vaccine. In most cases, colleges and universities will have some students who have the vaccine and some who will not. Depending on how things go with the vaccine and stopping the spread, this will give colleges, universities, and their students a better idea of when to expect vaccines to become available and whether they will be required.
The state where students reside or attend college is one of the most telling factors of when the vaccine will be available to ordinary students who wish to receive one. States with higher numbers of the virus may be at the top of the list, with additional states moving in order based on their transmission rates. Colleges and universities do plan to fully open in the coming school year, so students must be prepared for any scenario.
Related:
Guide to College in the Time of Covid