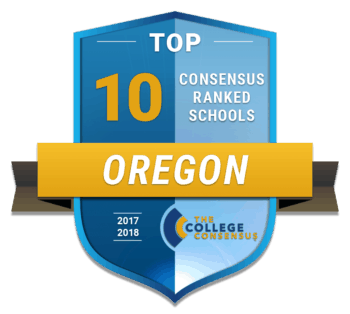 To identify the Best Colleges in Oregon for 2017-2018 we averaged the latest results from the most respected college ranking systems with thousands of real student review scores from around the web to produce a unique College Consensus rating for each school. You won't find a more comprehensive ranking of the top colleges and universities in Oregon anywhere. Read more about our rankings methodology and sources at our about page.
Colleges & Universities in Oregon
Oregon is known far and wide as one of the most progressive, environmentally-conscious, and innovative, entrepreneurial states in the union, due in no small part to a wealth of rigorous, selective, and challenging higher education institutions. From public flagship research schools like the University of Oregon 64 , to private intellectual havens like Reed College 73 , the best colleges in Oregon have one thing in common – they provide students from Oregon and beyond with the tools to take on leadership positions in industry, government, education, and culture. In particular, Oregon's tech sector is one of the most advanced and attractive in the US, making a major impact on Oregon's economy and extending the state's influence nationally and internationally.
In recent years Oregon has become one of the nation's Top Moving Destinations, with as many a two families moving to Oregon as move away; Oregon's population has been booming for many years, with professionals and workers drawn to the opportunities that Silicon Forest and the state offers. With a larger population has come more diversity, as a quarter of Oregon's population is now made up of minority citizens. Oregon's higher education complex has reacted with unprecedented diversity initiatives, living up to Oregon's reputation as a welcoming, open culture.
These are the top Consensus colleges for the Beaver State.