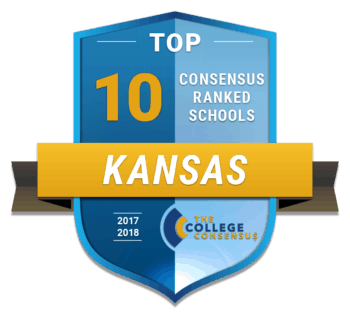 To identify the Best Colleges in Kansas for 2017-2018 we averaged the latest results from the most respected college ranking systems with thousands of real student review scores from around the web to produce a unique College Consensus rating for each school. You won't find a more comprehensive ranking of the top colleges and universities in Kansas anywhere. Read more about our rankings methodology and sources at our about page.
Colleges & Universities in Kansas
In American culture, Kansas may be best known for what it's not – the magical Land of Oz, where Dorothy learned there's no place like home. And there really is no place like Kansas. The Sunflower State has had a history of struggle and triumph, born out of the Civil War and grown in boom times and depressions, and the best colleges in Kansas carry the torch for Kansas' uniquely steadfast, resilient character. While Kansas made its reputation on agriculture, fossil fuels, and flight (as a major aviation manufacturing center), the Kansas of the 21st century faces challenges that Kansans are ready to take on headfirst – a transforming economy, political struggles, and the new world of work.
That's where Kansas' top colleges and universities come in. The higher education system of Kansas is meeting people where they are, with extension campuses, outreach programs, and a rapidly modernizing online education system. One of the nation's top STEM institutions, Kansas State University 62 , is a transformative public research university, while regional public universities like Pittsburg State University and Emporia State University are making new opportunities for Kansas working adults and young people. A number of well-respected Protestant and Catholic liberal arts colleges keep the western educational tradition alive and adapting to 21st-century concerns. It's all here for the Kansas student – the best colleges and universities in Kansas.
These are the top Consensus colleges for the Sunflower State.