To identify the Best Colleges in Delaware for 2017-2018 we averaged the latest results from the most respected college ranking systems with thousands of real student review scores from around the web to produce a unique College Consensus rating for each school. You won't find a more comprehensive ranking of the top colleges and universities in Delaware anywhere. Read more about our rankings methodology and sources at our about page.
Colleges & Universities in Delaware
The best colleges and universities in Delaware is a short list. After all, Delaware is a small state, small enough to hike across in a day for most of its length. However, Delaware is also one of the most densely-populated states, and though its whole population is less than a million people, those people are some of the nation's best educated – they're in the top 12 for proportion of residents holding an advanced (post-graduate) degree. For its small size, Delaware has a robust chemistry and technology industry that requires high levels of education, while banking and finance – one of the state's other biggest industries – demands well-educated business leaders and managers. Where are they going to come from? Delaware's colleges and universities.
The University of Delaware 65 and Delaware State University 56 do the heavy lifting, as the largest public research university, and the largest HBCU, respectively. Both have considerable expertise in STEM and business, shaping leaders for generations. But Wilmington University, the young upstart at just 50 years old, is shaping up to be a major player in the 21st century by embracing online education and focusing on the needs of working adults and other nontraditional students. Delaware's educational future is well in hand with these top colleges.
At this time, only three institutions in Delaware have enough rankings and reviews to generate a College Consensus Score, but the College Consensus is constantly updating, so prospective Delaware students should check back in the future for more rankings.
Here are the top colleges and universities of the First State.
1
University of Delaware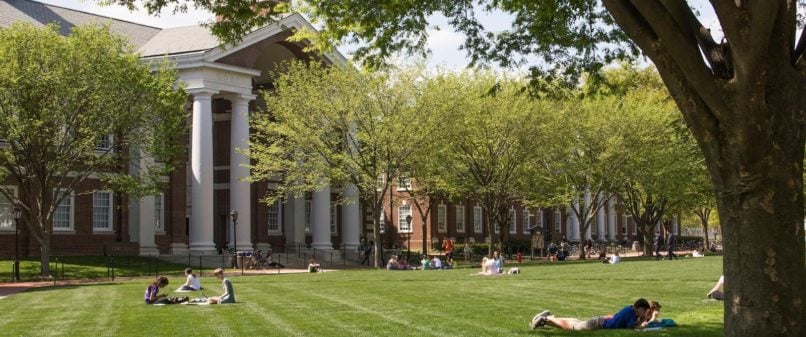 The largest college in the state of Delaware, the University of Delaware has a long and illustrious history. The oldest institution that makes up UD, the Free School of 1743, was founded in the Pennsylvania Colony (which included what is now Delaware). That institution did not receive college status until nearly a century later in 1833, when Delaware (now its own state) voted to open their own college. In 1870, UD gained a new life when it was opened under the Morrill Land Grant Act, which created a new emphasis on agriculture and science. Today, the University of Delaware is an unusual private-public hybrid – decisions are made by an independent, private administration, but the university is financially supported by federal land, sea, space, and urban grants. UD is ranked by U.S. News & World Report as a top 30 public university.
The University of Delaware's status as a land, sea, and space-grant institution has made it one of the region's leaders in STEM; all of those federal grant programs encourage and support major research in the sciences and applied sciences. UD is especially strong in chemistry and chemical engineering, in part due to a high proportion of pharmaceutical and chemical companies housed in Delaware. Sustainability, environmental science, and ecology are also important, thanks to UD's proximity to the ocean and its federal sea grant. Top business and education programs also make the University of Delaware crucial to the state's leadership and culture. As Delaware's main educator, UD is not just one of the best colleges in Delaware, but the key to the state's well-being.
2
Delaware State University
A historically black institution founded in 1891, Delaware State University was a beneficiary of the Morrill Land Grant Act of 1890, which extended federal grants to African-American institutions to provide education in agriculture and applied mechanics. While limiting at the time, that choice proved to be Delaware State's greatest strength, as it grew over the course of the 20th century, always keeping its roots in useful, practical, and marketable STEM and professional programs. Today, DSU is one of the 15 best national HBCUs, according to U.S. News & World Report, and a top-tier regional university for the North.
Delaware State is also a leading institution for preparing future African-American leaders in government, education, business, and research. As a comprehensive university, DSU is dedicated to closing gaps in black representation in science and academia, while also providing for the needs of nontraditional, working adult, and distance education students with top-notch online degree programs. Undergraduate research is stressed at DSU, with undergraduate students working alongside faculty to make new discoveries and disperse crucial knowledge. Delaware State is not just for African-Americans, but for minority students in Delaware, it's a benefit other universities can't offer, making Delaware State a top Delaware university.
3
Wilmington University
A private, comprehensive research institution in New Castle, DE (a suburb of Wilmington), Wilmington University's history does not stretch back centuries, but in just 50 years, Wilmington has grown into one of the most dynamic and innovative institutions in the Northeast. Open admissions and a variety of locations, including online degree programs, have helped Wilmington University transform the expectations of what a private, non-profit research university means – inviting rather than selective, welcoming instead of elitist, tolerant instead of snobby. Believing in students has made Wilmington University an up-and-coming name on the national scale.
Wilmington University is dedicated to job market-ready degree programs, anchored by experiential, real-world projects and case studies. The most successful programs at WU are focused on career preparation, especially for in-demand fields like business, nursing, and technology. With no residential campus, Wilmington University's students are commuters, largely nontraditional-aged working adults and other professionals, and the faculty is likewise made up of experienced practitioners of the subjects they teach. Flexible scheduling formats, a wealth of online options, and a set of most-wanted degrees makes Wilmington University one of Delaware's top colleges.