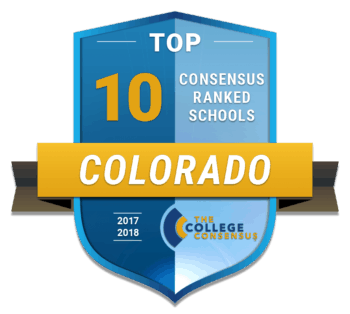 To identify the Best Colleges in Colorado for 2017-2018 we averaged the latest results from the most respected college ranking systems with thousands of real student review scores from around the web to produce a unique College Consensus rating for each school. You won't find a more comprehensive ranking of the top colleges and universities in Colorado anywhere. Read more about our rankings methodology and sources at our about page.
Colleges & Universities in Colorado
The Colorado economy was built on natural resources, from mining to oil to uranium, and today Colorado colleges and universities continue to be dominant in research and teaching in areas like Petroleum Engineering, Forestry, Sustainability, and Alternative Energy. Agriculture, especially livestock, was a mainstay from the earliest settlers, and students still come to Colorado's research universities for study in Veterinary Science, Agricultural Science, and related fields.
As a centrally-located state, Colorado was also a major thoroughfare for trade and transportation, leading to the growth of major industry and business and turning Denver from a hardscrabble mining colony to a major metropolitan city. Plus, since the turn of the 21st century, Colorado has been the center of a tech boom that has turned Denver, Boulder, Fort Collins, and other cities into a Rocky Mountain Silicon Valley and given Colorado a whole new cool cache – not to mention a lucrative tech job market.