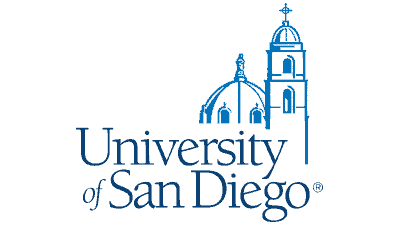 The University of San Diego provides cutting-edge curriculum for their online degree programs designed to meet the demands of current professions. The graduate degree programs are accelerated and scheduled to be completed within two years on a year-round basis. 14-week semesters comprise two 7-week courses allowing the student to focus on a single course at one time. Each accredited program elevates interaction among peers and instructors and incorporates networking and experiential learning. Online master's degrees are available in cyber security, education with multiple concentrations, health care informatics and law enforcement & public safety. A wealth of available resources and student support services is available including academic support, math, writing & logic centers, personal counseling, various financial resources, peer advising, center for student success and career counseling and guidance.
Programs
5
Students Enrolled
400
Religious Denomination
Roman Catholic
Institution Control
Private—Religious
Academic Calendar
4-1-4
Founding Year
1949
Student Resources
e-mail services, library services, campus computer network, academic advising, bookstore
Contacts
Ms. Roxanne Morrison
Director of Online Education Distance Learning Unit Head
Middle Name
M.
Email
roxannemorrison@sandiego.edu
Ms. Roxanne Morrison
Director of Online Education Student Application Contact
Email
roxannemorrison@sandiego.edu
Online Programs
Education
Master of Education
$21,300
Estimated cost for completion
= Average
Supply Chain Management
Master of Science
$53,100
Estimated cost for completion
= Average
Cyber Security Operations and Leadership
Master of Science
$28,675
Estimated cost for completion
= Average
Law Enforcement and Public Safety Leadership
Master of Science
$20,894
Estimated cost for completion
= Average
Health Care Informatics
Master of Science
$28,675
Estimated cost for completion
= Average