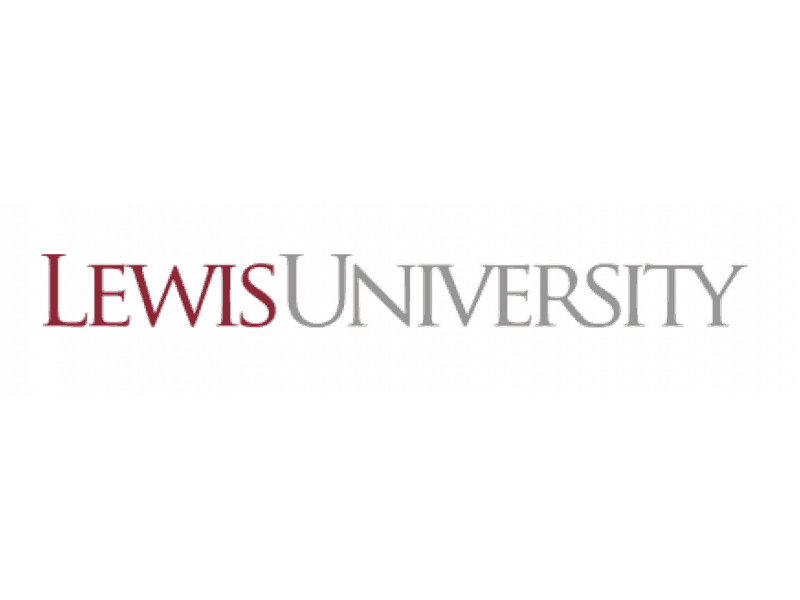 Lewis University offers "learning that fits your learning style" in the form of online distance education. Catering to adult learners who need to balance an existing schedule with their education for advancement, Lewis offers flexible scheduling and interaction to enhance the learning experience. Bachelor's degrees offered fully online include business administration, computer science and related fields, criminal justice, organizational leadership, professional studies and RN to BSN. Online master's programs available fully online are offered in aviation and transportation, MBA and related disciplines, computer science and related fields, criminal justice, MSN and public safety administration. Student resources begin with a self-assessment survey to determine suitability, support services and resources for enrolled students feature academic advising, access to the library, technology support and career guidance service.
Programs
35
Students Enrolled
2,700
Religious Affiliation
Roman Catholic Church
Institution Control
Private-Religious
Academic Calendar
Semesters
Founding Year
1932
Estimated out of State Cost for Completion
$37,171
Student Resources
e-mail services, library services, campus computer network, career placement assistance, academic advising, bookstore, tutoring
Contacts
Dr. Anne Rapp
Associate Provost / Dean School of Graduate, Professional, and Continuing Education Distance Learning Unit Head
Middle Name
B.
Email
Phone
815-836-5778
Dr. Anne Rapp
Associate Provost / Dean - School of Graduate, Professional & Continuing Education Student Application Contact
Online Programs
Aviation and Transportation
Master of Science
Estimated out of State Cost for Completion
$29,160
Degree Level
master's
Criminal Justice
Master of Science
Estimated out of State Cost for Completion
$20,880
Degree Level
master's
Organizational Leadership
Master of Arts in Organizational Leadership
Estimated out of State Cost for Completion
$25,200
Degree Level
master's
Nursing - MSN/MBA Dual Degree Program (MSN/MBA)
Master of Science in Nursing/Master of Business Administration
Estimated out of State Cost for Completion
$51,030
Degree Level
graduate combined degree
Public Safety Administration
Master of Science
Estimated out of State Cost for Completion
$20,880
Degree Level
master's
Data Science
Master of Science
Estimated out of State Cost for Completion
$26,730
Degree Level
master's
Higher Education Leadership
Master of Science
Estimated out of State Cost for Completion
$12,600
Degree Level
other advanced degree
Professional Studies
Bachelor of Arts
Estimated out of State Cost for Completion
$76,800
Degree Level
bachelor's
Computer Science
Bachelor of Arts
Estimated out of State Cost for Completion
$76,800
Degree Level
bachelor's
Criminal Justice
Bachelor of Arts
Estimated out of State Cost for Completion
$76,800
Degree Level
bachelor's
Business Administration
Master of Business Administration
Estimated out of State Cost for Completion
$29,160
Degree Level
master's
Business Administration
Bachelor of Science
Estimated out of State Cost for Completion
$76,800
Degree Level
bachelor's
Organizational Leadership
Bachelor of Arts
Estimated out of State Cost for Completion
$76,800
Degree Level
bachelor's
Business Analytics
Master of Science
Estimated out of State Cost for Completion
$26,730
Degree Level
master's
Data Science
Master of Business Administration
Estimated out of State Cost for Completion
$14,580
Degree Level
other advanced degree
Nursing (RN to BSN)
Bachelor of Science in Nursing
Estimated out of State Cost for Completion
$57,088
Degree Level
bachelor's
Cybersecurity
Master of Science
Estimated out of State Cost for Completion
$36,450
Degree Level
master's
Nursing Practice
Doctor of Nursing Practice
Estimated out of State Cost for Completion
$23,550
Degree Level
doctoral
Professional and Executive Coaching
Estimated out of State Cost for Completion
$12,600
Degree Level
other advanced degree
Family Nurse Practitioner (C.A.S.)
Post-Master Certificate
Estimated out of State Cost for Completion
$24,300
Degree Level
graduate certificate
Computational Biology and Bioinformatics
Bachelor of Science
Estimated out of State Cost for Completion
$14,580
Degree Level
other advanced degree
Adult Gerontology Primary Care Nurse Practitioner (C.A.S.)
Master of Science
Estimated out of State Cost for Completion
$22,680
Degree Level
other advanced degree
Adult Gerontology Acute Care Nurse Practitioner (C.A.S.)
Post-Master Certificate
Estimated out of State Cost for Completion
$22,680
Degree Level
graduate certificate
Psychiatric Mental Health Nurse Practitioner (C.A.S.)
Post-Master Certificate
Estimated out of State Cost for Completion
$25,110
Degree Level
graduate certificate
Organizational Leadership
Estimated out of State Cost for Completion
$12,600
Degree Level
other advanced degree
Business Analytics
Bachelor of Science
Estimated out of State Cost for Completion
$76,800
Degree Level
bachelor's
Healthcare Leadership
Bachelor of Arts
Estimated out of State Cost for Completion
$76,800
Degree Level
bachelor's
Training and Development
Estimated out of State Cost for Completion
$12,600
Degree Level
other advanced degree
Nursing - Adult Gerontology Acute Care Nurse Practitioner
Master of Science in Nursing
Estimated out of State Cost for Completion
$37,260
Degree Level
master's
Nursing - Adult Gerontology Primary Care Nurse Practitioner
Master of Science in Nursing
Estimated out of State Cost for Completion
$37,260
Degree Level
master's
Nursing - Family Nurse Practitioner
Master of Science in Nursing
Estimated out of State Cost for Completion
$38,880
Degree Level
master's
Nursing - Healthcare Systems Leadership
Master of Science in Nursing
Estimated out of State Cost for Completion
$29,160
Degree Level
master's
Nursing - Nursing Education
Master of Science in Nursing
Estimated out of State Cost for Completion
$32,400
Degree Level
master's
Nursing - Psychiatric Mental Health Nurse Practitioner
Master of Science in Nursing
Estimated out of State Cost for Completion
$39,690
Degree Level
master's
Nursing - School Nurse
Master of Science in Nursing
Estimated out of State Cost for Completion
$27,540
Degree Level
master's
SEE ALSO