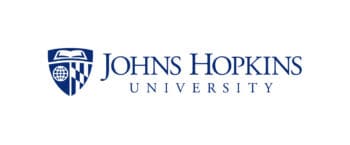 Johns Hopkins Bloomberg School of Public Health operates with a clear and concise mission: "Protecting Health, Saving Lives – Millions at a Time." Educating students since 1916, the Bloomberg School of Public Health is a premier public health institution that believes part of its mission is to "share knowledge freely and openly." To this end, the School offers an abundance of online educational resources including an expanding portfolio of free online courses such as the School's own OpenCourseWare program and Coursera and iTunes U. Besides these free course offerings, the Bloomberg School of Public Health offers several fully online graduate-level degrees and certificate programs, including several applied learning programs. Known as OPAL (Online Programs for Applied Learning), these applied learning programs are offered fully-online, part-time, and are designed for working professionals.
Johns Hopkins University
Baltimore, MD
Johns Hopkins University is a private research institution located in Baltimore, Maryland. The school was established in 1876 and is named for Johns Hopkins, a 19th-centry Maryland philanthropist, entrepreneur and abolitionist with Quaker roots who believed in improving public health and education in the Baltimore area and beyond. America's first research university, Johns Hopkins University . . .