Pursuing a Master's in Sports Medicine is an exceptional opportunity to propel your career in the dynamic fields of sports and health. Thanks to the advent of online programs, attaining a quality education is now more accessible than ever, allowing you to balance your studies with existing commitments. Within this guide, you will discover the pertinent details about finding and pursuing an online Master's in Sports Medicine.
The Best Online Master's in Sports Medicine
Professionals in sports medicine are equipped with specialized education and training that allows them to help patients regain lost abilities and mobility. They are also very effective in warding off disease and injury in athletes. Earning an online degree in sports medicine will teach you how to give complete medical care to amateurs, collegiate teams, and professional athletes. Athletes at every level need the guidance of professionals to maximize their potential and minimize the risk of injury.
The common perception is that sports medicine doctors only deal with elite athletes. This is only sometimes the case, though. These physicians also help kids and teenagers who participate in after-school sports and those who exercise independently for fitness reasons. In addition, they can treat people whose careers require strenuous labor, making them more susceptible to injuries.
With so many online options available, finding one that corresponds to your preferences and unique needs is critical. Let's look at several factors you should consider when choosing a college to earn an online Master's in Sports Medicine.
Specializations for an Online Master's in Sports Medicine
Graduates of an online Master's in Sports Medicine program are equipped to work as sports medicine professionals, athletic trainers, exercise physiologists, and rehabilitation specialists or pursue further studies in related fields. There are several specializations and concentrations students can pursue while completing the degree.
Sports Injury Management
This specialization focuses on evaluating, diagnosing, and treating sports-related injuries. Students learn about injury prevention, emergency care, rehabilitation techniques, and therapeutic interventions specific to athletes.
Exercise Physiology
Students learn about exercise testing, prescription, and training principles to optimize athletic performance and promote overall health. Ultimately, this specialization delves into the physiological responses and adaptations of the human body to exercise.
Sports Nutrition
Students explore the role of nutrition in sports performance and overall health. Students learn about dietary strategies, nutritional supplements, and proper fueling for athletes and active individuals.
Sports Psychology
Budding sports medicine professionals examine the psychological factors influencing sports performance and mental well-being. Students learn about motivation, goal setting, performance anxiety management, and strategies to enhance mental resilience in athletes.
Strength and Conditioning
This specialization focuses on designing and implementing strength and conditioning programs to enhance athletic performance. Students learn about exercise programming, periodization, resistance training techniques, and injury prevention strategies.
This track combines sports medicine principles with business and management skills. Students learn about sports administration, facility management, legal and ethical considerations in sports, and the marketing and promotion of sports programs.
Career and Salary Information
Job titles, levels of education, and sectors all play a role in the employment prospects for sports medicine professionals. Many people pursue an online Master's in Sports Medicine to be athletic trainers. This profession is likely to grow by 17% through 2031; this rate is much faster than most other sector employment growth rates.
The national median pay for athletic trainers with any level of education is $48,420. The highest paid 10% were paid more than $75,000. The lowest paid 10% earned less than $37,000. That being said, head athletic trainers at colleges with a master's degree average $65,700. Thus, achieving an online Master's in Sports Medicine can significantly increase your earning potential.
Here are a handful of other professions related to the sport's medicine industry:
Your work location might be one of several variables affecting your compensation. Your actual salary in one of these fields may vary widely from the average based on variables such as your education and experience level, industry, and position.
Curriculum and Courses
Sports medicine professionals help patients with a large number of medical conditions. When taking courses, your curriculum will teach you how to help patients with these ailments and many others:
Concussions
Tendinitis
Dislocations
Cartilage injuries
Sprains and strains
Eating disorders
Apophysitis
Ligament injuries
Diabetes
Stress fractures
Exercise-induced asthma
Heat illness
The specific courses you take to achieve your online Master's in Sports Medicine depend on the institution you enroll in. Course sequences usually vary among schools. They include courses like health science, sports medicine I, sports medicine II, advanced studies, performance nutrition, and high-performance leadership.
Admissions Requirements for an Online Master's in Sports Medicine
A bachelor's degree from a recognized university, official transcripts, and reference letters are all requirements for admission to a sports medicine master's degree program offered online. Some programs require an application fee.
A few colleges have strict stipulations requiring you to be a licensed sports trainer or healthcare professional to earn an online Master's in Sports Medicine. However, most online sports medicine programs don't require a specific undergraduate major. Remember, some prefer applicants with prior educational backgrounds in exercise science, movement science, or physical education over those who don't.
Accreditation
Imagine going through years of schooling only to discover, once you graduate, that no one in the medical field recognizes your online degree. This is why it's critical to earn a degree through an accredited school. If you plan to use federal funding to pay for your degree, you have to choose one with regional accreditation, as these are the only ones that qualify to receive federal financial aid.
Accreditation in the relevant field demonstrates that the academic standards of the online degree are generally recognized as being high. Additionally, this guarantees that the learning is meaningful and useful. If you want to become licensed or certified in sports medicine, you must first earn a degree through an accredited school.
Most online colleges are very clear about their accreditation on their websites. However, there are a few other noteworthy options. The website of the CHEA (Council for the Accreditation of Higher Education) is a great resource for this purpose. You can also look for accreditation in the U.S. Department of Education's Database of Accredited Postsecondary Institutions and Programs. All the schools we recommend at the bottom of this article come with verified accreditation.
Degree programs and departments can also have specific accrediting bodies. The Commission on Accreditation of Athletic Training Education (CAATE) is the primary accrediting body for Master's in Sports Medicine.
Financial Aid & Scholarships
There are many types of federal assistance for those pursuing an online degree in sports medicine. Go to the Free Application for Federal Student Aid (FAFSA) website and fill out an application to determine which funding options meet your unique situation. This funding can help pay for tuition and living expenses while you complete your program's coursework and clinical requirements. If you're already employed, check with your employer for any tuition assistance programs. Some employers will cover the cost of earning an online Master's in Sports Medicine. This type of funding partnership usually requires you to sign a contract stating you will work for that company for several years after earning the online degree. Employers do this because they understand the value of hiring people with specialized knowledge in sports medicine.
Keep in mind that different colleges accept different forms of financial aid. If you have funding to pay for college, make sure the schools you apply to accept those forms of aid. A financial advisor at each school can quickly answer your questions about financial aid and funding a sports medicine program.
What Can You Do With an Online Master's in Sports Medicine?
Getting an online Master's in Sports Medicine will translate into having some of the most in-demand skills found in the medical industry. You can use those skills to secure employment or start a sports medicine business. Your online degree program will refine your compassion, communication, research, organization, and dexterity skills. You can then use those skills to obtain an advanced position in executive leadership, athletic training, kinesiology, or health informatics. The latter is an especially popular field among graduates with business intelligence certification.
The director of the University of Minnesota—Twin Cities School of Kinesiology, Beth Lewis, says although many people with a bachelor's in kinesiology go on to study physical therapy in graduate school, other options include working as personal trainers or earning a Master's in Public Health. People with undergraduate degrees in kinesiology often go on to study occupational therapy or work in the administration of corporate wellness programs.
Other common career paths that graduates pursue with an online master's degree in sports medicine include:
Athletic trainer
These professionals work directly alongside athletes, both amateur and professional, to prevent and treat sports-related injuries.
High school teacher
Working in both the private and public sectors, high school teachers with a Master's in Sports Medicine often teach physical education and nutritional courses to high school students or work with students on behavioral issues.
Coach
Coaches can find employment in a variety of settings, including universities, local sports organizations, high schools, junior high schools, elementary schools, private schools and more.
Recreational therapist
For those desiring to work directly with patients, helping them with physical impairments and injuries, a recreational therapist provides a more hands-on approach to implementing sports medicine knowledge.
Exercise physiologist
This profession is another sports medicine career with a lot of hands-on treatment approaches that help patients refine, expand or regain their mobility.
How Much Does an Online Master's in Sports Medicine Cost?
Getting a college education is a long-term investment in one's own success. Expect the price tag for your online degree to be several thousand dollars. Each course you take will be worth a certain number of credit hours, and those credit hours will each set you back a certain amount of money. The cost per credit hour varies by institution. That being said, our list includes programs with a total tuition cost of as little as just over $10,000.
Several high-paying, in-demand career paths require a master's credential. Many graduates use a Master's in Sports Medicine to become licensed sports medicine physical therapists and earn nearly $100,000 a year. This type of salary provides a comfortable return on an online degree investment.
How Long Does it Take to Get Online Master's in Sports Medicine?
To earn an online Master's in Sports Medicine, you'll first need to complete an undergraduate program, which takes about four years. You can fast-track through some undergraduate programs by taking extra courses and summer classes.
The average master's program in sports medicine requires students to earn 30 to 36 credit hours. For full-time students, you can finish in two years. Students enrolled in classes on a part-time basis should plan on spending an additional year or two in school. In accelerated programs, you can earn 30 to 36 credit hours in as little as 12 months. Once you graduate, you may need to acquire certification. It may take a few months, but getting certified in sports medicine will set you apart from other job seekers.
Are There Affordable Online Master's in Sports Medicine Programs?
It usually costs less to earn a master's degree in sports medicine online than through traditional on-campus education. When researching online schools that offer this degree, it's important to weigh the overall cost against the value you'll get from the program's courses. Just remember, accreditation is the number one aspect that ultimately impacts the worth of a school. As previously noted, you can find programs for as little as $10,000-$20,000 in total tuition.
Speak to a financial aid representative at each university you're considering attending to explore funding resources outside traditional grants, loans, and scholarships. Don't forget to ask about special funding opportunities if you are a former military member, disabled, or adopted. If you think earning an online Master's in Sports Medicine will help your current employer's business flourish, ask about employer-paid tuition assistance.
Is getting an Online Master's in Sports Medicine Worth it?
Deciding whether an online Master's in Sports Medicine is worth pursuing depends on various factors, including your career goals, personal circumstances, and individual preferences. This degree program can help advance your career if you want to work in athletic training, exercise physiology, or sports rehabilitation. Furthermore, online education is incredibly flexible and accessible. Students can often work at a manageable pace from anywhere that has internet.
Two other aspects that make getting an online Master's in Sports Medicine enticing are cost and return on investment. There are high-quality accredited degree programs under $20,000. Considering the fact that salaries for these positions range from around $35,000 to $75,000, the return on investment is significant.
Ultimately, if you think you will enjoy working in this incredibly rewarding field, getting an online Master's in Sports Medicine is worth the effort and cost!
Best Schools Offering Online Master's in Sports Medicine Degrees
Finding all the schools that offer online Master's in Sports Medicine programs can be difficult, so we've produced a list of our best picks to make the search a little less overwhelming. The degrees and concentrations offered by these schools are high quality. They have also earned regional accreditation, so you can guarantee that the education you get there meets industry standards. Here's a list of the top 10 recommended schools for a master's degree in sports medicine. They are listed in alphabetical order.
Colorado Mesa University

CMU's Master of Science in Athletic Training requires students to earn 38 credit hours and takes about two years to complete. You can take your courses online, at the college, or in a hybrid format. Course content teaches students how to sharpen their compassion and self-care skills while helping them practice the art and science of sports medicine. Undergraduate degree holders can qualify for this program as traditional MSAT applicants. If you're completing your undergraduate degree, you can apply through the 3+2 MSAT concurrent enrollment program.
Fort Hays University

FHU provides an online Master of Science in Health and Human Performance program. Students must complete 17 credit hours along with 15 additional hours of elective courses and a comprehensive exam. With so many elective courses, this school makes it simple for students to develop a concentration in a field of study that best suits their interests. Students must complete leveling coursework in 18 credit hours to be in the program; however, they can earn these hours during their first year of program admission.
Hardin-Simmons University
The master's program offered through Hardin-Simmons University takes 24 months to finish. You can complete almost all coursework online; however, you must attend six on-campus interactive sessions to earn your online degree. During these sessions, you'll apply your hands-on training as well as your clinical experience gained during the second year of study, which consists mostly of acquiring clinical experience through employers of your choice. If you haven't finished your undergraduate degree, there is a track for you. You can use the 3-2 program option to earn your bachelor's and master's in only five years.
Logan University
LU offers an online MS in Sports Science & Rehabilitation. You can finish all coursework and internships close to home. You don't need to provide a GRE to apply or qualify for the program. However, you must have an accredited bachelor's degree and have graduated with a 2.5 GPA or higher. Program courses focus on nutrition, human movement, rehabilitation, psychology, and biomechanics.
Ohio University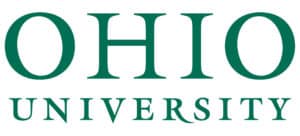 Ohio University's master's program takes two years to finish and allows students to obtain state and national licensure. Courses include AT 5000 Therapeutic Interventions, AT 5110 Diagnosis & Care of Upper Extremity Pathologies, AT 5010 Diagnosis & Care of Lower Extremity Pathologies, AT 5300 Manual Therapy in Rehabilitation, AT 5910 Clinical Immersion, AT 5310 Pharmacology in Athletic Training, AT 5330 Clinical Reasoning III and several more. You'll need a bachelor's degree to enroll.
PennWest Global Online
This school offers an online MS in Exercise Science and Health Promotion with a Concentration in Rehabilitation Science. Students can choose whether to attend part-time or full-time, with courses offered 100% online. If you prefer, you can earn a dual concentration to broaden your career opportunities. Students must earn 39 to 42 credit hours to graduate and choose a research topic for a capstone project. Graduation also requires students to pass the National Academy of Sports Medicine exam to become certified corrective exercise specialists.
Temple University

Students can acquire all 36 required credits for this MS in Recreational Therapy entirely online. Moreover, most finish in as little as two years. There are no required prerequisite courses for enrollment, but extra coursework is often necessary for those who want to graduate with national certification. Some of the courses that students must finish to graduate from this program include Current & Emerging Issues in Public Health and Health Professions 1, Recreational Therapy Administration and Management, Teaching in Higher Education: Health Professions, Therapeutic Play, Social Engagement and Community Participation in Recreational Therapy, Foundations of Psychopathology, and many more.
University of Idaho
Students complete coursework for this M.S.A.T. program in two years. Clinical rotations are available nationwide. This program offers an expanded curriculum for those who want to work with those suffering from musculoskeletal disorders and diseases. To enroll, you'll need the following prerequisites: Human Anatomy (4 credits), Human Physiology (4 credits), Biology (1 credit minimum), Chemistry (1 credit minimum), Physics (1 credit minimum), Psychology (1 credit minimum) and Current First Aid and CPR (AHA or ARC).
University of Mary
The MS in Clinical Exercise Physiology is a blended program. It takes two years to complete, with each credit hour costing $645. You complete all coursework online and attend an on-site lab for one week each semester. You must visit the university located in Bismarck, ND, to complete this lab. Enrolling in this program is especially beneficial for those wanting to become public health and rehabilitation specialists. You'll need a bachelor's degree to enroll.
University of Southern Florida
The University of Southern Florida's has a rigorous post-professional sports training program. It requires students to complete 33 credit hours explicitly designed for future careers as athletic trainers. You can meet the majority of your classes online. Graduates learn how to use their athletic training and leadership skills to work with patients of all ages in various settings.
Getting your Online Master's in Sports Medicine
To choose a school and online degree program, research each school and talk to financial advisors. By choosing a school that accepts the forms of financial aid you intend to use, you can decrease the burden of paying for your degree. Always verify that you have met all admission requirements by contacting the admissions advisor before choosing a school.
You can submit your enrollment application once you've met all admission requirements. This process can sometimes take several weeks to months, so start the application process early. If you have family commitments or are already employed, finding time to attend graduate school can be difficult. This is why it's so important to consider all of your online options. Finding a school that offers a program that coincides with your lifestyle makes it much easier and less stressful to enroll and earn a degree.
Pursuing an online Master's in Sports Medicine can be a rewarding and valuable endeavor for individuals passionate about sports, health, and athletic performance. With careful research, planning, and dedication, an online Master's in Sports Medicine can open doors to exciting opportunities and contribute to advancing sports and health.