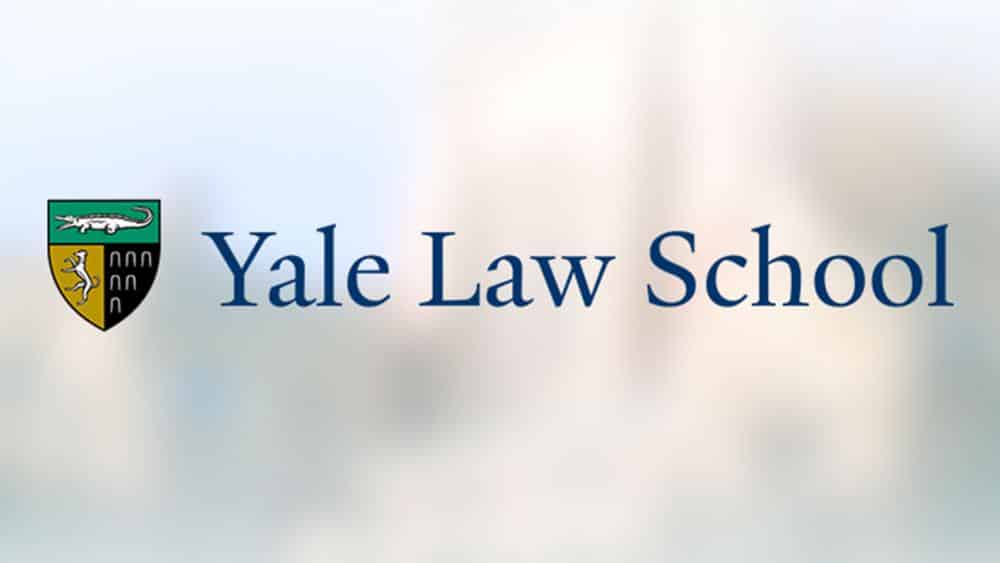 7%
Admissions Statistics | Acceptance Rate
3.9
Admissions Statistics | GPA (Median)
98%
Bar Exam Statistics | School's bar passage rate
76%
Bar Exam Statistics | State overall bar passage rate
84%
Employment Statistics | Graduates employed 10 months after graduation
$180,000
Full-Time Starting Salaries | Private Sector (Median)
$62,591
Full-Time Starting Salaries | Public Sector (Median)
4.2:1
Students & Faculty | Student-to-Faculty Ratio
621
Students & Faculty | Total Students
$64,267
Tuition and Expenses | Tuition
$17,595
Tuition and Expenses | Room and Board
= Average
Located between Boston and New York in the town of New Haven, Connecticut, Yale Law School is considered one of–if not the–most prestigious law schools in the United States. The school has produced a number of Supreme Court Justices as well as two U.S. Presidents–Gerald Ford and Bill Clinton. Admission into Yale Law is the most competitive in the country with less than 7% of applicants receiving offers for one of the 200 seats each fall.
Education
The first semester of Yale Law School is completely prescribed and consists of four core classes: Constitutional Law, Contracts, Civil Procedure, and Torts. Aside from these four classes, the only other required course for all law students is a semester long course in Criminal Law. Starting in their second semester, Yale Law students have complete control over their course selections. Students select their classes through a unique "shopping" period during the first week of each semester. During the shopping phase, students can attend as many classes as they choose to assess whether they want to take the class based on the subject matter and the professor's teaching style.
As students move to second and third years, Yale has 12 different areas of focus including Constitutional Law, Environmental Law, and Human Rights Law. Yale also has a focus on Legal Education since almost 10% of their graduates find jobs in academia within 5 years of graduation. Yale also requires students to prepare a substantial paper and complete a supervised writing assignment.
Additional Programs
Along with the J.D. program, Yale Law school offers four additional degrees in the study of law. Yale Law offers a one year Masters of Laws (LL.M) degree to a limited number of law school graduates. Graduates of Yale's LL.M program may continue on to obtain their Doctor of the Science of Law (J.S.D.) degree. Students with a J.D. may also obtain a Doctor of Philosophy in Law degree which intends to prepare graduates for work in legal academia. Finally, Yale Law offers a Masters for non-lawyers which is intended to provide an overview of legal reasoning to compliment additional fields of study.
Yale Law allows for students admitted to the J.D. program to pursue complimentary work in other departments at Yale or other universities subject to approval by the Faculty Committee on Special Courses of Study. Generally, the student is required to complete all requirements for their J.D. within four years. Admission to a joint degree program requires acceptance into both programs separately.
Career
Yale statistics for the Class of 2018 indicate that 100% of their students had a job within 10 months of graduation. Over 75% of their graduates were employed in careers requiring a law license with 30% of those working for large law firms (500+ attorneys). As previously noted, a substantial portion of the 2018 graduates (12%) pursued jobs in academia or legal education.
Yale Law's Career Development office has a staff of 15 people including four full-time attorney-career counselors. Each of their four counselors has expertise in particular areas of the law: private sector jobs, public sector jobs, alternative careers, and judicial clerkships. Since Yale's class size is small, the career counselors can meet with every student to plan and prepare for their post-graduate careers.
Experiential Learning/Distance Education
As soon as their second semester, students at Yale Law school may begin working in Yale's extensive legal clinic program. Supervised by legal faculty, law students appear in court representing real clients to develop practical skills. Yale Law's clinical program spans a range of over 30 legal practice fields and upwards of 90% of their students take advantage of the clinical programs.
In addition to the robust clinical program, Yale Law offers a legal simulation program in the areas of business law, appellate advocacy and civil litigation. These simulations provide real world examples for students to combine their legal education with practical legal skills.
Student Life
Yale Law schools sits on the 410 acre campus of Yale University in the town of New Haven. The law school is housed in the Sterling Building. The building has been in operation for over 100 years and offers students numerous places to study, a law library, and even secret passages.
Yale Law is located in New Haven, Connecticut which is in the midst of a major revitalization process. The town center–just minutes away from the law school–offers students numerous restaurants, theaters and bars. The metropolis of New York City is only 1.5 hours away and Boston is less than 3 hours.
SEE ALSO