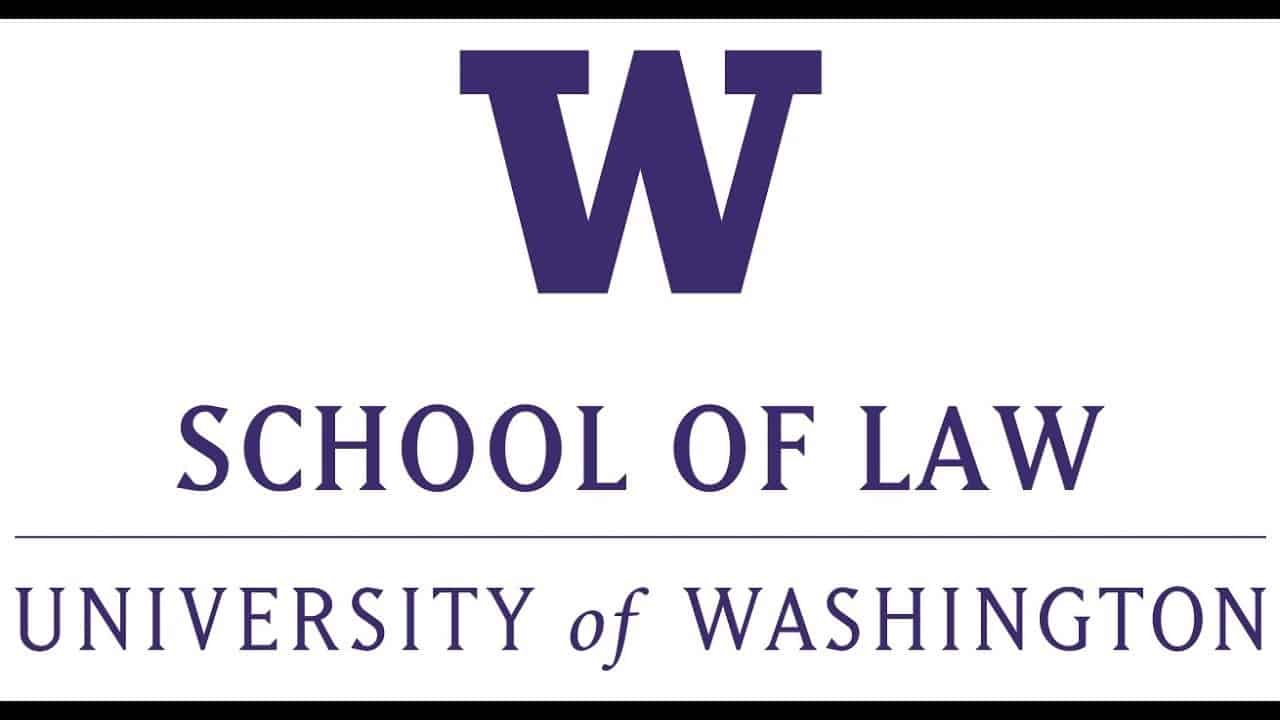 26%
Admissions Statistics | Acceptance Rate
3.7
Admissions Statistics | GPA (Median)
86%
Bar Exam Statistics | School's bar passage rate
74%
Bar Exam Statistics | State overall bar passage rate
76%
Employment Statistics | Graduates employed 10 months after graduation
$100,000
Full-Time Starting Salaries | Private Sector (Median)
$59,000
Full-Time Starting Salaries | Public Sector (Median)
5.4:1
Students & Faculty | Student-to-Faculty Ratio
492
Students & Faculty | Total Students
$15,936
Tuition and Expenses | Room and Board
$35,988
Tuition and Expenses | Tuition (In-State)
$47,190
Tuition and Expenses | Tuition (Out-of-State)
= Average
Founded just before the 20th century began, the University of Washington School of Law (UW School of Law) has grown into the leading law school in the pacific northwest and one of the top public law schools in the country. Situated on the main campus in Seattle, the law school moved to its current location in 2003. The current facility is a state-of-the-art building named for the father of Microsoft founder Bill Gates. The school is notable for its Asian law studies and law librarianship programs, both of which are considered to be among the best in the country. In its history, the law school has produced two governors of the state of Washington, three U.S. Senators, and over 12 Washington Supreme Court justices.
Education
In their first year of study, students at UW School of Law study six core courses: civil procedure, constitutional law, contracts, criminal law, property, and torts. These six courses ground students in the basics of the American legal system. Students also take a course in transnational law which explores various foreign legal systems. Additionally, students are introduced to alternative perspectives to the legal system in an introductory course on "Perspectives on the Law." Practical skill-based education begins with a two semester course which introduces the key components of legal writing, research, and analysis.
In their final two years, students at the UW School of Law are only required to take three courses: a course in evidence, a course in business, and a course in legal ethics. The law school does require students to complete a large writing assignment, complete at least six hours of experiential education, and satisfy a public service requirement. Otherwise, students are free to choose their upper-class curriculum to meet their educational and career goals. The UW School of Law does have nine specializations including its renowned Asian Law program which focuses on international legal systems of major Asian countries. Other concentrations include environmental law, dispute resolution, and public service law.
Additional Programs
The University of Washington School of Law has established seven distinct Masters of Law (LL.M) programs to meet the additional education needs of its many, diverse students. The programs are targeted at both domestic and internationally trained lawyers seeking to deepen their knowledge based in their respective fields of interest. All LL.M programs are intended to be completed in one year of residential coursework. The first six LL.M concentrations are Asian and comparative law, global business, health law, intellectual property, international development, and tax law. The seventh concentration is a general LL.M which allows students to tailor their own program to meet their needs.
The School of Law also offers a Masters of Jurisprudence (M.J.) program for professional without a Juris Doctor but who desire to understand the legal system for their professional careers. The one-year program has 10 different concentration areas which allows students to gain a thorough understanding of how the law transacts with other professional disciplines.
For over 50 years, the University of Washington School of Law has also offered a Ph.D. in Law. The most advanced legal degree offered at the school requires two years of residential coursework and a dissertation in an area of legal academia.
Career and Career Placement
Based on the most recent statistics, over 90% of graduates of the UW School of Law found employment or pursued additional education within one year of graduation. The majority of students (87%) pursued careers that required a law license or preferred a Juris Doctor degree. Nearly half of students chose to enter into the private legal practice with a median salary of over $100,000. A smaller percentage of students (25%) pursued careers either in government or in the public interest sector. Almost 90% of graduates of the UW School of Law remain in the Pacific Northwest region.
The University of Washington School of Law offers a combined approach to student and career services. By housing the two services in one office, the staff is able to better connect students' academic careers with their professional development. To achieve this, the Student and Career Services Office provides both academic and career counseling to all students concurrently. The office also facilitates on-campus interviews and offers students the opportunity to participate in regional career fairs. The office also manages the William H. Gates Public Service Law program which requires students to complete 60 hours of public legal service.
Experiential Learning/Distance Education
As a public university, the University of Washington School of Law is profoundly committed to serving the public while providing its students the opportunity to build practical legal skills. The primary vehicle to achieve these two goals is the school's robust clinical program. With 11 separate clinics that cover a diverse array of practice ares, the clinical program allows students to build on their first-year skill coursework in real-world legal situations. Participation in the clinics is extremely popular with students and also satisfies the school's requirement for 60 hours of public service work.
Students who wish to build skills outside of the clinical setting can participate in a semester long externship in a government or public interest office. The UW School of Law also offers semester long practicums where students engage in an actual legal problem both in the classroom and in the courtroom.
While the University of Washington School of Law requires residential coursework, it does offer several flexible options for students working on the J.D. or graduate degrees. Students can opt for a flexible first year course load in order to manage other commitments. As well, students may apply for the accelerated J.D. program which allows students to complete the program in less than the typical three years.
Student Life
As previously noted, the University of Washington School of Law couples its career services with student services. This combined approach provides students with a unique experience where their academic and social experience are closely connected to their professional careers. The UW School of Law is also notably diverse with a deep commitment to fostering inclusivity and diversity in its student body. The school offers a wide range of student organizations that connect students with their peers and the larger legal community. Situated on main campus, law students also enjoy all the resources of one of the largest public universities in the Pacific Northwest.
The University of Washington School of Law is located north of downtown Seattle a few blocks from the shores of Lake Washington. The metropolitan area of Seattle offers students abundant housing options but also a host of renowned restaurants, entertainment, and sporting events. Nearby Olympic National Park is one of the few temperate rain forests in the world. To the South, Mount Ranier is one of the highest mountains in the United States. Students also enjoy the cities robust public transportation and bike trails.
SEE ALSO