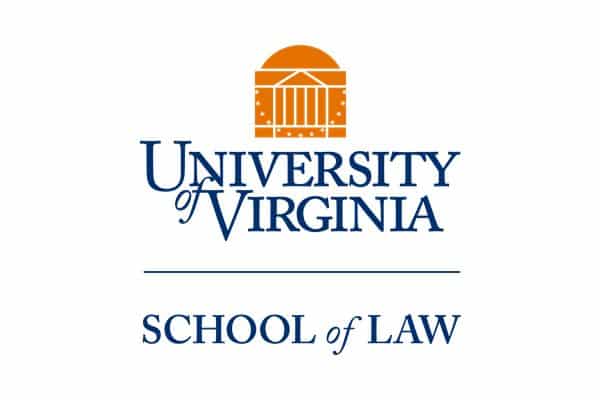 15%
Admissions Statistics | Acceptance Rate
3.9
Admissions Statistics | GPA (Median)
99%
Bar Exam Statistics | School's bar passage rate
76%
Bar Exam Statistics | State overall bar passage rate
94%
Employment Statistics | Graduates employed 10 months after graduation
$180,000
Full-Time Starting Salaries | Private Sector (Median)
$62,000
Full-Time Starting Salaries | Public Sector (Median)
6.5:1
Students & Faculty | Student-to-Faculty Ratio
923
Students & Faculty | Total Students
$13,474
Tuition and Expenses | Room and Board
$60,700
Tuition and Expenses | Tuition (In-State)
$63,700
Tuition and Expenses | Tuition (Out-of-State)
= Average
The University of Virginia School of Law was part of the academic village founded by Thomas Jefferson in Charlottesville, Virgina in 1819 making the UVA School of Law the second oldest continuously operating law school in the country. With its picturesque setting, the University of Virginia is also considered to be one of the most beautiful college towns in the country. Matching its aesthetics, the School of Law is also one of the most prestigious law schools in the country, consistently ranking in the top 10 schools in the country. Admissions are stringent with less than 350 available seats for close to 6,000 applicants each year. With its long history, the UVA School of Law has produced a number of notable alumni including two Supreme Court justices and both Robert and Ted Kennedy.
Academics
In their first year, students at the UVA School of Law receive instruction in six semester long core courses plus a year long course in legal research and writing. To promote connections between first year students, two of the six core courses are taught in small sections of less than 30 students. In the spring semester, students choose two elective courses. In addition, during the spring semester of their research and writing course, students prepare an appellate brief and make oral arguments in a moot court style setting.
In their final two years, students follow one of 15 programs which build on the foundation of the first year curriculum while building familiarity with a practice area. While these programs cover standard practice areas such as environmental or tax law, UVA also offers unique and novel course programs in the areas of Animals Laws as well as a program that studies the historical and enduring relationship between Race and the American legal system. Students are also free to develop their own focus area. In addition to course work, UVA School of Law requires students complete 6 hours of professional skills work, complete a senior level writing assignment, and take at least one course in professional responsibility.
Additional Programs
The University of Virginia School of Law offers two graduate degrees for students who have already obtained a law degree. The first, the Masters of Law (LL.M), is designed for international students who have obtained a degree in their home country and want to incorporate a year long course in the American legal system. This select group of students join J.D. candidates in their courses to help integrate their studies. The School of Law also offers a Doctor of Juridical Science (S.J.D.) degree which is intended for students wishing to pursue a career in legal academia. The program has produced professors in over sixteen countries and requires graduates to perform intense, independent research under the supervision of a faculty member.
UVA School of Law also has eight different joint degree programs which pair the Juris Doctor with complimentary degrees from other graduate programs including master degrees in art, business, public health, urban planning, accounting, and administration. Students may also combine their J.D. with a traditional medical doctorate. Finally, UVA offers one international joint degree with Science Po in Paris.
Career and Career Placement
The most recent data from UVA School of Law graduates shows an employment rate of over 98% within 10 months of graduation for students of the class of 2018. The majority of graduates (70%) sought work in a traditional law firm setting with most opting for large law firms of over 500 attorneys and roughly 15% opting for mid-size or small firms. A substantial portion of graduates–over 17%–accepted judicial clerkships and a smaller portion (slightly under 10%) entered into public interest or government jobs. The UVA School of Law also boasts one of the highest median salaries in the country at $190,000.
With a staff of 13, the UVA School of Law Career Development office offers students a full range of services in three categories: private practice, public interest, and judicial clerkships. The Career Development office organizes "on ground interviews" (OGIs) as well as networking events and follow up interviews with potential employers. Students enjoy one-on-one counseling and the Career Development staff also maintains weekly drop-in hours. Due to the extensive services of the career services department, UVA School of Law currently ranks first in private sector job placement.
Experiential Learning/Distance Education
Students at the UVA School of Law must complete at least 6 credit hours of professional skills based courses. To complete these credits, the School of Law offers students a wide array of practical courses including externships (often in conjunction with nearby Washington, D.C. law firms), simulations which tackle real-world legal problems with an interdisciplinary approach, and a robust trial advocacy program.
The School of Law also offers 19 different clinical programs most of which allow students to interact with real clients who need representation on a wide range of legal issues. Since 1999, UVA School of Law has offered Pro Bono services to deserving clients which reflects its commitment to public service.
Student Life
The School of Law has a dedicated office for Student Affairs with a focus on building the quality of life that is necessary to be successful in the practice of law. The Student Affairs office handles a variety of student oriented tasks including overseeing student run organizations, coordinating graduations, and offering programs to enhance the health and wellness of the student body. Students at UVA Law find a number of social and academic opportunities outside the classroom to build lasting relationships as well as engage with the surrounding community.
Life in Charlottesville, Virginia is bustling with the energy of one of the oldest college towns in the United States. The city center is renowned for its many restaurants and law students can opt for on-campus housing or one of the many off-campus options. The campus is also located a short distance from the majestic mountains of Shenandoah National Park and less than 3 hours from both Washington, DC and Richmond, VA.