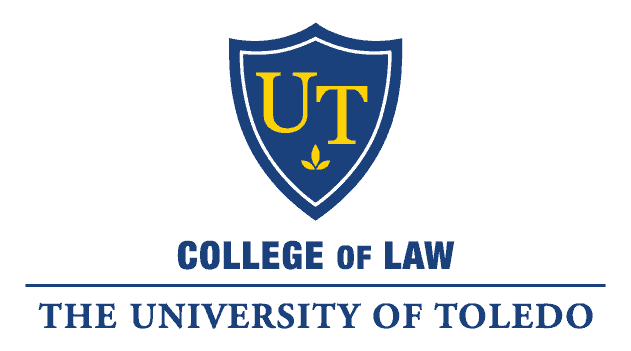 62%
Admissions Statistics | Acceptance Rate
3.4
Admissions Statistics | GPA (Median)
69%
Bar Exam Statistics | School's bar passage rate
75%
Bar Exam Statistics | State overall bar passage rate
70%
Employment Statistics | Graduates employed 10 months after graduation
$50,000
Full-Time Starting Salaries | Private Sector (Median)
$49,875
Full-Time Starting Salaries | Public Sector (Median)
6.5:1
Students & Faculty | Student-to-Faculty Ratio
269
Students & Faculty | Total Students
$11,904
Tuition and Expenses | Room and Board
$21,895
Tuition and Expenses | Tuition (In-State)
$32,863
Tuition and Expenses | Tuition (Out-of-State)
= Average
Founded in the early part of the 20th century, the University of Toledo College of Law (Toledo Law) has been educating attorneys for over 110 years. The law school is located on the eastern side of the city of Toledo along the Ottawa River which gives its name to the surrounding community. The larger campus of the University of Toledo offers students access to an exceptional amount of amenities as well as a mid-sized city with a vibrant legal community. In its long history, Toledo Law has produced two associate justices of the Ohio Supreme Court, multiple federal judges, and several state and national representatives.
Academics
Toledo Law offers three paths to earning their Juris Doctor degree–full-time, part-time evening, or a part-time day program. Full-time students take approximately 15 hours per semester in order to complete the program in three years while part-time students take between 8-10 hours per week to complete the program in four. All programs have the same requirement to complete 89-course hours. The first-year curriculum (which generally takes three semesters for part-time students) is comprised of the six foundational courses of American legal education–civil procedure, constitutional law, contracts, criminal law, property, and torts–plus a two-semester course covering the fundamental skills of practicing law. During their upper-class years, students are required to take four additional substantive courses: a course covering jurisdictions, a course covering constitutional rights, a course in evidence, and a course covering legal ethics. All students must satisfy the requirement to complete an advanced writing project as well as complete six hours of experiential learning. All other courses are elective. Students at Toledo Law choose from a wide range of courses that cover almost every practice area.
All J.D. candidates may opt to earn a concentration certification in one of five practice areas. Each certification prescribes focused coursework and skill-based learning to ensure a graduate's readiness to practice law. Certifications also boost a student's professional resume.
Additional Programs
Juris Doctor candidates at Toledo Law may also earn a second professional degree as part of the law school's joint degree program. The law school offers six joint degree options as well as a program where students may design their own joint degree. In all programs, students study law concurrently with another field such as engineering, business, medicine, or public health. This approach allows for certain courses to count towards both degree, thereby reducing the total time required to earn both degrees. Joint degrees also demonstrate a student's flexibility towards solving the increasingly multidisciplinary nature of modern legal problems.
For lawyers educated outside the United States, Toledo Law has an accelerated J.D. program that allows students to earn their law degree in two years. Foreign students receive up to 29 credit hours for their prior studies.
For undergraduate students at nine different colleges and universities, Toledo Law offers a unique accelerated J.D. program that allows students to earn both their undergraduate and law degree in a total of six years. Students in the "3+3" program spend their final year of their undergraduate studies in the first-year curriculum at Toledo Law.
Career and Career Placement
Based on the most recent graduating classes, 90% of all graduates of Toledo Law are employed within 10 months of graduation of which most (93%) are employed in long-term, full-time careers. The majority of graduates–over 94%–find careers that either requires a law license or prefer a Juris Doctor degree. Less than half of employed graduates opt for work in traditional law firm settings although. Those graduates that do opt for law firm work overwhelmingly choose work in small law firms of 1 to 10 attorneys (35% of all employed graduates). Other popular career choices include work in the business sector (18%), government offices (11%), and public interest work (12%). Over half of graduates remained in Ohio to begin their professional careers while a substantial percentage (over a quarter of employed graduates) started their careers in nearby Michigan.
The Toledo Law Office of Professional Development (OPD) provides students with a "career compass" to help guide them through their curricular and co-curricular choices at the school. This program provides students with a map to help guide them through the diverse range of course offerings, student organizations, and experiential programs that the law school offers. The OPD also offers all students a professional development program that helps them build their professional profile through honing interview and resume skills as well as networking and pro bono events. The OPD also facilitates a mentor program with local attorneys, curates a job database for students, and provides year-round programming to help students obtain their career goals.
Experiential Learning/Distance Education
At Toledo Law, all students are required to complete at least one clinical or externship program. Both programs afford students the opportunity to put their classroom learning into practice while working with real clients. In the clinical program, students may choose to work in one of eight practice areas as they represent real clients in a variety of legal situations. Clinical students receive critical feedback from supervising attorneys who work with them throughout their cases. The externship program places students in public service offices, corporate legal offices, or in a mediation setting as students work alongside practicing attorneys. The externship program also provides students the opportunity to build their professional networks as they build critical, practical skills.
Aside from their experiential programs, Toledo Law also offers a range of simulation courses where students learn practical skills to solve complex legal problems. Simulation courses focus on more advanced legal skills such as constitutional litigation, negotiation theory, or employment discrimination.
At this time, Toledo Law requires residential coursework for its degree programs although its J.D. may be earned through their flexible part-time program.
Student Life
The small student body at Toledo Law is notably close-knit, active, and diverse with women making up 56% of the student body. The student body activeness is indicated by their long-standing commitment to serving the Toledo community. Since 2007, the law school has donated over 25,000 hours of public service to the community. The main campus of Toledo University provides students with excellent facilities for recreation, exercise, and health. As a Division 1 school, the Toledo Blue Streaks compete in all collegiate sports–a source of pride for the larger campus and community.
The law school is located adjacent to Toledo's Ottawa Hills neighborhood which offers students a range of housing options as well as ample dining, breweries, and unique restaurants. Downtown Toledo is a short distance away on the banks of the Maumee River. Downtown, students find a vibrant atmosphere and an active business and legal community. Toledo is also strategically situated between the larger cities of Cleveland and Detroit. The Canadian border is also less than an hour away. Toledo offers students a mid-sized city with lots of amenities and great access to big city life.
SEE ALSO