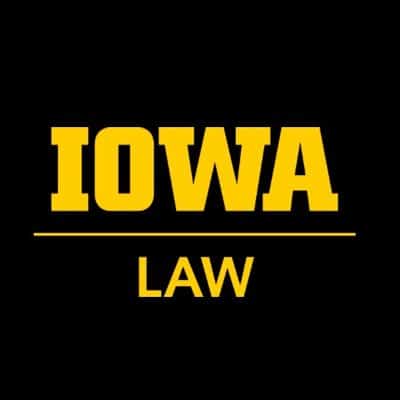 46%
Admissions Statistics | Acceptance Rate
3.6
Admissions Statistics | GPA (Median)
93%
Bar Exam Statistics | School's bar passage rate
86%
Bar Exam Statistics | State overall bar passage rate
83%
Employment Statistics | Graduates employed 10 months after graduation
$98,038
Full-Time Starting Salaries | Private Sector (Median)
$55,141
Full-Time Starting Salaries | Public Sector (Median)
7.7:1
Students & Faculty | Student-to-Faculty Ratio
418
Students & Faculty | Total Students
$11,438
Tuition and Expenses | Room and Board
$27,344
Tuition and Expenses | Tuition (In-State)
$46,824
Tuition and Expenses | Tuition (Out-of-State)
= Average
Founded in the latter half of the 19th century, the University of Iowa College of Law (Iowa Law) graduated several of the first female law students including Mary Humphrey Haddok who was the first woman admitted to practice law in the U.S. Federal Courts. Iowa Law would graduate its first African-American students before the end of the century marking it as one of the most progressive law schools of its day. Today, the school still hosts a conference for minority pre-law students with the intent of increasing the number of minorities at the school. Iowa law has one of the largest law libraries in the country and is considered one of the best values in the country. Its notable alumni include four former governors of Iowa and 11 Iowa Supreme Court justices.
Education
At the University of Iowa College of Law, the traditional first-year core courses are split between semesters with students taking courses in contracts, property, and torts during the fall followed by civil procedure, constitutional law, and criminal law in the spring. In their fall semester, students also receive an introductory course to legal reasoning. During both semesters, students study the principles of legal research and writing. During the spring semester, first-year students select an elective from a limited list of courses intended to bolster students core courses.
Prior to graduation, upper-class students must complete 84 hours of coursework including experiential education, an upper-level writing requirement, and a course in professional responsibility. All other courses are electives chosen by students to fulfill their academic goals and prepare them for their future careers.
Additional Programs
For foreign-educated lawyers, the University of Iowa College of Law has an established Master of Law (LL.M) program that grounds students in the central principals of American jurisprudence. The LL.M degree requires 24 hours of coursework over two semesters. Foreign students are allowed to remain for an additional year to pursue professional interests. Participation in the LL.M program also qualifies students for the advanced-standing Juris Doctor program which allows for completion of the J.D. program in less time.
Select candidates from the LL.M may be accepted in the Doctor of Juridical Science program which is designed for candidates that wish to pursue an academic subject of law through intense research and writing. The S.J.D. program requires candidates to complete a research project of publishable quality while under supervision of faculty.
For non-attorneys, Iowa Law also offers a flexible Master of Studies in Law that is targeted at professionals whose careers intersect with the study of law. Students are required to complete 30 hours of coursework with nine hours comprised of courses in the methodology of legal research, writing, and analysis.
Career and Career Placement
Nearly 99% of all graduates of the University of Iowa College of Law are employed or pursuing additional education within 10 months of graduation with over 94% starting careers that either requires a law degree or a law license. Over half of recent graduates selected law firm work for their first careers with small law firms with less than 10 attorneys comprising the most popular choice. Iowa Law graduates also notably chose positions in judicial clerkships–state, federal, and local–as well as positions in government roles or the public interest sector. Due to the low cost and high value of an Iowa Law degree, students have an exceptional range of career paths.
With its small student body and a commitment to public service, the Career Preparation office at Iowa Law offers its students and alumni an impressive range of services intended to guide them the entire job selection process from the first year to their first careers. The services offered range from one-on-one counseling to etiquette classes to prepare students for business lunches. The office organizes resume drops and on-campus interviews. The Career Preparation office also maintains designated job lists for judicial clerkships and public interest careers.
Experiential Learning/Distance Education
Students at Iowa Law learn practical skills through work in the school's legal clinic program. After completing 39 hours of coursework, students can begin to work with real clients in a variety of legal situation. The clinic operates as a law firm within the law school with over a dozen practice areas and a deep commitment to serving the greater community surrounding the law school.
Law students can also gain practical skills by participating in Iowa Law's Community Empowerment Law Project which advances social justices in historically underrepresented communities throughout the state.
Finally, Iowa Law has an extremely active moot court team which allows students to compete in appellate advocacy competitions to build their skills in oral arguments and brief writing.
Student Life
Iowa Law offers its students a range of "co-curricular" activities that enrich the student experience beyond the classroom and allow students to engage with their classmates in both social, civic, and professional settings. Students run over 20 different organizations and publish four highly respected journals. On campus, law students participate in the life of a vibrant university where art and music is as celebrated as football.
Located in Iowa City, the University of Iowa College of Law is located in the heart of downtown overlooking the Iowa River. The city is a true college town with a population just over 75,000 most of whom have connections to the University. Downtown offers students a wide array of dining options. Housing in the area is affordable. Iowa City is also under two hours from Des Moines and just three hours from Chicago.
SEE ALSO