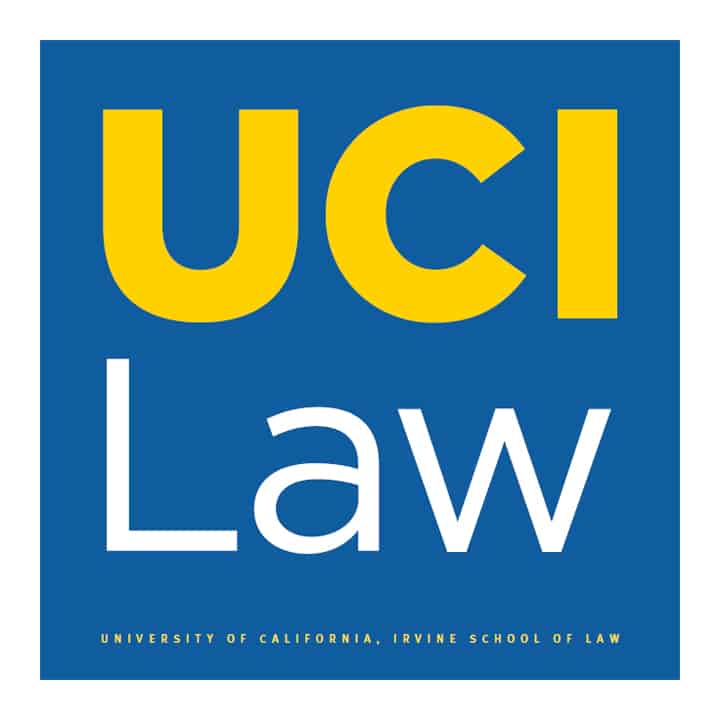 25%
Admissions Statistics | Acceptance Rate
3.6
Admissions Statistics | GPA (Median)
81%
Bar Exam Statistics | School's bar passage rate
58%
Bar Exam Statistics | State overall bar passage rate
79%
Employment Statistics | Graduates employed 10 months after graduation
$170,000
Full-Time Starting Salaries | Private Sector (Median)
$56,000
Full-Time Starting Salaries | Public Sector (Median)
5.8:1
Students & Faculty | Student-to-Faculty Ratio
514
Students & Faculty | Total Students
$23,884
Tuition and Expenses | Room and Board
$45,099
Tuition and Expenses | Tuition (In-State)
$51,593
Tuition and Expenses | Tuition (Out-of-State)
= Average
Despite opening only 11 years ago, the University of California Irvine School of Law (UCI Law) has quickly risen to prominence as a top 30 law school with one of the best faculty in the countries and generous financial aid for top students. In fact, for its first inaugural class of 2009, UCI Law provided complete funding and the school has continued to attract top students with generous financial aid packages. The school has excelled in placing its graduates in federal clerkships as well as in its career placement. As a new school, UCI Law offers a cutting edge approach to the multidisciplinary nature of modern legal practice. The school itself is set on the main campus in Southern California only a few minutes from the Pacific Ocean.
Education
UCI Law's approach to education is to implement innovation while also grounding students in the traditional, core subjects of a more traditional legal education. The first-year curriculum reflects this goal. All first-year students take classes in contracts, torts, and constitutional law. Students take another core class in international law which reflects UCI Law's commitment to matching its education with the real world of legal practice. Finally, first-year students take novel classes in lawyering, the legal profession, legal research, and legal analysis (both statutory and procedural). During their first year, students perform in-take interviews with real clients at the school's legal clinic and are mentored by a local attorney. In total, the first-year curriculum blends classroom work and practical skill-based lessons.
In their final two years, UCI Law students choose from a wide selection of course offerings taught by one of the most renowned faculties in the country. UCI Law does offer eight different concentration areas. All students are required to spend at least one semester in a clinical education class which satisfies their requirement for experiential education credits. Students must also complete an upper level writing assignment prior to graduation. Much like their first, upper level coursework blends traditional classroom education with solid, skill-based learning to prepare students for their future careers.
Additional Programs
Aside from its Juris Doctor degree, UCI Law offers a one-year Masters of Law (LL.M) degree program that requires 24 hours of classroom work with only one required course: Introduction to American Law. The LL.M program is particularly suited for international students who have already earned a law degree in their home country and can demonstrate English fluency. The LL.M also allows international students to sit for either the New York or California bar exams.
UCI Law also has one of the highest ranked graduate programs in tax law in the country. The program confers graduates with an LL.M degree and prepares them for a professional career in tax law at the highest level. The program admits only a small number of students who are taught by leading professionals in the field for a unique education.
Career and Career Placement
Based on statistics from recent graduate classes, almost 90% of UCI Law graduates find employment within 10 months of graduation. For most graduates, these jobs either require a law license or prefer a Juris Doctor degree. Over 25% of graduates accepted positions in large law firms of 500+ attorneys while a substation number also chose government positions (11%) or public interest jobs (16%). Just under 10% of graduates accepted judicial clerkships. Over 85% of the class remained in California to begin their careers.
With a student body with roughly 100 students per class, the UCI Law Career Development Office has a core staff of five full-time counselors and staff. The Career Development Office has counselors dedicated to both private and public sector careers. To help students, the office organizes a range of events including on and off-campus interviews, networking events, and professional development events. The office also pairs each student with a practicing attorney who acts as a mentor to help students navigate their career choices.
Experiential Learning/Distance Education
UCI Law is one of the premier schools in the country for skill-based, experiential learning. From the first semester, students are taught to build real-world legal skills in a variety of ways. First-year students perform intake interviews with real clients during their Lawyering class. Students are also required to take at least one semester of clinical education in one of UCI Law eight different legal clinics. The law school also offers credits for externships performed in public offices. Finally, UCI Law has created two semester-long partnerships for externships in New York City and Washington, D.C.
Student Life
With its small student body, UCI Law offers a unique experience for students in a stunning location. The law school hosts a number of student organizations (over 30 in total) which reflect the varying viewpoints and backgrounds of the student body. UCI Law also provides on-site professional counseling for law students while the main university offers psychiatric care for all students in need. Moreover, the school is committed to helping students balance their studies with their life in order to build a healthy professional career.
All students enrolled at UCI Law are guaranteed on-campus housing in one of the universities graduate student complexes. Off-campus housing is also plentiful around the city of Irvine. The city itself is located in Southern California, a short drive from Los Angeles and only 10 minutes from the beach. Students enjoy the low-key life of beach front community while having easy access to both San Diego and the Los Angeles metropolitan area.
Related Resources:
Best MBA Programs in California
SEE ALSO