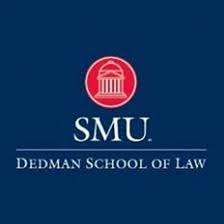 47%
Admissions Statistics | Acceptance Rate
3.7
Admissions Statistics | GPA (Median)
85%
Bar Exam Statistics | School's bar passage rate
75%
Bar Exam Statistics | State overall bar passage rate
84%
Employment Statistics | Graduates employed 10 months after graduation
$100,000
Full-Time Starting Salaries | Private Sector (Median)
$57,000
Full-Time Starting Salaries | Public Sector (Median)
6.9:1
Students & Faculty | Student-to-Faculty Ratio
704
Students & Faculty | Total Students
$54,094
Tuition and Expenses | Tuition
$19,800
Tuition and Expenses | Room and Board
= Average
With notable programs in tax law and real estate law, the Southern Methodist University Dedman School of Law (SMU Law) was founded in 1925 and was the only law school in the city of Dallas for over 90 years. SMU Law also has established a reputation for developing graduates with business acumen reflected by the number of Fortune 500 chief executive officers who graduated from the school. The law school is also home to the largest law library in the Western part of the United States with a total collection of over 650,000 volumes. The law is located in the University Park area of Dallas, the 9th largest city in the United States.
Education
First-year students at SMU Law take only 8 courses in their first two semesters. Most of the core courses–civil procedure, constitutional law, criminal law, property, and torts–are taught in one semester courses. Contracts, however, spans both semesters. Another two semester course introduces students to the principles of legal research, writing, and analysis. Students also take a one semester course on the legislative and regulatory process.
For upper-class students, SMU Law provides 16 different "programs" which suggest courses and experiential programs to help prepare students for their eventual careers. Courses, however, are almost all elective. Prior to graduation, all students must complete a course in professional responsibility, complete a graded writing seminar, and satisfy the experiential education requirement. SMU Law also requires all students to perform at least 30 hours of public service.
Additional Programs
SMU Law offers three different Master of Law (LL.M) programs for various students with different educational backgrounds and goals. For students who graduated from a U.S. Juris Doctor program, the law school offers an LL.M concentrated in tax law as well as a general LL.M program. For international students, the school offers an LL.M specifically tailored for students from international law schools with the intent of grounding these students in basics of the American legal system. All three LL.M programs are structured as one-year programs. However, SMU Law also offers an accelerated program for its tax law LL.M program.
For select students with a goal of pursuing a career in legal academia, SMU Law also offers a Doctor of Juridical Science Degree (S.J.D.). The doctorate program is not a professional degree but instead one that requires students to pursue an area of academic interest through extensive research and writing.
Juris Doctor candidates at SMU Law also have the option of pairing their J.D. with another professional degree. Students can opt to also earn an M.B.A. or masters in either economics or taxation. Joint degrees require admission to both programs separately. Since both programs recognize credits from the other, most of the joint degree can be completed with only one to two additional semesters.
Career and Career Placement
Based on the most recent available data, 95% of graduates from SMU law were either employed or pursuing additional education within 10 months of graduation. Just over 90% of those graduates were employed in positions that either required a law license or gave preference to Juris Doctor degrees. Small firm practice was the most common career choice with almost 25% of graduates accepting positions in law offices with 2 to 10 attorneys. As previously noted, SMU Law places numerous graduates in the business sector with 16% of graduates choosing careers in business roles. Graduates overwhelmingly remained in Texas to begin their careers.
With a staff of six professionals–most of whom were practicing attorneys–the SMU Law Career Services Team provides students with counseling for the varied career paths that SMU Law students choose. The Career Services Team works closely with employers in organizing on-campus interviews, collecting resumes and job postings, and organizing networking events. Additionally, SMU Law participates in over 15 off-campus job fairs around the country including several in Dallas.
Experiential Learning/Distance Education
Students at SMU Law learn practical skills through a variety of programs. First, SMU Law hosts ten separate legal clinics that serve the Dallas community with a range of legal services. Under the supervision of practicing attorneys, students work with real clients in both common situations such as criminal law or tax law cases but also in complex cases involving the first amendment or death penalty appeals.
SMU Law also offers three externship opportunities that provide students an opportunity to work in three different types of legal offices for an entire semester. Students can spend a semester working in either a judicial office, a government office, or even a traditional corporate counsel office.
In the classroom, SMU Law provides practical training through its simulation courses where students spend a semester working through simulated legal issues using real-world practical skills.
Student Life
SMU Law is committed to student health and wellness and offers its students a wide range of services as well as opportunities to engage with their classmates in social settings. Students have access to counseling services through a designated health center. Each year, the school participates in wellness week which offers a range of programs to encourage to students to balance their academic lives with other enriching outlets. The law school also offers a broad array of student-run organizations.
Set in the northern suburb of University Park, SMU Law is located in one the largest and busiest cities in the U.S. The surrounding neighborhood provides a wealth of dining and entertainment options while the larger city of Dallas offers all the amenities of a major metropolitan area. Students enjoy a city full of professional sports and nightlife. Housing is available throughout the city and comparatively affordable.
SEE ALSO