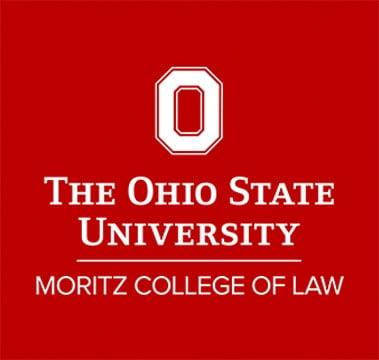 36%
Admissions Statistics | Acceptance Rate
3.8
Admissions Statistics | GPA (Median)
87%
Bar Exam Statistics | School's bar passage rate
75%
Bar Exam Statistics | State overall bar passage rate
86%
Employment Statistics | Graduates employed 10 months after graduation
$78,000
Full-Time Starting Salaries | Private Sector (Median)
$55,000
Full-Time Starting Salaries | Public Sector (Median)
7.2:1
Students & Faculty | Student-to-Faculty Ratio
563
Students & Faculty | Total Students
$11,954
Tuition and Expenses | Room and Board
$30,854
Tuition and Expenses | Tuition (In-State)
$45,806
Tuition and Expenses | Tuition (Out-of-State)
= Average
The history of the Moritz College of Law at Ohio State University (OSU Law) is rooted in civil rights. The school was first proposed by African-American abolitionist and civil-rights activist Peter Clark. The school's first class of 33 students in 1891 included one female student. Since its first class of students, the Moritz College of Law has graduated over 10,000 students including several Ohio Supreme Court Justices and the owner of the nearby Cleveland Cavaliers. Today, OSU Law is considered one of the best public law schools in the country and widely regarded as one of the top schools for the study of the practice of dispute resolution. The law school is located on the university's main campus in Columbus, Ohio.
Education
The first-year curriculum at OSU Law includes five of the traditional core courses: civil procedure, contracts, criminal law, property, and torts. Students also take a two-semester course that introduces the principles of legal writing and research. Students also take a semester-long course that covers legislation and regulation along with a unique course in legal practice and perspective. The latter course offers students allows students to earn credit either building practical skills or studying additional perspectives on the law.
The upper-level curriculum at OSU Law is almost entirely elective. Prior to graduation, all students must complete a course in constitutional law, a course in professional responsibility, satisfy the experiential education requirement, and take at least one seminar course. OSU Law offers several highly regarded concentrations including its top-ranked program in dispute resolution. Students can graduate with a certification in alternative dispute resolution after completing the curriculum–a mixture of coursework and skill-based learning. The law school houses two other centers–one focused on drug enforcement policy and the other on interdisciplinary law.
Additional Programs
The Moritz College of Law also has a Master of Law (LL.M) program for international students. The notably small class (30-35 students are accepted each fall) allows foreign students to build strong ties to the American legal community while also improving their English fluency and understanding of the U.S. legal system. The LL.M program requires one-year of residential coursework.
For non-attorneys whose professional career requires a thorough understanding of the legal system, OSU law offers a Master in the Study of Law (M.S.L.) program. The program requires 30 credits of coursework which may be completed either full-time or part-time. Part-time students are allowed up to four years to graduate.
For J.D. students who wish to combine their law degree with another professional program, OSU Law offers four joint degree programs including an M.D. or M.B.A. from the university's medical or business schools. For all students, admission to both programs is required. In general, 12 hours of credit from the other program count towards the J.D. program and vice-versa. This allows students to complete both programs in less time.
OSU Law also has a summer program on the foundations of American law that is designed for international attorneys. During the summer session, students attend 70 hours of coursework as they learn the fundamentals of the U.S. legal system.
Career and Career Placement
Based on the most recent classes, over 90% of OSU Law graduates are employed within 10 months of graduation in careers that either require a law license or prefer someone with a Juris Doctor degree. Traditional law firm work was the most common employment choice (62%) but students chose law firms of all different sizes. A notable percentage of students opted for work in the business sector (17%) while government and public sector work were also common choices (20%). After the state of Ohio, Washington, D.C. was the most common jurisdiction for graduates to begin their careers.
The OSU Law Office of Career Development (OCD) engages with students from their first moments on campus. During their first semester, the OCD presents a lunchtime class that covers the basics of the legal job search and provides students with timelines from their first year to graduation. By mid-semester, students are encouraged to meet with their career counselor who offer a range of expertise in various practice areas. The OCD also organizes all on-campus interviews as well as a range of events for students throughout the year.
Experiential Learning/Distance Education
Students at the Moritz College of Law learn practical skills in a variety of programs. The law school's clinical program was one of the first in the country and now houses seven different legal clinics representing a variety of practice areas. Working closely with faculty, students in the legal clinic gain valuable experience while working with real clients.
Students may also choose one of two semester long externships. The first program places students in a judicial office for a semester while the second is centered around the public interest sector. While in their externships, students continue their coursework while also working directly in a legal office.
OSU Law also offers third-year students capstone courses which allow students to delve deeply into a legal problem in a seminar format. Capstone courses blend traditional classroom work with practical skills.
Students are also encouraged to participate in the school's robust moot court and trial advocacy programs where students learn courtroom skills through intercollegiate competitions.
Student Life
Set in one of the largest and most affordable college towns in the United States, Ohio State University Moritz College of Law provides one of the most unique experience of any law school in the country. The law school campus sits on the southeastern edge of main campus and students are a major part of the university. The law school offers a range of wellness programs that focus on physical and mental health as well as helping students adjust to the academic rigors of law school. Each year, law students participate in over 50 student-run organizations or write on one of the schools student-run journals. Law students also attend Ohio State's exciting football and basketball games throughout the school year.
Students can opt to live either in one of two on-campus options or choose from the abundant housing in the Columbus area, the 15th largest city in the United States. The city is full of nightlife, unique restaurants, and professional sports.
SEE ALSO