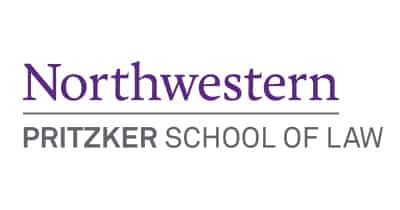 19%
Admissions Statistics | Acceptance Rate
3.8
Admissions Statistics | GPA (Median)
94%
Bar Exam Statistics | School's bar passage rate
79%
Bar Exam Statistics | State overall bar passage rate
92%
Employment Statistics | Graduates employed 10 months after graduation
$180,000
Full-Time Starting Salaries | Private Sector (Median)
$60,518
Full-Time Starting Salaries | Public Sector (Median)
3.6:1
Students & Faculty | Student-to-Faculty Ratio
752
Students & Faculty | Total Students
$64,402
Tuition and Expenses | Tuition
$16,236
Tuition and Expenses | Room and Board
= Average
Named for the philanthropist and Illinois Governor J.B. Pritzker, the Northwestern University Pritzker School of Law is the oldest law school in the City of Chicago, tracing its roots back to the mid 1800s. In its long history, the School of Law has produced multiple Supreme Court Justices as well as notable jurist and politicians such as Harold Washington, the first African-American mayor of Chicago. Admission to the Law School is extremely competitive for the roughly 215 available seats each fall. Northwestern Pritzker School of Law also values real world experience to compliment their cutting edge, practical approach to legal education. Most incoming law students have at least two years of work experience on their resumes. The Law School is located in the heart of Chicago overlooking the banks of Lake Michigan.
Academics
The first year curriculum at the Pritzker School of Law features semester long courses in the core classes: Civil Procedure, Constitutional Law, Contracts, Criminal Law, Property, and Torts. Students are also required to complete a two semester course on Communication and Legal Reasoning. True to its practical approach, this class grounds students in traditional legal writing, research and analysis while emphasizing teamwork and collaboration through role playing exercises including a second semester moot court project. First year students may also take an upper level elective during their second semester.
Aside from a required course in legal ethics and a substantial writing requirement, second and third year students are free to choose their curriculum through one of six pathways: Appellate Law, Business Enterprise, Civil Litigation and Dispute Resolution, Environmental Law, International Law, or Law and Social Policy. The School of Law boasts one of the largest legal clinics in the country as well as a number of options for students to compliment their classroom work with practical legal skills. Upper class students also have several options to collaborate with or study at International Law Schools.
Additional Programs
The Pritzker School of Law offers graduates of ABA accredited law schools several Master of Law (LL.M) degree options. Most prominently, Northwestern has an LL.M program for international students who want a grounding in the laws and legal structures of the United States. In addition, Northwestern School of Law offers an LL.M in both Taxation and International Human Rights. Finally, the Law Schools has a Master of Science in Law (MSL) degree which is a unique study at the intersection of law and technology.
Northwestern Law also offers a joint degree in conjunction with the Kellogg School of Management. The joint J.D./MBA allows students a year residence at both the law school and the business school before finishing both degrees in their final year by sharing time between campuses.
Northwestern Law students may also pair their J.D. with a PhD that compliments their legal education. Northwestern's commitment to this joint program is seen in the most generous financial aid in the country for joint PhD students as well as a compressed course schedule to allow for quick completion of both programs.
Career and Career Placement
Based on the statistics from the class of 2018, graduates of the Northwestern Pritzker School of Law are overwhelmingly employed in careers requiring a license or that prefer a Juris Doctor degree. Almost 98% of graduates found employment in the first 10 months after graduation with over 60% choosing work in large law firms (500+ lawyers). A little over 10% of Northwestern Law School graduates accept judicial clerkships. Although roughly half of graduates stay in the Chicago area, a sizable population of Northwestern Law School graduates seek employment in New York (20%).
The Pritzker School of Law career services center engages students as early as the admission process as they interview almost every prospective student prior to admission. These early interviews help select applicants who have the necessary communication and personal skills to be successful in later career interviews. The career center maintains a staff of twelve counselors and administrators who help organize the Fall on-campus interview process as well as numerous off campus interviews. Each student at Northwestern Law receives personal career counseling to emphasize the need to match a career path with each student's strengths.
Experiential Learning/Distance Education
The Pritzker School of Law offers students the unique opportunity to gain hands-on, practical learning through the Bluhm Legal Clinic–one of the leading law school clinics in the country. The Bluhm Legal Clinic is home to 13 distinct legal centers which offer more than 20 legal clinics in a variety of practice areas. The center is the most popular option for law students to complete their requirement for experiential education with upwards of 90% of students participating in the clinic. In the clinic, students work alongside faculty to provide deserving clients with advocacy and representation in a diverse set of legal fields.
Northwestern Law School has also pioneered cutting edge practicums through the Center for Practice Engagement and Innovation. The CPEI engages multiple, interdisciplinary experts to collaborate in generating new ideas in the teaching and practice of law.
Student Life
The Northwestern Pritzker School of Law maintains a student services team of over 12 persons from all aspects of the law school community. The goal of the student services team is to provide students with a community oriented experience at Northwestern that celebrates the diversity of the school while engaging students in the surrounding community. The school is committed to engaging students on the emotional and psychological level to help create a balanced, health student life through a series of on-campus wellness programs. Students also have a number of options to participate in student run organizations and journals.
Law students also benefit from living in one of the most engaging cities in the country with close access to all the City of Chicago has to offer. Many of the student run organizations actively engage with the local community in both service and social outings. A dedicated office helps students find housing either on campus or in the surrounding area.