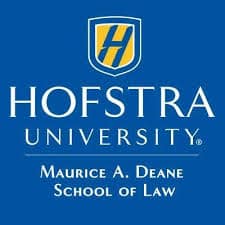 48%
Admissions Statistics | Acceptance Rate
3.4
Admissions Statistics | GPA (Median)
68%
Bar Exam Statistics | School's bar passage rate
76%
Bar Exam Statistics | State overall bar passage rate
81%
Employment Statistics | Graduates employed 10 months after graduation
$70,000
Full-Time Starting Salaries | Private Sector (Median)
$61,000
Full-Time Starting Salaries | Public Sector (Median)
7.5:1
Students & Faculty | Student-to-Faculty Ratio
734
Students & Faculty | Total Students
$59,214
Tuition and Expenses | Tuition
$18,722
Tuition and Expenses | Room and Board
= Average
Located in the heart of Long Island, the Hofstra University Maurice A. Deanne School of Law (Hofstra Law) has been educating lawyers since 1970 and has developed a reputation for its commitment to public interest law as well as its placement of graduates into the large law firms. The law school opened its door with a single building–Kushner Hall–in 1970 but has since expanded to four surrounding buildings as the school has grown over the past 50 years. Hofstra Law's graduates have excelled in a wide variety of professions. The school's alumni include Randy Levine, the president of the New York Yankees, as well as Norman Kent, the chairman of the National Organization of the Reform of Marijuana Laws.
Academics
The Juris Doctor program at Hofstra Law requires 90 hours of residential coursework. The first-year curriculum focuses on the six core courses of the traditional American legal education–civil procedure, constitutional law, contracts, criminal law, property, and torts–as well as a two-semester course focused on the skills of legal research, writing, and analysis. In their second year, students further their skill-based learning with a unique "foundations" course that introduces students to the fundamental skills of practicing law through three practical modules.
Upper-class students may declare a concentration by their fourth semester in one of eight practice areas. Concentrations define the student's academic course load to ensure that they are prepared to practice in a specific practice area. Students also have the opportunity to choose their own academic program from the law school's vast catalog of over 200 courses.
Hofstra Law also offers a part-time program that allows students to complete the Juris Doctor program in four years instead of three. Part-time students still attend classes throughout the week but need not complete the typical five courses per semester.
Additional Programs
In addition to their Juris Doctor program, Hofstra Law also offers a Master of Law (LL.M) program for students who have already obtained their J.D. or its foreign equivalent. The LL.M is directed at a variety of lawyers. For international students who did not obtain their law degree in the United States, the LL.M introduces students to the fundamentals of the American legal system. Students may also opt to focus on a specific concentration to deepen their understanding of a particular practice area. Hofstra Law's LL.M program offers concentrations in Health Law and Family Law. The family law program is one of only three LLM programs focused on family law in the U.S. The health law program is an online program that can be completed in 18 months.
Hofstra Law also offers two master programs that are focused on health law and policy. Both programs are intended to introduce non-professionals to the fundamentals of the law's interaction with health policy. These programs are completed entirely online. The online program requires 18 months for completion. Students have the option of earning either a Master of Arts or a Master of Jurisprudence.
Career and Career Services
Based on the most recent graduation statistics, over 85% of Hofstra Law graduates are employed in careers that either requires a law license or prefer a Juris Doctor degree. Graduates of Hofstra Law also chose a wide variety of legal careers. More than half of students opted for careers in a law firm setting with small law firms being the most popular choice. After law firm work, positions in government offices or in the public interest sector were the most popular career options. Over 10% of graduates choose careers in the business sector. Most Hofstra Law graduates (over 75%) opt to begin their careers in the state of New York.
With a staff of nine professionals, the Hofstra Law Office of Career Services (OCS) offers students one of the best student to staff ratios in the country. The staff includes a number of former attorneys who work to secure careers in a variety of practice areas as well as focus on various school initiatives. Aside from its excellent career coaching program, the OCS works with every student to develop a professional brand and career strategy. The OCS works with every student and alumni to help effectuate this plan.
Experiential Learning/Distance Education
Hofstra Law is a leader in providing students hands-on, skill-based learning opportunities. Hofstra Law's clinical program has been a critical institution in the local legal community since the 1970s. The clinic–originally housed in a trailer off-campus–moved to a state-of-the-art facility adjacent to the law school in 1997. The clinic now houses 10 separate clinics that afford students the opportunity to represent clients in a wide array of practice areas. The clinic allows students the opportunity to practice law by applying their coursework to real-life situations while under the close supervision of faculty members.
Hoftra Law also affords students the opportunity to spend a semester practicing law in an external field placement through their externship program. These programs place students in a variety of legal offices where they spend a semester practicing law and strengthening their professional networks. Most externships occur in the New York area although Hofstra law also offers externships in Washington, D.C.
Experiential learning also occurs in a number of skill-based courses offered to students at the law school. These courses cover all practice areas and allow students to master complex skills in the safety of the classroom environment. Although most courses are taught in traditional semester format, Hofstra Law also offers summer and inter-semester intensives that allow students to spend their break mastering practical skills.
Although Hofstra law does require residential coursework, the law school does offer a part-time J.D. program that allows students to complete their law degree over a longer period of time. Additionally, the law school offers an online program for one of its LL.M concentrations as well as two masters programs.
Student Life
Located in the middle of Hofstra University's 240-acre campus, Hofstra Law offers students a unique oasis of learning in the midst of New York City. The campus is full of amenities for students including pools, recreational centers, and campus-specific art and theater experiences. The law school is host to a robust student organization system that reflects the many backgrounds and passions of the student body.
The campus sits just 25 miles east of Manhattan near the center of Long Island. To the south are some of the most famous beaches of New York as well as the island's famed culinary scene that reflects the tradition of New York's history. In the area, students are afforded numerous housing options with close proximity to the boroughs of Brooklyn and Queens.
SEE ALSO