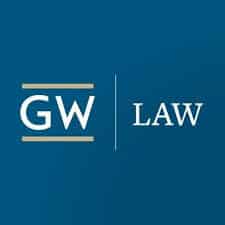 34%
Admissions Statistics | Acceptance Rate
3.7
Admissions Statistics | GPA (Median)
96%
Bar Exam Statistics | School's bar passage rate
70%
Bar Exam Statistics | State overall bar passage rate
81%
Employment Statistics | Graduates employed 10 months after graduation
$180,000
Full-Time Starting Salaries | Private Sector (Median)
$60,000
Full-Time Starting Salaries | Public Sector (Median)
5.9:1
Students & Faculty | Student-to-Faculty Ratio
1,525
Students & Faculty | Total Students
$60,790
Tuition and Expenses | Tuition
$21,000
Tuition and Expenses | Room and Board
= Average
As the oldest law school in the nation's capital, the George Washington University Law School (GW Law) is one the leading schools in the country for international law and maintains a stellar reputation for its programs in environmental law as well as taxation. The law originally started in the mid 1820's but had to close due to enrollment. The school reopened permanently in 1865. Due to its location, the law school has attracted top faculty including several professors who later became members of the US Supreme Court. The US Attorney General, William Barr, graduated from the school in 1977. The GW Law campus, a collection of nine buildings, is located in the Foggy Bottom district of Washington, D.C. and sits only a few blocks from the White House. GW Law is also one of the largest schools in the country in terms of its student body with over 1,600 students.
Education
During their first two semesters, students at GW Law take classes to ground them in the fundamental courses of law: Contracts, Torts, Civil Procedure, Property, Legislation and Regulation, Criminal Law, and Constitutional Law. Students are also introduced into the practical side of law in a two semester course in the "Fundamentals of Lawyering." Generally, the schedule is preset for first year students whether they are full time day students or part time evening students. Before graduation, students must also complete a course in professional responsibility, complete a senior level writing assignment, and take at least six hours of experiential learning.
GW Law also offers a unique, award winning program known as the "Inns of Court" adapted from an ancient method of training British lawyers. First year students are divided in six "Inns" and have dedicated counselor, advisers, and mentors that help them through the process of their education and job searching. Each "Inn" is named for a Supreme Court justice and students in the same "Inn" take their first year courses together.
Upper class students benefit from GW Law's extensive course selection–one of the most complete in the nation. The law school offers over 275 courses in virtually every practice area. For specific practice areas, GW Law offers recommended classes to cover fundamentals for a particular career. The law school offers some renowned specializations including in the areas of international law, environmental law, intellectual property law, and government regulation and constitutional law
Additional Programs
GW Law offers a wide range of degree offerings beyond the Juris Doctorate. Foremost, the law school offers a robust Master of Law (LL.M) program for students who have already obtained their J.D. Aside from the general LL.M, GW Law offers 11 specific, focused degrees that offer students a master of a practice area. LL.M graduates benefit not only from additional coursework but dedicated career placement help. The school also offers a Doctor of Juridical Science for students interested in pursuing a career in academia.
The George Washington University Law School also offers students joint degrees with four other schools at the university: an MBA, the college of Arts & Sciences, International Affairs, and a Masters of Education. For joint degrees, students complete the first year of law school and then begin their coursework for their master's program. The school also offers joint program with the LL.M degree.
Finally, the law school provides non-lawyers with an opportunity to earn a Masters of Law degree which covers the basics of American jurisprudence to compliment another field of study. GW Law is also part of the unique, interdisciplinary degree the Master of Science in Government Contracts which combines law with business specifically in the context of procurement contracts.
Career and Career Placement
According to statistics from the 2018 class, students from GW Law find employment in a variety of sectors within 10 months of graduation. Most students find long term employment that requires a law license or advantages a law degree (94%). A substantial portion of students accepted positions in a university role or continued on with additional graduate education. For those in legal roles, large law firm jobs were the most common (25%) but students also accepted roles in a variety of mid and small sized firms, public interest offices, and especially government offices (18%). As expected with its location, Washington, D.C. was the most common location for careers with New York and Virginia also seeing substantial portions of graduates.
The GW Law Career Center maintains a staff of 15 persons, one of the largest in the country. Aside from one of the most active career postings website, the Career Center also assigns a counselor to each of the six "Inns" that divide each class. This counselor works with students throughout their education and advises them on job opportunities and openings. The Career Center organizes on and off campus interviews, provides a range of opportunities for diversity students, maintains evening hours for part-time evening students, and has a robust program for public interest and government jobs.
Experiential Learning/Distance Education
Experiential learning at GW Law occurs through the school's historic clinical program, field placement, and pro bono/public interest careers. The clinical program is a program of 11 distinct centers that each provide students the opportunity to work on real world legal issues under the supervision of practicing attorney and faculty who are experts in a certain practice area. Field placement allows students to participate in a externship program that places GW Law students into government offices in and around the Washington, D.C. area. Finally, GW Law has countless pro bono and public interest opportunities for students to gain practical skills while giving back to the D.C. community.
Although GW Law does require students to be in residence for their Juris Doctor coursework, the school does provide a part-time, evening class option which allows for students who need to work to pursue their law degree in the evenings. Part time students are still required to complete 84 credit hours but can do so in four years and utilizing summer sessions.
Student Life
From its unique "Inns of Court" program to its over 60 student run organizations, GW Law School offers its student a rich, diverse experience that fosters relationships that are central to building a legal career. The GW Law campus is a collection of buildings nestled into the Foggy Bottom neighborhood in the heart of Washington, D.C. just a few blocks from the White House. At George Washington University, students have access to a full suite of health and wellness programs including a dead of students dedicated to student life quality.
As residents of the nation's capital, GW Law students are fully immersed in the politics, social life, and recreation afforded by the city of Washington. Housing is available within the district or in one of its many suburbs where students take advantage of the cities public transportation. Washington, D.C. is a hub of theater, dining, and museums plus professional sports and night life.
SEE ALSO