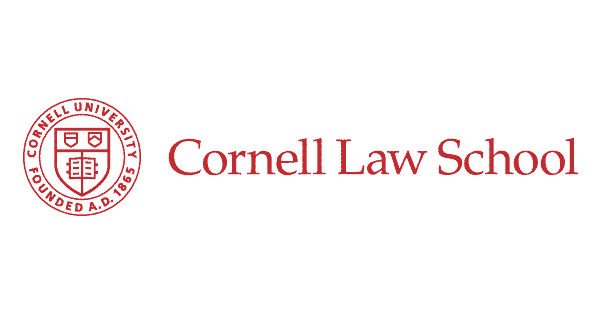 21%
Admissions Statistics | Acceptance Rate
3.8
Admissions Statistics | GPA (Median)
96%
Bar Exam Statistics | School's bar passage rate
76%
Bar Exam Statistics | State overall bar passage rate
93%
Employment Statistics | Graduates employed 10 months after graduation
$180,000
Full-Time Starting Salaries | Private Sector (Median)
$64,228
Full-Time Starting Salaries | Public Sector (Median)
4.9:1
Students & Faculty | Student-to-Faculty Ratio
595
Students & Faculty | Total Students
$65,541
Tuition and Expenses | Tuition
$16,766
Tuition and Expenses | Room and Board
= Average
Located in central New York in the scenic college town of Ithaca, the Cornell Law School is one of only five Ivy League law schools and has one of the smallest incoming classes of any law school in the country with just over 200 students accepted each year. Cornell Law School's history dates back to the end of the 19th century. Its history includes admission of African-American students and women in the late 1890's reflecting the school's early commitment to diversity and equality. Each fall, the school receives over 4,000 applicants and the application includes a statement on how the applicant will contribute to the diversity of the student body. In recent years, the law school has created partnerships with foreign law schools to increase its international law programs particularly in Asia. In 1980, Tsai Ing-wen earned her LL.M from Cornell Law School. She became the first female president of Taiwan in 2016. Along with Ing-wen, the law school has produced a number of notable members of the judiciary and political figures includes to United States Secretaries of State as well as a president of the International Criminal Court.
Education
The first year curriculum at Cornell Law School is a prescribed selection of 28 credit hours including two semesters in civil procedure plus semester long courses in constitutional law, contract, criminal law, property, and torts. Students also take a semester long course titled "Lawyering" which introduces students to the legal research and writing process as well as an introduction to legal advocacy and analysis. In their second semester, students can also elect to take an upper class elective.
After the foundation is laid in their first year curriculum, students are free to take any courses they choose in their final years. The only additional requirements are a class in ethics, an upper level writing assignment, and credits in experiential education. However, students are strongly encouraged to take at least one section of evidence, administrative law, business, and federal taxation. Cornell Law School does offer four concentrations in different practice areas including advocacy, public law, business, and general practice.
The law school also offers a specialized program in international law which requires an additional 5 credit hours. The program prepares students for a career in international law with additional courses in comparative law and conflicts of law.
Additional Programs
Cornell Law offers a general Masters of Law (LL.M) program for students who graduated outside of the United States. The program immerses foreign students into the law school community for a one year program that grounds students in the US legal system as well as the law school community in general. However, English language proficiency is a prerequisite for admission.
In addition to the general LL.M degree, Cornell Law School also offers a LL.M focusing on technology and entrepreneurship. The program is integrated into the growing Cornell Tech school which blends cutting edge technology and research into academic careers. The unique curriculum uses a studio intensive to create an actual product in demand from corporate partners such as Uber.
Cornell also offers one doctoral degree– the Doctor of the Science of Law (J.S.D.) degree which is intended for students with a masters who wish to pursue a career in academia. The J.S.D. degree is administered through Cornell University and, therefore, meets all the requirements of their doctoral programs.
Aside from its three advanced degrees, Cornell Law offers both joint and dual degrees. The law school has established joint degree programs with the Master of Business, the Master of Public Accounting, and Master of Industrial and Labor Relations. There are also joint degrees with two PhD programs: developmental psychology and philosophy. All joint degrees require admission to both graduate programs as well as a commitment to meet the residency requirements of the law school which requires that the first year of studies be spent entirely at the law school.
Career and Career Placement
Within 10 months of graduation from Cornell Law School, over 97% of the graduating class of 2018 were employed or in other graduate programs. The overwhelming majority were employed in long term careers that required a law license or preferred a Juris Doctor degree. The common career path is in a large law firm with over 60% of graduates opting for work in firms with over 500 attorneys. The minority of students worked in small or medium firms (16%), judicial clerkships (10%), and government or public interests (11%).
Cornell Law School maintains a dedicated office for Career Services with focuses in different types of employment including private sector, a dedicated staff for public service careers, and a dedicated office for judicial clerkships. In addition to organizing on-campus interviews, the office of Career Services counsels students on the interview process, works with applicants on their resumes, and provides advice to first year students on their first summer employment opportunities.
Experiential Learning/Distance Education
Cornell Law School's clinical program has a 50 year history and now features 24 dedicated legal clinics that offer students an opportunity to build real world legal skills in virtually every practice area. In clinics, students build their practical legal skills while representing real clients in various legal situations. Some cases require students to appear before tribunals and employ trial skills such as filing legal briefs or engage in oral advocacy.
Cornell also offers an externship program that offers students the opportunity to enhance their legal education in a real world work experience. Students can opt for a full semester externship or shorter stints at any number of legal offices including public interest and governmental offices.
Student Life
Cornell Law School offers its student a unique experience in a beautiful academic setting. The law school is a pioneer in integrating health and wellness into student life and the academic schedule is intended to help manage stress and time management. Students have access to the University's many facilities to help promote health and exercise. The law school also has a plethora of student run organizations and several student published journals including the esteemed Cornell Law Review.
Law students will find life in Ithaca to match its idyllic setting among the gorges and lakes of the finger lake region of central New York. Perched on the southern shore of Cayuga Lake, Ithaca is roughly halfway between the cities of Toronto and New York with close proximity to Syracuse and Buffalo. Ithaca offers a true university setting with a culinary scene that has one of the highest restaurants per capita in the country. Student housing is affordable in and around the city with a good public transportation system. The surrounding area is renowned for its waterfalls and beauty.
SEE ALSO