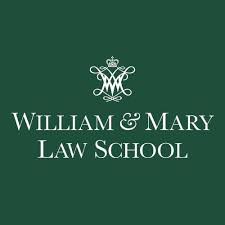 36%
Admissions Statistics | Acceptance Rate
3.8
Admissions Statistics | GPA (Median)
85%
Bar Exam Statistics | School's bar passage rate
76%
Bar Exam Statistics | State overall bar passage rate
81%
Employment Statistics | Graduates employed 10 months after graduation
$105,000
Full-Time Starting Salaries | Private Sector (Median)
$56,748
Full-Time Starting Salaries | Public Sector (Median)
6.4:1
Students & Faculty | Student-to-Faculty Ratio
611
Students & Faculty | Total Students
$15,170
Tuition and Expenses | Room and Board
$34,000
Tuition and Expenses | Tuition (In-State)
$43,000
Tuition and Expenses | Tuition (Out-of-State)
= Average
Founded in 1779 by Thomas Jefferson, the College of William and Mary Marshall–Wythe School of Law (William & Mary Law) is the oldest law school in the United States. Located in the colonial city of Williamsburg, William & Mary Law appointed George Wythe, one of the signers of the Declaration of Independence and Jefferson's law teacher, as the first professor at the school of law. In its long history, William & Mary Law has produced notable lawyers, politicians, and judges including John Marshall, one of the first Chief Justices of the US Supreme Court. Today, William & Mary Law is considered one of the best public law schools in the country consistently ranking in the top 25 among all schools, public or private.
Education
William & Mary Law requires six core courses during the first year of their Juris Doctor program: civil procedure, constitutional law, contracts, criminal law, property, and torts. These six courses provide the legal foundation for all upper level courses. In their first year, students also take a two semester course in legal research and writing as well as a two semester course in basic skills of lawyering.
In their final two years, students are only required to take two additional courses: an advanced writing course in their second and one course in professional responsibility. All other courses to obtain their required 86 hours of coursework are electives. William & Mary Law, however, does offer six "concentrations" which guide curriculum choices during the second and third years in order to prepare students for a particular practice area. All six concentrations require five courses in the concentration's subject matter, an advanced writing project on the concentration, and experiential education related to the concentration.
Additional Programs
Since 1989, William & Mary Law has offered a Masters of Law (LL.M) focused on the American legal system to students or lawyers from foreign countries. The two-semester program can be started in either the fall or spring semester. Prior to the start, all students participate in a week-long, intensive that covers the fundamentals of the American legal system as well as the basics of legal writing. The law school also offers a summer program that allows students to gain familiarity with graduate school in the United States and practice their English fluency.
William & Mary Law also has two joint degree programs that allow students to earn two graduate degrees in four years (instead of five). Students can earn the Juris Doctor as well as a Master of Business Administration (MBA) or a Master of Arts (MA) in American Studies. Additionally, students are permitted to petition to create their own combined degree at the discretion of the Vice Dean,
Finally, William & Mary Law offers a robust study abroad program that allows students to spend a semester studying in one of eight different countries.
Career and Career Placement
Over 94% of graduates from the most recent class at William & Mary Law found employment or pursued additional education within 10 months of graduation. Of those who pursued employment, over 98% did so in careers that either required bar passage or preferred a Juris Doctor degree. William & Mary Law's most popular first career choice was a clerkship with a state or federal clerk with over 25% of graduates pursuing this option. Graduates also opted for large law firm work (17%) and government positions (13%). Although most Virginia was the most common state for graduates to begin their careers (37%) , a number of graduates also accepted positions in Washington, D.C. (15%) and New York (14%).
The William & Mary Law Office of Career Services (OCS) staffs eight full time counselors and support personnel who begin counseling students in their first semester to understand their career goals and chart a path to achieve them. With its relatively small student body, the OCS is able to provide one-on-one counseling to every student. In addition, students are able to participate in a mock interview program, attend seminars and workshops designed by the OCS, and even be paired with an alumni mentor who works in their chosen field. William & Mary Law has had tremendous success placing their graduates in judicial clerkships. The law school also offers loan forgiveness for students who pursue careers in public interest law.
Experiential Education/Distance Education
To satisfy the requirement for experiential education, William & Mary Law offers students the opportunity to participate in one of their nine legal clinics that address the unmet legal needs of real clients in the surrounding area. The clinic offers a wide range of practice areas from fighting for veterans benefits or protecting Virginia's fragile coastal environment. Clinical experience allows students to work in real legal situation to develop practical skills.
Students in their second or third year are also able to participate in one of the school's practicums which presents a real legal issue for students to solve. Like the clinics, the practicums build real-world skills while also emphasizing the ethics of practicing law. William & Mary Law also has 12 available externships where students can work in a legal setting while earning credit toward their graduation.
Both the Juris Doctor and LL.M program require residential coursework.
Student Life
Set in historic Williamsburg, the law school at the College of William & Mary offers a small town bustling with activity. With over 50 student run organizations and five student led journals, law school life is notably busy at William & Mary. To balance this, the law school has a dedicated focus on eight different aspects of "wellness" which are promoted throughout the year. Students also have access to a professional therapist.
Life in the "Burg" (as students call it) is a one-of-a-kind experience mixing history and recreation like no other college town in America. Students have access to the many historical and tourist attractions in Williamsburg as well the active nightlife that surrounds the campus. Outdoor recreation is abundant with a number of lakes and rivers in the area as well as the famed Capital Greenway which offers 52 miles of bike path stretching all the way to Richmond. The beach is only an hour away and Washington, D.C. is just over two hours. William & Mary Law School does offer some limited graduate student housing or students can take advantage of the many options in town.
SEE ALSO