Business degrees are big business! According to the National Center for Education, more business degrees are awarded each year than any other major. Business is amongst the most popular majors because it opens doors to such a wide array of career options, as opposed to other fields that are very specific and prepare students for limited career paths. Attending business school offers many competitive advantages, including outstanding internship and experiential learning opportunities, excellent potential ROI, and high employment rates upon graduation.
What is Business School?
Business schools offer programs ranging from associate-level through doctoral degrees in business administration and management. Classes typically offered include accounting, business law, entrepreneurship, ethics, finance, and marketing. If you're wondering what you can do with a business degree, the answer is anything you want! Business no longer means just crunching numbers and record-keeping. Business graduates are tech-savvy individuals managing social media accounts, launching innovative start-ups, and employees of private companies, non-profit organizations, and government agencies.
Business schools teach 21st-century career skills that can be applied to any industry, making business one of the most versatile degrees available. Faculty often work in the field by day and teach by night, bringing practical knowledge to the classroom. Business schools also may feature simulation labs with state-of-the-art Bloomberg terminals and livestock tickers.
Accreditation
Whether you're pursuing an associate's degree or a PhD, it's important to make sure your business program is fully accredited. The AASCB accreditation is considered the gold standard in business education. Only 890 business schools in the world have received this prestigious designation, meaning the schools have undergone a rigorous process of nine standards ensuring students received quality instruction. These standards are placed in three distinct categories: Strategic Management and Innovation; Learner Success; and Thought Leadership, Engagement, and Societal Impact. Schools may also apply for a second accreditation in Accounting. Currently, only 189 business schools hold dual accreditation in Business and Accounting.
Other popular business accreditations include ACBSP and IACBE. The ACBSP was established in 1988 and offers accreditation for associate's degrees through doctoral degrees, as well as certificate programs. ACBSP accreditation is modeled after the Baldridge National Quality Program. It emphasizes seven performance standards: Leadership, Strategic Planning, Student and Stakeholder Focus, Student Learning Assessment, Faculty Focus, Curriculum, and Business Unit Performance. Approximately 750 schools are proud recipients of ACBSP accreditation, and another 300 are seeking candidacy for accreditation.
The IACBE was first recognized by the Council for Higher Education Accreditation in 2011. Since then, the IACBE has accredited more than 1,800 academic institutions. The IACBE takes a unique missions-approach to make accreditation accessible for institutions based on their outcomes rather than their resources. The four main facets of IACBE accreditation include Outcomes-based Quality Assurance, Continuous Quality Improvement, Collaborative and Cooperative Approach, and a Flexible and Adaptable Accreditation Process.
Associate's Degrees
Most employers will be seeking candidates with a minimum of a bachelor's degree, but students may begin their educational journey by earning an associate's degree from a community college. The Associate of Business Administration degree teaches foundational business principles, terminology, and technology. Graduates of a two-year business program are prepared for entry-level business careers such as administrative office roles, project assistants, and store managers. Companies will be more likely to hire candidates who have completed preliminary business courses for their manager-in-training programs because these individuals have already demonstrated academic potential, so they are viewed as a wise investment. MINT Dentistry, Pizza Hut, Verizon Wireless, and Planet Fitness, all offer Manager in Training programs. These programs offer a great starting point for a successful career track, boost resumes with leadership experience and newly acquired skills, and often include mentoring from a mid-level manager.
Bachelor's Degrees
Undergraduate students can pursue a Bachelor of Business Administration or Bachelor of Science in Business Administration. Business curriculum for comprehensive programs is designed to give a broad knowledge of multiple areas of functional business. The BBA can generally be customized with a major or concentration to meet the students' individual career goals and interests. Larger business schools typically offer more extensive options. Concentration options may include Accounting, Business Analytics, Economics, Entrepreneurship, Finance, Healthcare Management, Hospitality and Tourism, Human Resource Management, Information Technology, International Business, Management, Management Information Systems, Marketing, Non-profit Management, Logistics, and Supply Chain Management.
The BSBA has a heavier focus on math and will typically consist of more analytics or business statistics courses. Many business schools also offer a 4+1 accelerated degree option, allowing students to earn a bachelor's degree and a master's degree in just five years. BBA degree holders can pursue entry and mid-level careers as financial analysts, HR recruiters, or product managers.
Graduate Degrees
Prominent business schools feature diverse graduate degrees to help students advance their careers. MBA degrees consist of a minimum of 30-credit hours, and some accelerated programs can be completed in less than one year. MBA programs can be general or tailored with a specialization. After completing core courses, students may focus on a specialty in Consulting, Entrepreneurship, Finance, Human Resources, Management, Marketing, Nonprofit Management, Operations, and Project Management.
Graduates interested in an accounting career can pursue the Master of Accountancy. The MAcc usually fulfills the required hours to sit for the CPA exam. The Master of Science in Finance, Master in Management, and Master of Health Administration are a few of the other options available for graduate students. Doctoral degrees that may be offered include a Doctor of Management, Doctor of Business Administration, or PhD programs. Candidates seeking these degrees usually specialize their studies in one specific area of business. Graduates of doctoral programs can pursue careers in academia, research, or consulting.
Certificates
Business certificates are great for students who want to broaden their career skills without the time and financial commitment of earning a graduate degree. Graduate certificates are generally 12-18 credit hours and can often be applied towards a graduate degree if you decide to continue your education.
Rankings
National publications, such as U.S. News and World Report, Bloomberg Businessweek, and the Princeton Review assign rankings to the top business schools. College Consensus aggregates these rankings into our annual consensus rankings of the Top MBA Programs and Best Online MBA Programs. These rankings can be utilized as a tool for researching and deciding upon which business schools to apply for. Rankings are separated into distinct categories. A few of these sections are Best Career Prospects, Greatest Resources for Minority Students, Part-time MBA, MBA Specialties, Most Family-Friendly. This helps students determine which factors are most important to them in choosing the best business school.
History of Business School
Business schools have an interesting history spanning over 200 years. The first business school in the world dates back to 1819 when Ecole Superieure de Commerce de Paris was formed by a small group of bankers and economists, including Jean-Baptiste Say, who coined the term entrepreneur. This business school, now known as ESCP Europe, is still highly regarded in Europe today.
In the U.S., business education first became formalized in the 1880s. Joseph Wharton established the Wharton School of Finance and Economy, the nation's first private business school in 1881, at the University of Pennsylvania. Professors from other academic departments were not fond of the business school because they believed it was not as scholarly as science or as refined as the arts. In 1889, the University of California and the University of Chicago were the first public schools to open a business school. In 1900, Dartmouth College founded the first graduate business school, the Tuck School of Business.
Harvard University was the first to institute the Master of Business Administration program to elevate their students from other competitive candidates. Harvard also pushed the boundaries of education by implementing case studies. Professors conducted interviews with business managers to learn about problems their companies were facing and then asked the students how this information could best be utilized; hence, the birth of the case studies. Case studies are still an effective teaching method used in business courses today to develop analytical reasoning, teamwork, and presentation skills. Today, business students have more options than ever for undergraduate and graduate business degrees and even the opportunity to create their own program of study at some business schools.
How Do Students Prepare for Business School?
High School Classes
High school students can prepare for business school by wisely choosing their courses. College business courses involve a great deal of math, so high school students should try to enroll in advanced math classes. Communication skills are also very important, so classes in public speaking and debate will be very beneficial. Technology is also heavily integrated into 21st-century business practices. Luckily, many high schools offer and even require the completion of a technology course such as Business Computer Information Systems, Digital Media, and Introduction to IT. Students interested in international business school could also take a foreign language.
High schools are committing to prepare students for their future by emphasizing career readiness skills. This means high school students interested in business may be able to take business electives, such as Intro to Business, Consumer and Business Math, and Personal Finance. Suppose business courses are not offered at your school. In that case, you can talk to the guidance counselor about taking an online course, completing independent study, or enrolling in a local college class.
Extracurricular Activities
High schools offer a wide range of extracurricular activities that would look great on a business school applications. DECA helps students develop leadership skills through the Emerging Leader Series, competitions, and educational conferences. Students can compete in a variety of events in the following categories: Business Administration, Team Decision Making, Individual Series, Personal Financial Literacy, Business Operations Research, Project Management, Entrepreneurship, Integrated Marketing, and Professional Selling and Consulting. Virtual business challenges are also available.
Other well-known business clubs that might be offered on your campus include Business Professionals of America, Future Business Leaders of America, the National Business Honor Society, National Beta Club, and Entrepreneurship Club. These organizations can help high school students connect with college business students and local business leaders who can serve as mentors, provide early access to internships, scholarship opportunities, and may feature field trips to tour business schools. Debate club can help students polish their communication skills. Students should also seek leadership roles in organizations, such as student council, becoming the president of a club, or the captain of their favorite activity.
Preparing for Graduate Business School
Perhaps you earned a non-business bachelor's degree but have your heart set on earning a graduate business degree; there are many programs designed for students just like you! Research whether your business school accepts candidates from other academic fields. If so, you may be required to complete prerequisites before being fully admitted into their program. Many schools offer online modules that will help you learn fundamental business concepts to succeed in graduate school. Some schools allow you to submit industry-related work samples or a resume highlighting your business experience in lieu of completing prerequisites. Graduate applicants may also be required to submit GRE scores, so make sure you set aside adequate time to study.
What are the Future Trends of Business School?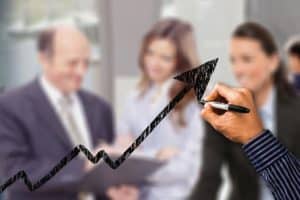 Despite 2020 being a difficult year for many businesses, business schools have actually seen a surge in applicants. According to the Graduate Management Admission's Council 2020 Applications Trend Survey, 67% of programs reported an increase from 2019. One contributing factor could be that students had more time to focus on school due to work opportunities being sparse and many jobs switching to remote.
In 2020, business schools had to quickly create innovative solutions to make the same opportunities safely available to students, such as virtual internships, field trips, consulting projects, and online competitions. It's important that students still gain real-world experiences and work collaboratively with their classmates, rather than just sitting behind a screen without peer interactions. In 2021, students are feeling more comfortable returning to in-person learning, but virtual options are still available for students who prefer to work from home. Last year, students were also fearful about the economy, but as business outcasts improve, students are more willing to invest in their future financially.
Business schools want to remain relevant, so the curriculum has been revamped to cover digital business tools. Columbia Business School has an entire six-month Digital Business Leadership Program. In this program, students learn how to lead organizations through digital transformations. Students are able to attend guest speaker events from Silicone Valley start-ups and complete a real-world business challenge capstone project utilizing lean innovation principles. MIT offers a Postgraduate Diploma in Digital Business. This certificate consists of three modules covering essential components for establishing a digital business: Digital Strategies for Business: Leading the Next-Generation Enterprise, Digital Transformation: Platform Strategies for Success, and Digital Marketing: Customer Engagement, Social Media, Planning, and Analytics. Students will complete case studies, simulations, and a capstone project.
How will Business School Help Students Start a Career?
Business schools have a vested interest in seeing their students succeed because it also improves the school's rankings and reputation to produce highly sought-after graduates. Many business schools have their own career center devoted to the professional development of students and offer services such as free professional portraits for LinkedIn profiles, access to job search tools, and resume critiques. Career centers also connect students to potential employers through annual job fairs, job shadow days, career panels, mentorship programs, and networking events.
Passport programs are a popular method to ensure students achieve certain milestones throughout their college careers. Students may be required to attend certain events each school year in these programs, such as a career or major exploration workshop, one-on-one sessions with a career counselor, an etiquette dinner, and mock interviews. Students can also attend professional development seminars on topics such as writing a resume and cover letter, salary negotiation, professional branding through social media, and interpersonal skills. Internships, hands-on consulting projects with real firms, service-learning projects, study abroad programs, and research at business academic centers give students real-world work experience. Career closets are a unique perk of many business schools where students are able to borrow a suit to wear to interviews and job fairs.
Internship Opportunities
Internships are an exciting part of business school. These opportunities are often offered for college credits in the fall, spring, and summer semesters. Students are given a glimpse of what life will look like after graduation. Positions may be paid or unpaid but offer valuable experience and may turn into a full-time job offer.
Graduate students can apply for teaching assistant or research assistant positions. These positions generally consist of approximately 15 hours of work per week in exchange for partial or full tuition waivers. Students may teach an undergraduate business course, grade papers, meet with students during office hours, tutor, and host small group study sessions.
Business Organizations
Business organizations are a great way for students to get involved outside of the classroom. Most business schools feature a wide range of student-run organizations for different career-focused groups, as well as clubs for different races, ethnicities, or genders. For example, minority students can gather with like minded students and hear from experienced mentors by participating in the Association of Latino Professionals for America or the National Association of Black Accountants. Women in Business recognizes and empowers female students to become dynamic business leaders.
Business organizations geared towards specific areas of interest include The American Finance Association, The Professional Accounting Society of America, American Marketing Association, The National Association of Sales Professionals, and The Society for Human Resource Management. Beta Gamma Sigma is the most prestigious business honor society. Chapters are only allowed at AACSB-accredited business schools, and invitations are extended to the top 10% of students who have reached the second semester of their sophomore year or above. Signature benefits include the NASBA Ethical Leadership Certification, graduate scholarships and tuition discounts, and free test prep programs for the GMAT and CPA. Students are able to attend national conferences, master classes taught by Fortune 500 executives, and participate in volunteer projects.
Competitions
What better way is there to catch the eye of a future employer than to win an award at a competition? Judges are prominent business leaders, so you might not just win the sweepstake prize but also sweep them off their feet and land an internship or job offer. Business schools frequently host an annual Big Idea Pitch event, where budding entrepreneurs can present their product concept for the opportunity to win cash to fund their start-up and even mentorship from successful entrepreneurs. Think Shark Tank, but for college students!
Business Research Centers
Business schools feature academic research centers that provide students with unique opportunities to delve into their specific interests with hands-on projects conveniently located on campus. The University of Texas McCombs' School of Business is home to several centers, including Customer Insight and Marketing Solutions, Business Technology and Law, Global Business, Leadership and Ethics, Analytics and Transformative Technologies, and Research in Electronic Commerce. McCombs is also a leader of many initiatives: Blockchain, Healthcare Innovation, Energy, and Social Innovation.
Study Abroad
Spending a semester abroad is not only an exciting experience but also impresses employers. Business schools offer phenomenal opportunities for students to broaden their global business perspective through studying abroad. Most business schools even offer financial assistance to cover the expenses involved with study abroad programs. Common destinations for business students to study abroad include China, Europe, and Japan. Faculty-led trips allow students to travel in small cohorts with professors from their campus. These programs are usually 7-10 days and take place over spring break or in the summer. During study abroad programs, students may tour international corporations, visit the top economic hubs of the world, and take classes or workshops related to the economy of their destination. Many MBA programs featuring a culminating international experience.
Next Steps
Does a business career pique your interest? Now is the perfect time to pursue a BBA, MBA, or other business degree. In 2021, unemployment rates are dropping as businesses are slowly returning to full capacity. The market has not fully recovered yet and still remains competitive, but those with a business degree will be stronger candidates for current openings and as future positions become available. If you are seeking a fresh start for 2021, there are still many business schools accepting applications for the fall!
Related Resources:
Best Undergraduate Business Programs
Best MBA Programs
Ultimate Guide to MBA Degrees
Ultimate Guide to Online MBA Degrees
What are the future business trends of 2021?
What are the future business education trends of 2021?
Is an MBA still relevant in 2021?
Is business school still relevant in 2021?
Best No-GMAT Online MBA Programs
Best GMAT Prep Courses Online
Best 1-Year Online MBA Programs