Do you know what a statistician is? From the word itself, you can determine that it is someone who deals with statistics, but is there more? What are the different layers to the position, and how is it beneficial to our economy and society? In this Guide for Statisticians, you'll read about what a statistician is, the history of statisticians, and what preparation is needed to pursue a career as one. You will also learn about future trends of statisticians and their current contributions to help eliminate the Covid-19 pandemic.
What does a statistician do? You can easily think there is not much to it, they just deal with numbers, it is singularly focused, or it is not that important of a position. In fact, it can be argued that almost every human activity involves applying statistics, making it an important component of our daily lives. Therefore, a statistician is highly valued, needed, and an essential asset to society.
What is a Statistician?
To understand what a statistician is, we need first to define statistics. Statistics are everywhere. Merriam-Webster defines it as a branch of mathematics that deals with masses of numerical data from the collection stage through the presentation stage, including analysis and interpretation. It is also "a collection of quantitative data." You sometimes hear the saying, "statistically speaking," when someone is attempting to show support for their side of an argument or in an explanation, in general. They say this because statistics deal with facts and data and can be more accurate, believable, and probable than just opinion. But statistics are useless without knowing the proper data collection methods, analyzing it meticulously, interpreting it correctly, and presenting accurate conclusions that lead to effective decisions. All of this is precisely what a statistician does.
Skillset
Statisticians typically work in an office setting, and commonly work 40 hours a week, with occasional overtime. They are decision-makers who enjoy independent and detail-oriented work, routines, and can manage their time wisely. Some other important abilities include solving huge problems, analytical precision and accuracy, communication skills, reading comprehension, determination, critical thinking, active listening, concentration, and math skills, especially calculus, statistics, and linear algebra. Statisticians need to understand statistical analysis, data modeling, data analysis, and Microsoft Excel, and be able to navigate statistical programming languages like R, SAS(Statistical Analysis System), Python, C++, and SQL (Structured Query Language). People designed this way have the potential to find the statistician job highly satisfying.
Duties
As stated earlier, statisticians collect, analyze, interpret, and present data. They work hard to obtain an extensive amount of knowledge and skills to perform their duties. Let's look at the aspects of the job in more detail.
COLLECT: In the collection phase, statisticians are responsible for determining the relevant data needed, creating the proper collection method, and executing it through opinion polls, interviews, experiments, surveys, or reviewing records.
ANALYZE: To analyze the data and identify trends and errors, statisticians will perform validity tests, utilize specialized software, and even develop new models and software.
INTERPRET: From the analyses, statisticians can check for accuracy, efficiency, and define whether the findings are valid and applicable.
PRESENT: Once conclusions are formed, statisticians prepare graphs, tables, bullets, charts, and reports to present to coworkers or clients.
Types of Employers
Statisticians assist private and public businesses and organizations in making accurate, efficient, and improved decisions that solve real-world problems. Unlike most jobs, statisticians play a crucial role in local, regional, national, and international development through a vast array of fields and industries. John Tukey, a distinguished and renowned statistician, described the best part of working as a statistician is you have the advantage of "playing in everyone's backyard."
Check out what the Executive Director of the Biostatistics Department at Merck Research Laboratories, Devan Mehrotra, said about statistics.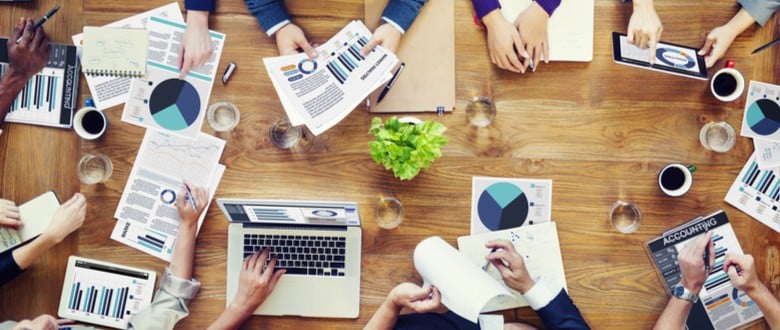 The five top types of employers for statisticians are government, healthcare, research and development, universities and colleges, and insurance companies. In the realm of government, statisticians work with data dealing with wages, education, unemployment, policy formation, housing, endangered species, drinking water, and populations. In the medical field, statisticians, or biostatisticians, work to discover the origin of outbreaks, test medications, develop drugs and vaccines, keep track of the world health population, track pandemics, like COVID-19, and create studies that help treat sickness and disease. As for research, statisticians conduct experiments and testing on various types of data to help improve the development of all kinds of products, services, and goods. At universities and colleges, statisticians may "identify, research, and resolve unexplained issues" and look into new theories that involve statistics and mathematics.
According to Payscale, popular employers include the U.S. Census Bureau, Public Health Institute, Mayo Clinic Arizona, the University of Michigan, and State Farm Insurance Company. Some of the big tech firms like Facebook, LinkedIn, Google, Twitter, and Microsoft also need statisticians to be a part of their quantitative analysis teams.
Statisticians also team up with and play a role in engineering, industrial design, chemistry, accounting, economics, state management, business, sports, and public safety. They also impact urban and rural planning, banking, operations, trade, state management, natural and social sciences, social work, and commerce. They use their expertise to impact the environment, supply chain, artificial intelligence, weather forecasting, election predictions, the functions of the internet, and mobile apps. In more detail, statisticians in the business world calculate salaries, profit, and loss, determine the probability of sales, and conduct research regarding products, customer service, and consumer goods.
Pay
Let us answer an important question on everyone's mind: how much does a statistician make? PayScale states that the average statistician salary rests over $73,000 a year. U.S. News & World Report, in 2018, reported statisticians brought in an average annual salary ranging from around $67,000 to $113,600. The U.S. Bureau of Labor Statistics reported an annual salary of over $91,000 for statisticians in 2019. Any way you look at it, a statistician is paid very well and has the potential to make six figures. The "best-paying" cities include Raleigh, Boulder, Boston, San Francisco, and Bridgeport, Connecticut, ranging from $111,180 to $142,520. The "highest mean salary states" include Washington, D.C., California, Maryland, Massachusetts, Idaho, and New Jersey, ranging from $104,310 to $116,090.
What is the history of Statisticians?
Since the need for statisticians appears to be growing in almost every field due to all of our technological, medical, and economic advances, statistics can feel modern and more like a newer career option. The reality is that statistics have been around a long time, even back to ancient times. People have been analyzing and interpreting them well before the terms statistics and statisticians were coined. Let's take a look at where statistics started, how it has evolved, and the impact statisticians have had throughout the process.
Certain aspects of statistics, including mean, mode, and sampling, were utilized back in the 400s BC in determining the original date of the Olympics and in war strategy. In AD 2, the Han Dynasty conducted, from what we know, the first Census, and in AD 7, there was a Roman census in Judea. Al-Kindi established frequency analysis to break secret codes in the year 840, and the earliest educational graph, regarding the planets, appeared in the tenth century.
Statisticians in the 1000s – 1600s
Britain's great Domesday Book was completed sometime between 1069 and 1085 and is Europe's first official account using statistics. It contains the results of a land survey involving villages, farms, societal order, and livestock ordered by William the Conqueror. There is a Chinese diagram created in 1303 that is the foundation for the "mathematics of probability" and was later named after the 17th-century French mathematician, Blaise Pascal, as Pascal's Triangle. Statistics were used in 1346 to determine population and trade in Italy. Throughout the 1600s, statistical data graphs, probability theory, statistical mortality tables, and data visualization maps were born.
Statisticians in the 1700s – 1800s
In the middle of the 1700s, the word 'statistik,' German for 'statistic,' was established. As we move through the century, conditional probability, hypotheses testing, economic data displayed on bar charts and graphs, and the recording of temperatures and climate changes were first seen. In 1790, the United States experienced its first Census equaling almost four million people.
Many fundamental statistical concepts and formulas were created and discovered throughout the 1800s by prominent statisticians and mathematicians:
An incredible breakthrough was seen with the start of medical statistics in tracking disease and epidemics, especially with John Snow's Cholera Map, where he was able to identify the source. Also, a survey was conducted by Charles Booth to show the level of poverty in different areas of London, and Karl Pearson introduced Standard Deviation.
The famous female statistician, Florence Nightingale, created the first pie chart: the Nightingale Rose, showing war casualties. She joined the Royal Statistical Society, the first woman member, and became the first member of the American Statistical Association who did not live in America. The British Science Association established a section focused on statistics that turned into the Royal Statistical Society, and the American Statistical Association was also formed during this time.
Statisticians in the 1900s
Bachelier introduced Financial Mathematics, and William Sealy Gosset created the T-Test through the Guinness brewing process. This century also saw companies merge to form what would become the pioneering IBM company, and R.A. Fisher introduces his Design of Experiments. Regarding Germany, Alan Turing used Bayesian statistics to crack Germany's Enigma Code, and statisticians predicted an accurate number of tanks that Germany would produce in World War II, creating the German Tank problem.
Other important statistical advancements within the 1900s include:
How do students best prepare for a Statistician career?
Due to the immense amount of knowledge, expertise, training, skills, and experience needed to succeed, people view the preparation process for statisticians to be pretty challenging. You have to be passionate and wired for this job to obtain the position. Many years of studying, experiential learning, and possibly even on-the-job training are required.
Education
Statisticians can begin to acquire essential skills in analytical detail, math, effective communication, problem-solving, and organization through degrees of higher education. Bachelor's degrees in the arts or sciences for statisticians are in statistics, mathematics, or related to these subjects like applied mathematics, biostatistics, or computational mathematics. Students can specialize in data science, statistical computing, or statistics in a particular field like government, business, or research.
There are some entry-level positions for those who hold a Bachelor's degree, but most statisticians need to acquire a Master of Science or Master of Arts degree. This degree can be in statistics, mathematics, economics, or even survey methodology. It can also be focused on specialization in areas like agricultural statistics, industrial statistics, business statistics, or biostatistics. It can also be supplemented with courses in related fields like engineering, biology, business, health sciences, physical science, computer science, physics, or computer programming. Sometimes after acquiring a Master of Science degree, students will pursue a Ph.D. in statistics to teach, research, or become an expert in the field.
Professional Development
There are many aspects of a resume, other than the education section, that impress future employers. They like to see that students have balanced their studies with experiential learning and plenty of professional development opportunities, including internships, volunteering, workshops, seminars, and work experience. Not only do statisticians work in a professional environment, but they also need to know how to lead and manage others and successfully work as a team.
An excellent way to gain hands-on experience while pursuing your degree is through internships. There is an incredible amount of internship experiences out there for statisticians-in-training. SimplyHired lists opportunities like a CIA Data Scientist Undergraduate Intern, Business Intelligence Analyst Intern, the American Enterprise Institute's Fall Intern conducting politics and survey research, and the National Renewable Energy Laboratory's Transportation Data Analytics & Software Development Intern. With so many options, future statisticians can receive excellent on-the-job training in a variety of internships.
Volunteering builds character and increases your skillset. You hear the words "pro bono" when discussing doctors providing free medical services or lawyers offering free counsel, but did you know there is an entire "pro bono" movement for data specialists? It is called "Data for Good?" Statistical experts are needed to analyze data for nonprofits and humanitarian organizations to help "improve society." Statisticians can not only help make a difference in the world but may expand their knowledge and ability to use new analytic tools and technologies.
Check out these "Data for Good" organizations, Facebook pages, and blogs for more information:
Statistics without Borders
The American Statistical Association is an excellent organization, known as the "Big Tent for Statistics." It provides incredible training, professional development opportunities, career preparation, and countless resources for undergraduate and graduate students studying statistics, those who have recently graduated, and professional statisticians. It offers competitions, scholarships, awards, leadership webcasts, mentoring programs, webinars, workshops, job listings, networking opportunities, and an online ASA community. Although certifications are not required for statisticians, students can pursue professional accreditations through the ASA, where they would earn Graduate Statistician and Accredited Professional Statistician credentials. Membership in this organization is highly beneficial to the preparation process and the success of statisticians.
What are the future trends of Statisticians?
It is interesting to discuss future trends of statisticians, when statisticians play a massive role in determining future trends, in general. As you see, in previous sections of this Guide for Statisticians, statistics and statisticians have been around for a very long time and offer essential contributions to almost every field and in our daily lives. We have talked about the progression over the past few centuries and the growth and demand for data specialists, and we see no evidence of that slowing. On the contrary, statisticians will be in demand for quite some time.
From 2018 through the next ten years, the Bureau of Labor Statistics reports employment rates of statisticians will grow faster than all other jobs, at about 31%. They also estimate over 13,000 job openings. It can be argued that the demand will outgrow the projection. As massive amounts of data seem to run everything these days, statisticians continue to be essential in almost every field. But as technologies evolve and multiply, statisticians will continue to grow in importance in the tech world. Those "technologies of the future," like predictive analysis, artificial intelligence, and cryptocurrencies, are now a part of our present-day. They all utilize statistics and probability to function in some way.
Here are some of the reasons why future trends for statisticians are increasing:
Statistical analysis is becoming more and more critical in making accurate decisions in every industry.
Computers continue to advance in their programming and need for new analytical methods.
As our population continues to age, the health care system will continue to need more research, data collection, and trials conducted to create new treatments and medicine.
The amount of data available from the internet continues to grow and change.
We now live in a digitized society, a world of digitization, the 'digital age,' the 'information age.' It is a crucial time for businesses and organizations to digitize their records. We are surrounded by digital technology through computers, smartphones, tablets, and cloud-based applications, all of which involve statistics.
Our government, who guides and protects our nation, continues to face new challenges, adapt, and evolve. Statistics play a huge part in our government in aiding national defense, homeland security, and counterterrorism. 
Statistics reach far and wide and even intersect with human rights. Although human rights are not new, the way human rights issues are quantified continues to expand and unfold. It is a growing need for the skills and expertise of statisticians to provide valuable data, research, and investigate the issues and challenges that impact human rights.
Here is what some employers say about the high demand for statisticians.
Statisticians and COVID-19
The COVID-19 pandemic is worldwide. People have dealt with death, sickness, loss of income, and loss of normal daily life. The world may never get back to the 'normal' we used to know. Statisticians are extremely vital in the fight against this coronavirus. The multitudes of data collected, compared, analyzed, and presented help inform and assist the medical professionals and our government leaders in making the best decisions.
To dig in a little deeper, check out this discussion on COVID-19 between statisticians and other professionals.
Next Steps
We create new data all day, every day. As lined out in this Guide for Statisticians, we have been analyzing our daily data for centuries, with the method of collection and applicability of the inferences only increasing. Is this career calling your name?
According to RIASEC, the best personality for a statistician is organizer and thinker. Take their career personality framework test. And if you are curious to see if this is the right career path for you, take this short quiz on whether you should become a statistician.
Related Resources:
Are there free resources for Statisticians?
Which online MBA programs are best for Statisticians?
What degree does a Statistician need?