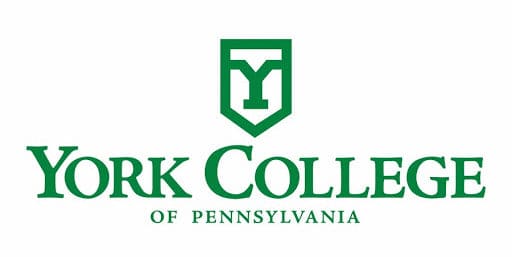 Accreditation
Middle States Commission on Higher Education
The Graham School of Business at York College of Pennsylvania is interested in getting students out of textbooks and into active, hands-on learning. Featuring a NASDAQ Trading Lab, the cutting-edge business school provides students with many relevant learning opportunities that include resources like internships and exceptional learning opportunities. York College is committed to preparing its graduates for purposeful and productive lives. As a diverse community of learners and educators, the College provides a high-quality, private education that emphasizes personal development, close faculty/student interactions, and real-world experiences. The College partners with its community for the benefit of both its students and the broader region.
Education
Students seeking a Bachelor of Science at York College of Pennsylvania can find specializations in Accounting, Business Administration, Business Analytics, Finance, Cybersecurity Management, Economics, Engineering Management, Information Technology Management, Sport Management, and Supply Chain Management. Undergraduate students can also pursue a Bachelor of Arts in Integrated Marketing Communication, International Business, Public Relations, and Sport Media.
A Bachelor of Business Administration is also provided to undergraduate students at the Graham School of Business. An emphasis in Advertising and Digital Marketing, Entrepreneurship and Innovation, General Business, Human Resource Management, Leadership and Organizational Dynamics, Marketing, and Social Enterprise and Not-For-Profit Management is also available. The business school provides a dozen undergraduate minors in business.
Graduate programs at the business school include a Master of Accounting, Master of Arts in Leadership, Master of Arts in Integrated Marketing Communication, a Master of Business Administration, and a Financial Planning Certificate.
Student Life
York College has well over 100 student clubs and organizations of all types of purposes, interests, and sizes. Organizations and clubs range from exploring cultures to joining student government, from Greek living to academic honor societies, and from drama to publishing. The University's student organizations are a vital and active part of campus life. These groups provide all students with a wealth of opportunities to create and further enhance their leadership interests and skills. One organization with strong ties to the business school is the University's Student Senate. Many Senate members are traditionally business students interested in leadership and cultivating secure networks while pursuing their degrees.
Online Programs
York College of Pennsylvania currently delivers two online programs within its extensive degree listing. An online RN to BSN degree has recently been added to the College's list of available online programs. Registered nurses who hold degrees from an accredited program and meet requirements are eligible for direct articulation into York's Nursing program. Nurses are granted 51 credits for nursing coursework completed and may be eligible for up to 75 transfer credits for completed coursework. Students who have previously completed undergraduate education in another primary need only complete the required nursing and support courses.