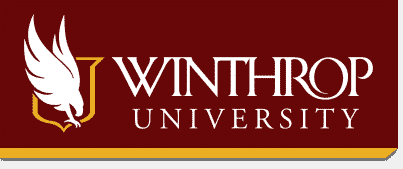 Accreditation
AACSB, Southern Association of Colleges and Schools, Commission on Colleges
Winthrop University has a stellar reputation for providing academic excellence. Since 2003, Winthrop has consistently been rated as "substantially exceeding standards" by the South Carolina Commission on Higher Education. The College of Business Administration upholds the same level of superior quality and is prestigiously accredited by the AACSB. Within COBA, the computer science programs hold ABET accreditation, and the undergraduate health management program is the only AUPHA certified program in the state of South Carolina. The small 14:1 student: faculty ratio provides an intimate class setting where students are free to explore their personal interests.
Education
Undergraduate students can embark on their journey of life-long learning with a Bachelor of Science in Business Administration. This program allows students to select a concentration in Accounting, Computer Information Systems, Economics, Entrepreneurship, Finance- Corporate, Finance- Financial Planning, Health Care Management, Human Resource Management, International Business, Marketing, or Management. Management students can pursue a general management track or hotel and hospitality track. The Bachelor of Science in Computer Science and in Digital Information Design are also housed within COBA. Digital Information Design students have the option to focus on Digital Commerce, Digital Mass Media, Interactive Media, or Web Application Development. Undergraduate students can also earn a Bachelor of Arts in Economics. This curriculum for this major allots hours for a minor in Accounting, Business Administration, Computer Science, Digital Information Design, Economics, Entrepreneurship, Health Care Management, Hotel and Hospitality Management, Human Resource Management, Management, Risk Assurance, Marketing, or Professional Business.
Graduate students can earn a Master of Business Administration with an emphasis in Accounting, Finance, Human Resource Management, International Business, Marketing, or Strategic Management. A 12-credit hour Management graduate certificate is also available. There are three scholarships specifically available for graduate students based on academic standing.
Student Life
Several business transactions occur outside of the office, and many learning experiences also occur outside of the classroom. An annual faculty-led international field experience is a fun, hands-on way to earn college credit. In 2019, students spent spring break in Germany. Students can also spend a semester abroad in Australia or London. Many professional development events are also available, such as Professional Opportunities Week featuring a theme such as 2019's "Fearless Living in an Age of Anxiety." Monthly lunch meetings and the mentorship program provide opportunities for students to learn from professionals in the field and prepare for an internship. Students needing career guidance can take the Emotional Intelligence Assessment. Graduate students can work on campus for 20 hours per week as a graduate assistant in exchange for a $3,500/semester stipend and a tuition grant. Some of the positions available include assistants for MBA admissions and advising, student services, external relations, research, and small business consultants.
Online Programs
Students in the online Master of Business Administration program will be well-groomed for a leadership career. The core courses consist of 27-credit hours, and nine-credit hours are devoted to a concentration. Concentrations offered include Marketing, Strategic Leadership, and Sports Marketing and Revenue Generation. Each program is 36-credit hours and can be completed within two years.
SEE ALSO