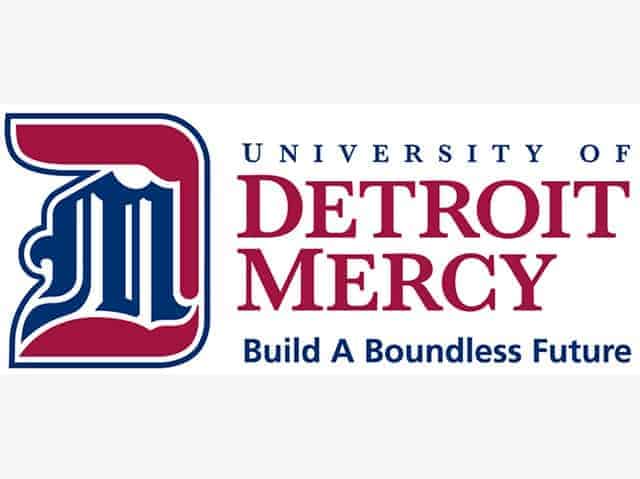 Accreditation
AACSB, Higher Learning Commission
The University of Detroit Mercy's College of Business Administration proves its academic excellence through the prestigious AACSB accreditation. Being grounded in the Jesuit faith, the CoBA holistically develops good character, compassion, competence, responsibility, stewardship, and high ethical standards in each student. For over 100 years, business students have experienced a diverse environment full of expert instruction, countless ways to actively learn, incredible professional and personal support, and numerous opportunities to serve others.
Education
Business degree programs offer a wide array of disciplines to learn the fundamentals of business and help each student achieve their desired career goals. Undergraduates can major in Accounting or pursue a Bachelors in Business Administration with concentrations in Business Law, Finance, Social Entrepreneurship, Marketing, Sports Management, Accounting, Decision Sciences, Human Resource Management, International Business Management, or Business Intelligence. Qualifying students can apply for the Commerce Scholarship, which awards $13,000 a year.
The Masters in Business Administration program offers classes that are in-person, online, and some in a combined blended format to provide flexibility and accessibility for all students. Customizable MBA degree plans include specialization options in Finance, Management, Health Care, Accounting, International Business, Decision Sciences, or Marketing. Students pursuing an MBA for Healthcare Professionals will receive a Graduate Certificate in Health Services Administration Management. Graduate assistantships exist to help cover tuition costs for students while they work with and for faculty and staff members.
Business students can take their educational experience abroad on a short-term, eight-day, faculty-led trip. They learn about international business in places like Greece, Spain, China, Costa Rica, Ireland, and Munich, Germany. This experience not only increases their global business perspective but enhances their resume.
Student Life
There is an incredible amount of co-curricular programs, activities, and opportunities for students to embrace throughout their college days. Leadership workshops, the In the Know business newsletter, internships, collaborative works, teamwork, service-learning projects, and leadership opportunities all contribute to the students' professional development. During Alumni Week, alumni and alumnus visit classes and share their knowledge and experience. Students gain real-world investment management skills working with The Majestic Fund portfolio. The Financial Markets Lab offers interactive, real-time data and news about stocks, bonds, and currencies.
Business-specific student organizations include the Beta Gamma Sigma Honors Society, Collegiate DECA, Beta Alpha Psi, the CoBA Student Advisory Board, and the Global Jesuit Business Student Association. These groups help build skills and provide experiences that prepare students to enter into a career confidently. Many other groups are available that help with social, religious, political, recreational, and entertainment interests.
The Center for Social Entrepreneurship and the Center for Practice & Research in Management & Ethics gives students incredible opportunities to interact with executives and community leaders and socially and economically impact the community through research and real-world projects. With a focus on serving God and others, University Ministry provides students with faith programs, religious services, retreats, leadership opportunities, volunteer service projects, and immersion trips throughout the country, helping make a difference in the world.
SEE ALSO