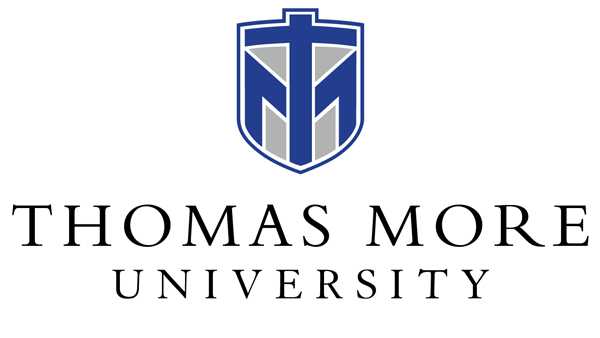 Accreditation
Southern Association of Colleges and Schools, Commission on Colleges
The College of Business at Thomas More University helps students identify their gifts through a rigorous curriculum incorporating traditional Catholic values. Students will experience a true sense of community at Thomas More, with a total annual enrollment of just over 2,000 students and a student-to-faculty ratio of 16:1. The COB is highly respected and holds dual ACBSP accreditation in Accounting and Business. All students receive financial aid to ensure finances are never a deterrent to advancing one's education. The class of 2017-2018 had a 97% job placement rate within six months of post-graduation. Recent graduates are employed at Deloitte, General Electric, KPMG, and Great American Insurance.
Education
The CoB offers bachelor's programs in Accounting, Business, Business Administration, Sports and Entertainment Marketing, and Information Systems. A Supply Chain Management minor is also available. Business Administration majors can select a career-relevant concentration in Finance, Management, Marketing, or Human Resources. Classes are designed to be student-centered, featuring projects, field trips, presentations, simulations, and a senior capstone project. Students are required to take a one-credit hour of experiential learning prior to graduation. The Work Ready Incubator matches students with corporations for internship experiences. Interns are assigned an office space within the incubator on-campus and receive feedback and coaching through on-site managers. This is often considered the first step towards acquiring a real career.
Graduate students can improve their hiring prospects by earning a Master of Business Administration from the CoB. The MBA 4+1 Program allows seniors to earn up to 15 graduate credit hours, accelerating the length of time to complete the MBA.
Student Life
The Business Administration programs have the highest enrollment of all programs on campus. Due to its popularity, there are also many organizations offered for CoB students. In August, students can attend the Student Activities Fair to learn how they can get involved. The Accounting Club, Computer Information Systems Club, Business Society, and Delta Mu Delta are just a few of the organizations business students frequently join. Accounting students gain valuable experience through the tax preparation program.
Undergraduate and graduate students can expand their knowledge of global business practices by studying abroad in Nicaragua or France on a faculty-led excursion. Faculty also lead service-learning projects in Jamaica, Mexico, and Guatemala. A Global Perspectives Endowment funds these opportunities. The Republic Bank Foundation Institute for Career Development provides services to help students put their best foot forward in the job search process. Students can get assistance with creating a self-promotional video to send to prospective employers, practice their interview skills at the Joe Raphael ICG Studio, or attend on-campus career fairs.
Online Programs
The Thomas Accelerated Program was designed with working adults in mind. Undergraduate students can earn the Associate of Management or Bachelor of Elected Studies in Ethical Leadership from anywhere with an internet connection. The MBA and Master's in Ethical Leadership Studies can also be completed fully online. Virtual career services are available to help students find a job while they are enrolled or to secure employment after graduation.