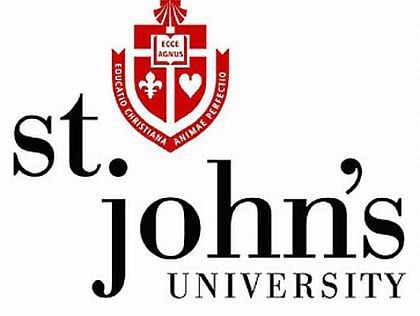 Accreditation
AACSB, Middle States Commission on Higher Education
The AACSB accredits the Peter J. Tobin College of Business at St. John's University in both its business and accounting degree programs. As a Catholic university, the CoB is rooted in the religious values of truth, respect, morality, compassion, excellence, love, faith, opportunity, and service. The combination of experiential learning, intellectually academic prowess, global perspective, diversity, ethical behavior, and service to others all work together to develop a leader who strives to make a positive impact on society and the world.
Education
There are a plethora of business degrees offered by the CoB. Undergraduate students can study for a Bachelors degree in Accounting, Business, Economics, International Management, Marketing, Actuarial Science, Business Analytics, Finance, Management, or Risk Management & Insurance. At the graduate level, there is the Masters degree in Business Administration, Accounting, Enterprise Risk Management, Finance, Actuarial Science, Entrepreneurship & Innovation, Risk & Financial Advisory, or Taxation. MBA students can choose an area of concentration in Sustainability, FinTech (financial technology), Global Leadership, Business Analytics, Finance, International Business, Real Estate, Risk Management & Insurance, or Strategic Management. Global Destination Courses are located all over the world and give Tobin students an incredible opportunity to submerge themselves in a different culture where they can experience international business practices, politics, a different way of living, and come away with global business insight. Destinations include places like London, Barcelona, Greece, Dublin, and Rome. MBA students can spend a semester in Rome, Italy.
Student Life
Every business student has access to the Career Services office that helps best prepare them to enter into a career after graduation successfully. Students that are a part of the School of Risk Management, Insurance, and Actuarial Science have their very own Ellen Thrower Center for Apprenticeship and Career Services. Access to New York City and all of its corporations, businesses, governmental agencies, and non-profit organizations gives Tobin students a significant advantage in finding internships that will earn course credit while gaining priceless on-the-job experience.
There are many experiential and service-learning opportunities for business students. The Student Managed Investment Fund involves a high level of performance through portfolio management, money investment, research, solutions, and analysis. The business consulting project is a required service-learning opportunity found in the Management coursework. Sophomores work on solving short-term problems, while seniors focus on long-term solutions with real-life clients. Globe (Global Loan Opportunities for Budding Entrepreneurs) is an incredible service learning opportunity where students run it all. This program teaches students how to navigate microfinance while being able to help provide for, educate, and develop skills in people living in poverty so they can support themselves. The Centers and Institutes managed by the CoB address applied finance, accounting research & analytics, enterprise risk management, global business, executive education, and insurance regulation.
Online Programs
The AACSB-accredited online degree programs offered to graduate students are the Masters in Taxation, Masters in Accounting, Masters in Business Administration, and the MBA in Risk Management & Insurance.
SEE ALSO