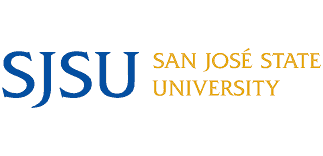 Accreditation
AACSB, WASC Senior College and University Commission
San Jose State University's Lucas College and Graduate School of Business empowers graduates to succeed in the technologically innovative, economic, and global world of business. The majority of graduates help lead, influence, and impact businesses in the local thriving and competitive Silicon Valley region. Expert faculty are dedicated to sharing their own experiences and teaching the AACSB-accredited curriculum in helping each student reach their goals and aspirations.
Education
The Bachelors in Business Administration degree offers concentrations in Accounting Information Systems, Corporate Accounting & Finance, Finance, Global Operations Management, International Business, Management Information Systems, Accounting, Business Analytics, Entrepreneurship, General Business, Human Resource Management, Management, and Marketing.
Graduate students can choose from a Masters in Accountancy, Transportation Management, Taxation, or Business Administration. There is an Early Career MBA and an MBA for Professionals, both offering flexibility in class schedule and pace with classes in the evenings, weekends, and online.
A majority of students pursuing a higher education receive financial assistance. Lucas students can apply for merit-based, need-based, business-specific, freshmen, transfer, and graduate students scholarships. There are even scholarships to help students participate in a study abroad opportunity.
In today's world of business, gaining a global business perspective during the education process can be highly beneficial and impressive to employers. Business students can join short-term and long-term international study trips to a plethora of locations, including France, Spain, Hong Kong, Germany, Australia, the Netherlands, Vietnam, and the United Kingdom.
Student Life
The life of a student involves both the classroom and co-curricular activities. Students gain skills in life, leadership, effective communication, and critical thinking while building relationships with peers and professionals and discovering their desired career path. These activities include participation in student-led organizations including the Advancement Institute for Management, Alpha Kappa Psi, Beta Alpha Psi, Delta Sigma Pi, Economics Club, Finance & Economics Women's Club, Financial Management Association, Graduate Business Student Association, Institute of Management Accountants, International Business Association, Latino Business Student Association, the Marketing Association.
An incredible amount of resources exist at the Jack Holland Student Success Center. Here, students receive career coaching, advising, tutoring, resume assistance, career exploration, strategies in job searching, job fairs, and a variety of other career resources. Qualifying highly motivated students can be hired as a Peer Leader to help assist new students in their academic and social education. Lucas is one of ten schools worldwide that make up the EMBA Consortium for Global Innovation, which collaborates to provide a global perspective that is unique and beneficial to the students, faculty, and the global business community.
Some of the top companies in the Valley hire Lucas graduates, including Adobe, Apple, Chevron Texaco, E*Trade, Google, NASA, PayPal, Lockheed, and Yahoo. For an enhanced educational opportunity to both experiential learning and network with local professionals, students can participate in the programs offered at Lucas' ten Centers and Institutes. Program topics include accounting advancement, retail leadership, banking, and financial services, organizational resilience, global leadership, transportation, entrepreneurship, and operations & technology management.
SEE ALSO