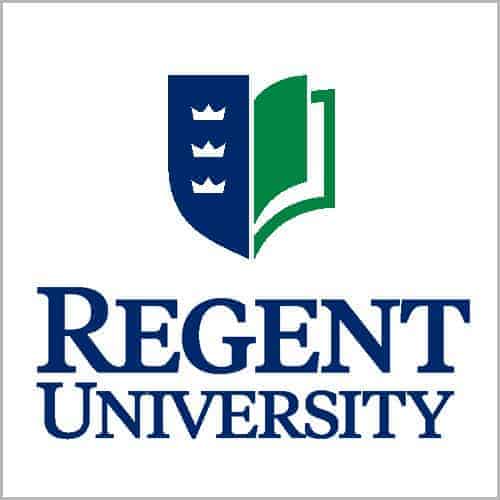 Accreditation
ACBSP, Southern Association of Colleges and Schools, Commission on Colleges
The School of Business & Leadership at Regent University strives to prepare graduate students to succeed while inspiring a global perspective through a Biblical lens. The faculty, staff, and curriculum enhance skills in leadership and management with an innovative and entrepreneurial focus. No matter the level of business leadership or venture, the student pursues, the School of Business & Leadership will help build the confidence needed for success.
Education
Traditional students can pursue the ACBSP-accredited Master of Business Administration degree on-campus in both the 42-credit hour format and the 36-credit hour accelerated format. Combining theory with a Christian worldview and contemporary mindset, MBA students can gain a holistic educational experience. Several concentrations are available to help achieve expertise in a specific area. These concentrations include Finance & Investing, Accounting, Global Business Leadership & Communication, Social Entrepreneurship, Cybersecurity Management, Leadership, Innovation Management, Small Business Technology Management, Healthcare Management, Not-for-Profit Management, Marketing, and Human Resource Management. Many students need help in financing their graduate education. Regent provides access to numerous resources for scholarships, grants, and loans graduate students can utilize.
Student Life
Students gain even more education beyond the classroom. Regent offers numerous student organizations, activities, and events to help students grow in their social, academic, and spiritual lives. There are also a variety of resources at their disposal to enhance their overall educational experience. Excellent support provided by faculty and alumni is found in the book series: Christian Perspectives in Leadership and Business. They work together to provide updated and relevant information and articles involving the leadership and business fields of study to help educate students. Another excellent way to grow in their professional development is to participate in the Executive Mentor Program. In this program, a business executive partners with a graduate student to network and to share their experience, wisdom, and expertise in business, careers, and in being a faith leader. Business students can gain priceless knowledge and experience through the Regent Center for Entrepreneurship, which focuses on helping educate disadvantaged nations around the world in entrepreneurial ventures that can increase their economic state. They also spend time sharing their Christian values with the people in hopes of enhancing their spiritual state as well.
Online Programs
The majority of Regent's graduate business degrees are offered 100% online, which provides an enormity of flexibility and accessibility for the working professional and students all over the world. Masters degrees can be found in Church Leadership, Product Management, Business Analytics, Business Administration, and Organizational Leadership. The online MBA offers all 13 concentrations. Those students who need flexibility in pursuing a doctorate can obtain an online Ph.D. in Organizational Leadership and an online Doctor of Strategic Leadership. These two online degrees also require several four-day residencies on campus.
Best Online Doctorate in Leadership Programs
SEE ALSO