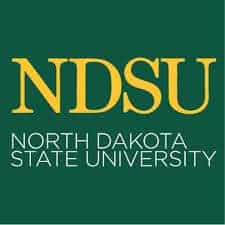 Accreditation
AACSB, Higher Learning Commission
North Dakota State University's College of Business provides students with a world-class education in Barry Hall. This state-of-the-art building was named after Dick Barry, who was known as "Fargo's doctor of financially ill businesses," and features modern amenities, such as an agricultural commodities lab, trading room, and coffee shop. Business courses have been offered on campus since 1950, and the CoB has maintained continuous AACSB accreditation since 2000.
Education
Undergraduate business students will obtain a Bachelor of Science in either Accounting, Business Administration, Finance, Management, Management Information Systems, or Marketing. Global Business is available as a second major. This major requires students to learn a foreign language and complete an international experience for a combined minimum of three weeks. Study abroad destinations include Europe and China, and can be completed during spring break, summer, or a full semester. Students are encouraged to complete an internship, but Accounting and Management Information Systems majors are required to do so.
The Master's of Accountancy, MS in Business Analytics, or Master's of Business Administration degrees can help professionals reach new heights in their career trajectory. The MAcc is a flexible degree with only four required core courses and six electives, allowing students to grow their knowledge base in the areas that are most beneficial to their career goals. A few of the Accounting electives include Fraud Examination, Government and Not-for-Profit Accounting, and Management Control Systems. MBA participants can select a concentration in Business Analytics, Digital Marketing and Innovation, Leadership and Managerial Skills, or Investments and Applied Portfolio Management. Every concentration is also offered as stand-alone certificates. Business Analytics students receive hands-on training utilizing analytical technology in this STEM-designated degree.
A Doctorate in Transportation and Logistics is also offered in conjunction with the Upper Great Plains Transportation Institute.
Student Life
Fargo offers a thriving economy and attracts top business leaders from around the world for annual events on campus, such as the WOLD Lecture Series, BizTech Industry Forum Speaker Series, and Financial Markets Day. Students have an opportunity to contribute to research through the Challey Institute for Global Innovation and Growth and solve entrepreneurial problems with The Nice Center. The Challey Institute hosts the Distinguished Speakers Series, book signing events with authors, panel discussions, and conferences. Students are also awarded scholarships and study abroad grants through the Challey Institute to pursue the study of innovation, trade, and institutions, and assistance with start-up funds through The Nice Center.
Business organizations, such as Beta Gamma Sigma, Collegiate DECA, Entrepreneurship Club, and Women in Business, give students additional real-world experience. Members of the Bison Fund manage a portfolio of $1.3 million and compete in the CFA Research Challenge Competition, and accounting students offer free tax assistance through the VITA program.
Online Programs
The CoB offers the only online AACSB accredited Bachelor of Science in Business Administration in the state of North Dakota. The Master's of Supply Chain Management and MS in Transportation and Urban Systems are available fully online for graduate students.
SEE ALSO