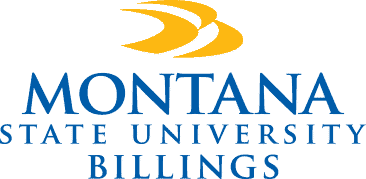 Accreditation
AACSB, Northwest Commission on Colleges and Universities
MSU Billings' College of Business is dedicated to helping students reach their academic and professional goals through experiential learning opportunities and community engagement projects. Each year COB students complete over 25 client-based projects and receive nearly $100,000 in scholarships. Guest speakers frequent the College through the Executives in Residence, as well as in-class presentations.
Students involved in the business programs at MSU Billings participate in a multi-faceted curriculum that involves working on long-term projects, extracurricular activities, volunteer work, and internships. Internships play a large role in student success. Over 90% of COB graduates are employed after graduation, with many of the jobs being offered by internship employers before students have even completed their degree. In the past several years, students have taken part in the Capsim international business simulation competition and have been placed among the top three against students from top universities such as Cornell, Baylor, Dartmouth, and Brigham Young University.
Education
The COB at Montana State University Billings carries esteemed accreditation through the AACSB. Degrees are offered as a Bachelor's of Science in Business Administration with majors in Accounting, Finance, General Business, Management, and Marketing. Many of these degrees can be completed either online or in a traditional on-campus format. The COB participates in the NextGen, which is designed to help millennials build meaningful professional skills and relationships. Veterans can receive free educational support services through the Veterans Upward Bound program. VUB works diligently to help eligible National Guard, veterans, and Reserve members maintain their academic abilities or gain new skills.
Student Life
Diversity awareness and confidence in communicating with different cultures is an important aspect of business. MSU Billings students have several opportunities to learn these skills through immersion with exchange programs, intensive language study programs, faculty-led trips, and short-term summer programs. Destinations include business meccas such as the United Kingdom, Japan, France, and Germany.
Students who prefer to expand their network while staying on campus can participate in many volunteer opportunities, as well as a variety of student organizations. There are a variety of student organization options, but several that would interest COB students are City Business Club, Accounting Club, Investment Club, or Kappa Sigma. The Center for Student Engagement helps connect students with organizations, volunteer opportunities, and events or conferences that will help them grow professionally, academically, and interpersonally. A few of the community service projects that occur each year are Service Saturday, blood drives, Halloween food drives, and much more.
Online Programs
The College of Business at MSU Billings includes several flexible online learning options. Undergraduates can earn a Bachelor's of Business Administration with specialization choices in Accounting, General Business, Management, and Marketing. Those who are just beginning their learning can complete their associate's online. The Human Resource Management AS with College of Business articulated emphasis is a degree that directly transfers to the bachelor's business program.